The Natural Running Center's shoe review editor is Nicholas Pang, who is also the founder and editorial mastermind of Minimalist Running Shoes, a popular blog where many runners and walkers first become aware of new models, brands, and footwear availability. Nick has both his ears and feet to the ground when it comes to minimalism and barefoot-style shoes. He personally tests many of the models and is like a one-man Consumer Reports laboratory. (No, he doesn't run indoors on a treadmill; instead he prefers logging up to 30 weekly miles on a nearby high school track, roads, and trails.) This week, Nick featured something special on his blog that will leave runners excited, and is reposted here: Merrell's upcoming new generation of shoes that will be available in Spring 2012. (Little surprise why the Coming Soon area of Natural Running Center's shoe review section are some of the most popular pages on our site. Nick is in charge of Coming Soon as well.)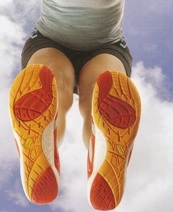 Anyway, here's Nick on Merrell's new lineup!:
Merrell is kicking into full gear with a slew of Generation 2.0 (Gen2) minimalist running shoes and new models for training, water sports, and wellness: Run, Train, Water, Life. I wrote about the Minimalist Lifestyle almost a year ago and boy, what a difference a year makes! I've tested over 50 minimal shoes in running (road and trail), fitness, casual, recovery, dress, and even golf since writing that article – 70+ and counting as of this writing. VIVOBAREFOOT (Evo, Neo, Ultra, Achilles, Aqua, Dharma) and New Balance (Minimus Road, Trail, Life, Trainer) had a good start but no footwear manufacturer have done what Merrell did in one year  — coming out with multiple products in multiple outdoor categories with a consistent barefoot platform. Simply amazing!
Barefoot Run
New for Spring 2012 are the Dash Glove and Bare Access ARC for women; Road Glove and Bare Access for men. The current Merrell Trail Glove and Pace Glove are also part of Barefoot Run. The Road and Dash Glove have synthetic leather and breathable air mesh uppers with reflective materials. They also have a fused rubber bumper. The midsole does not have the shock absorption plate found in the Trail Glove and that is probably what is allowing for a pancake flat landing for road running.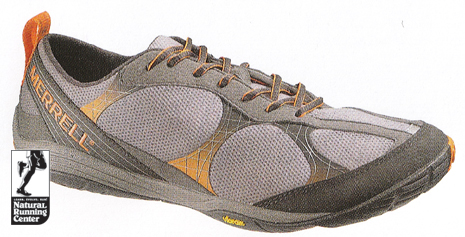 The Bare Access barefoot shoes are gateway or transitioning or bridging shoes for beginners and those taking the leap into better running form. They are all zero drop like the other barefoot shoes but with some cushioning to help you develop your form slowly. It is almost identical to the Road and Dash Glove except for the extra 8mm M-Bound cushioning and slightly different outsole lugs. Great for long runs or for those starting to transition to barefoot shoes.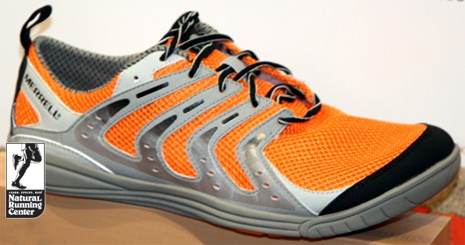 In my opinion, the Merrell Barefoot Access is probably the shoe the masses are looking for: runners who are starting to 'get it' that minimal shoes are training tools for developing better running form and running injury-free for life. Throw in a gradual transition plan and they're on their way enjoying running again – no more pain and no more injuries well into their senior years.
Barefoot Train
New for Spring 2012 is the Lithe MJ Glove for women. This is just a water-repellant version of the Pure Glove. The current Merrell Lithe Glove, Contour, Pure, Embark, True and Sonic Glove are also part of Barefoot Train.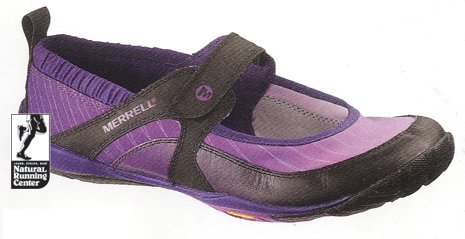 Barefoot Water
All the barefoot shoes in this category are new for Spring 2012. They include the Swift and River Glove for women; Current and Rapid Glove for men.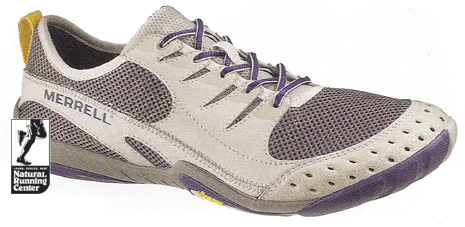 The Current and Rapid Glove both have synthetic leather and air mesh uppers plus quick drying materials with drainage ports in the tool and heel with a similar outsole to the Road Glove. The Rapid Glove is lace-less with an adjustable instep strap.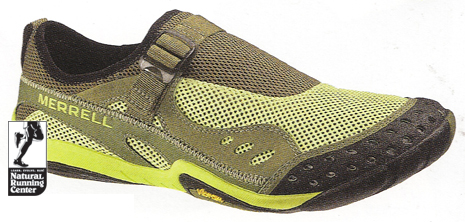 Beside barefoot shoes, there are also sandals being introduced for Spring 2012: Pipidae and Hylidae Wrap for women; Hydro, Aqua, Batari and Paciki Wrap for men. The wraps all have synthetic leather uppers with neoprene/spandex lining, 6mm compression molded EVA midsole cushion, and 3mm sole lug depth.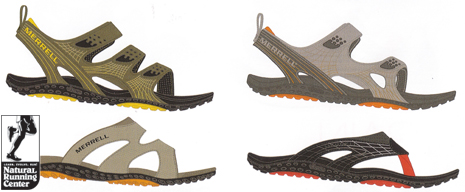 Barefoot Life
Most of the shoes in Barefoot Life are new introductions for Spring 2012. They include Serene, Delight and Wonder Glove for women; Edge and Slant Glove for men. Current models include the Tough Glove and Power Glove but I believe the Power Glove is being discontinued. The Edge and Slant Glove has a similar platform as the Trail Glove but with cow suede uppers and a Nubuck leather rear foot sling.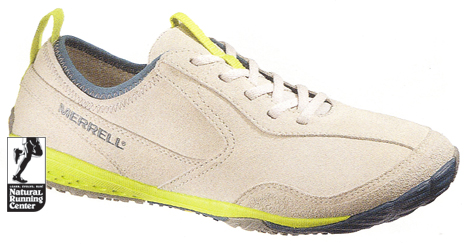 The Slant Glove is a lace-less slip on.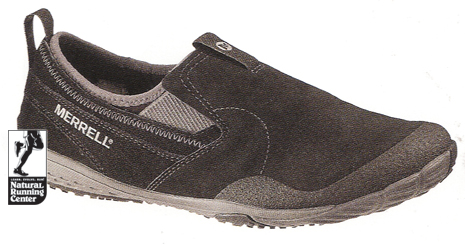 Beside barefoot shoes, there are also sandals for women: Burst and Spirit Wrap.

Looking Forward
So many shoes, so many activities! The Minimalist Lifestyle is finally becoming reality. Barefoot Cross Fit and Barefoot Golf next? The opportunities are endless once you have a barefoot platform like Merrell Barefoot to build on.
After tracking the running specialty retail sales from the Leisure Trends Group for the past two years, trail running sales have been on a tear this year and Merrell also has an exciting trail shoe for Spring 2012 that I'm also looking forward to: Merrell Mix Master.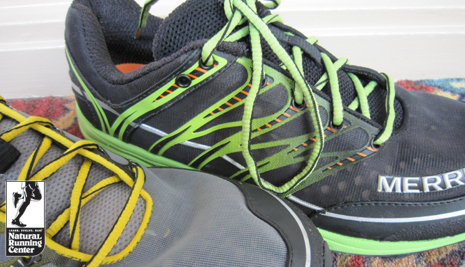 The Merrell Mix Master is a transitioning trail shoe with a 4mm heel-to-toe drop and light cushioning. TPU overlay provides a secure fit and the bellows tongue keeps debris out. Outsole is Merrell Mix sole with sticky rubber and 3.5mm lugs. Keep your eyes out for this stealth trail shoe – it might be a best seller!