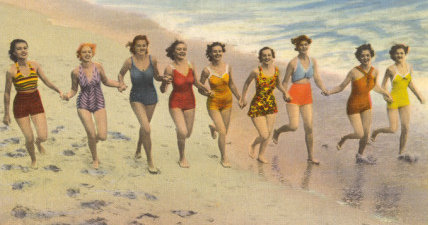 Emily Snayd is passionate about running and even more passionate about attracting more women to the natural running movement. Ms. Snayd heads up public relations for Merrell's Barefoot Running. And so, starting on December 1, Merrell will host a six-week series of digitalchats that address different elements of barefoot/minimal running and fitness. As she writes on the Merrell blog:
We are women, girls, ladies. We are  runners. It is a common thread that connects many of us. We run alone to dream. We run alone to escape. We run alone just to run. We run together to chat. We run together to push each other. We run together to help each other meet goals.  We run to be healthy. 
So why are there so few women in the natural running movement? 
Sweat is beautiful and a sign of strength (I like to refer to sweat as my "liquid awesome". Each drip a sign of strength, determination and fun.) We run to be strong, to feel healthy, so why hide our feet? Why place them in coffins that take away from any sensory feedback from the ground that makes them, and you stronger?
Strong feet equal a stronger runner. They provide us with balance, alignment and efficiency. Strong feet make the run fun.  They sense the grass, gravel and road.  In turn, these surfaces listen and feel your body as you run to meet your goals! 
Those few of us women who have made the transition to minimal and barefoot running,  feel the benefit. We relish in the strength of our bodies and our feet. We are just like any other fanatical or social runner out there, only we have less on our feet. We feel how our form has changed, and making running more efficient and enjoyable. 
So where are you girls? We want you to join our tribe or to at least be part of the conversation. What is holding you back from learning about better form and barefoot running? Is it the transition time? Is it fear of injury? It is just weird to you? 
Tune in on December 1st from 1-2 p.m. and 7-8 p.m. on our Facebook page, http://www.facebook.com/merrell for our first "Womenalism Chit Chat."