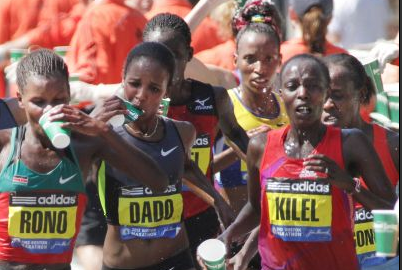 With the hot temperatures putting a distinctive stamp on the 2012 Boston Marathon, I wisely played it safe. I finished 10 minutes slower than last year's time (2:37), yet came away with fourth in my age group (45-49). More importantly, I avoided the medical tent by following good racing practices. I wasn't here to see how fast I could run. I was here to enjoy myself. I felt mellow. Not stressed. Not overdoing it. Just soaking up the terrific vibes of the race, despite the 80-degree heat
According to early numbers compiled by race officials, nearly 2,100 cramping and weary runners were treated in the three air-conditioned medical tents stationed along the course and at the finish line. Over 150 runners were rushed to hospitals, though none fortunately were in life-threatening conditions. Even many of the elite frontrunners DNF'd. Last year's record-breaking winner Geoffrey Mutai dropped out after 18 miles with stomach cramps.
Twenty minutes after finishing, I was happily rehydrating and replenishing my depleted carbs inside the Sam Adams beer area. The temperature had risen to the high 80s by then, and the heat was taken its toll on the field of 22,000 finishers. (At the Saturday morning marathon expo, I had coffee with 1984 women's winner Lorraine Moeller and 1976 winner Jack Fultz; that year's race started in 100-degree heat and was known as "Run for the Hoses" as spectators used garden hoses to cool him down.)
I didn't drink very much during the race– maybe just 12 ounces of water– but I repeatedly cooled down by pouring water over my head and body. Too often, runners mistakenly think that drinking a copious amount of water will lower the body's core temperature. Drinking won't cool you down. Instead, what can happen is a potentially harmful condition called hyponatremia or hyper-hydration that throws the body's electrolyte balance and sodium levels way off balance. Runners have died from drinking too much water. See Dr. Phil Maffetone's excellent article on water intoxication here.
Like many  runners in this year's race — my nineteenth time — I was totally overwhelmed by the generosity and kindness of spectators who lined the streets with cold sponges and cups of water. These weren't official volunteers. They were family, kids, students. All eager to help runners in the heat. Better yet, because the water was coming from peoples' homes, it was cold– and not what you often found at aid stations. I'd douse myself with the water from these impromptu aid stations and find a new burst of energy. It felt like putting a fire out. Thank you, Boston!                         — Dr. Mark