As the third stop on its 10-city tour, the Naked Foot 5K had its largest turnout so far last weekend in the Washington, D.C. suburb of Chevy Chase, Maryland. Presented by Altra Running, which has helped make "zero drop" the go-to term for those interested in minimalist footwear (as well as the name of a certain blog), the 5K attracted 450 runners. Moreover, it allowed the unshod to compete right along with shod runners. The Naked Foot 5K's next stop is Denver on July 21. Bring your feet! (Or shoes which you can donate to a worthwhile charity called Soles 4 Souls.) Maryland resident and popular blogger Miss Zippy, aka Amanda Loudin, was one of the barefoot runners who tried her hand, er, we mean feet, in the race. Here's her lively report. — NRC
***
Getting Naked (from the Ankle Down)

by Amanda Loudin
When my friend Hazel first moved to the Baltimore area, she used to comment that she wished she could wear minimalist shoes like me. She was convinced her feet and mechanics couldn't handle going with less shoe.
Slowly, however, she's started to embrace the idea of natural running. And so it was, this past Sunday, that Hazel accompanied me to the Naked Foot 5K outside Washington, DC, wearing the Newton Distance U.
Hazel was like about 40 or 50 percent of the field of 400-plus runners who ran the cross-country race in a traditional or minimalist shoe. The rest of the field, including me, went for the full "foot Monty."
How is it that someone who used to wear orthotics 24/7 just two years ago was toeing the line bare foot? A little background: After a series of injuries, I decided to make the transformation to natural running. I got rid of the stability shoes and orthotics,  and starting working toward changing my form and shoes.
I tend to do things all out when I do them, and I bought into this wholeheartedly. That's fine, but making a drastic change like this can't happen quickly. While I thought I was being patient, I really wasn't. I ended up injured just a few months after getting started on this journey. Before that happened, however, I did manage to change my form for the better.
Once healed, I  came back to running in Brooks Pure Connects — a 4mm heel to toe drop shoe. I built up my mileage in this shoe, all the while spending as much time as possible in my bare feet. After several months of this, I started incorporating some short runs in a zero drop shoe.
These days, I spend the majority of my runs in the Altra Zero Drop Delilahs, and do a few miles here and there in my bare feet. My form isn't perfect, but it's come an amazingly long way. This 5K represented the culmination of almost two years working to become a natural runner.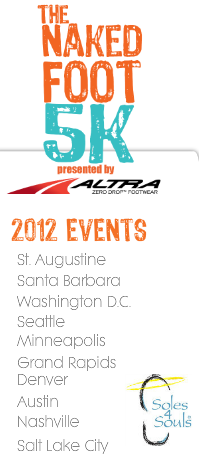 The D.C. Naked Foot, like many of the others in this multi-city tour, was more than just the race. It was a two-day event aimed at educating runners on the benefits of natural running.
Saturday included clinics and seminars on natural running, along with vendor booths from the likes of Vibram and Merrell. Sunday featured the 5K, but also a free 1K kids run, plenty of random giveaways, and live music. With over 400 runners, this was the largest barefoot event in the country to date!
When Hazel and I first scouted out the course, I was a bit skeptical as to whether or not I could handle it in my bare feet. There was grass, gravel, packed dirt, and pavement. I had never run bare foot on anything but pavement before, so this was going to be new and out of my comfort zone.
Running a race in my bare feet, however, was something I've wanted to do for some time, so there was no backing down to shoes for me. I planned to take it nice and easy and just enjoy the low-key event and fun vibe that surrounded us.
Scott and Lauren, the race directors, gave us some pre-race instructions and then counted us down to the start. No chips, no bibs with our names on them, no fanfare. Just a simple "go" and we were off.
No one seemed to be in much of a hurry or after a PR. With this group, it was all about exploring natural running, hanging out with like-minded people, and having a good time.
We started on a grassy field and then hit a blacktop path. After about half a mile on this, we entered the woods. Here was the gravel section, about 200 yards long. I made my way gingerly across this and then entered the single track in the woods.
This was where I was pleasantly surprised—running on dirt in the woods is really quite comfortable. I put my sunglasses on my head so that I could see where I was stepping throughout this section, and easily avoided any sticks or other potential hazards.
Once we were out of the woods we hit the longest stretch of pavement, a mixture of blacktop and concrete. Both were quite porous and this is when my feet took a bit of a beating. As we headed back in for the finish, I was happy to return to the grassy field.
The race was far from a PR event for me, but I never went into it with that intention. Some days focusing on things other than speed take much greater preference. I was every bit as happy with the accomplishment of running the race in my bare feet as I would have been with a good time.
I loved the mixture of young and old, those new to natural running and the experienced alike all coming together.  No one was in a hurry to leave after the race; most stuck around to compare shoes, souls of feet, or methods of training. There were plenty of kids running around too, making this a perfect family event.
I don't know that running the Naked Foot 5K has convinced my friend Hazel to drop her shoes any time soon, but I do know she came away with a smile on her face and an enhanced drive to work toward natural running.  As events like this grow across the country, I have a feeling she'll be in good company.