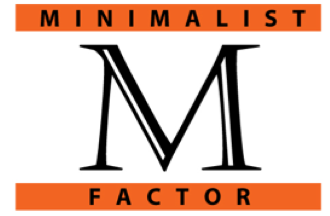 Welcome to the second edition of the M-Factor, a regular feature of the Natural Running Center that provides readers with the latest trends and news in the minimalist running world. – Nick Pang and Bill Katovsky
***
In our first M-Factor column, we asked, "where is minimalism headed?" The answer is a steady increase of sales across the board with most footwear companies. While fledgling newcomer Kigo decided to abandon the good barefoot-lifestyle fight earlier this summer, the athletic shoe giants are muscling toward minimalism with increased intensity and marketing dollars. According to SportsOneSource, a sporting goods trade resource, "Minimalist/barefoot (a subset of Lightweight) grew more than double and accounts for 20% of all running shoes sold. However, the category again was dominated by Nike Free.  Nike Free Minimal sales grew more than triple and accounted for 69% of all minimal shoes sold in dollars. Net of Nike Free, Minimal only is about 6% of all Running sales.. {Minimal} sales are on track to be about $500 million at retail this year."
Is 6% a low number?  It's hard to tell. Who are the runners buying minimalist shoes? Are they new runners? Marathoners or 5Ker's? Formerly injured runners? Runners transitioning away from traditional, over-supported shoes? Or non-runners? (By the way, most running shoes are purchased by non-runners).
Several years ago, the minimalist category didn't even exist. So one could expect to see a steady uptick of sales in this category. Perhaps, it will reach 10% within two years. But consider this: the over-supported running shoe was a work in progress that metastasized over several decades, beginning with that small insole wedge cushion in shoes like the Nike Cortez starting in the late 60s. The big changes like monster-heel crash pads came about much later. So yes, the pendulum is swinging back to the less-shoe side. But it will take time. We're still in the early adopters' phase.
With that said, we asked an experienced veteran of the independent running shoe store world, which brands were selling in most stores. His reply (starting with most popular):
Brooks
ASICS
Saucony
Nike
Mizuno
New Balance
Newton
Adidas
***
In terms of new minimalist models that will be reaching consumers in the coming months, as well as into early 2013, here's a summary of what to expect:
New Balance
New Balance is expanding and updating its Minimus line in 2013 with the introduction of Minimus 10v2, Minimus 10v2 Trail, Minimus 20v3 Training, and Minimus 80 Multisport.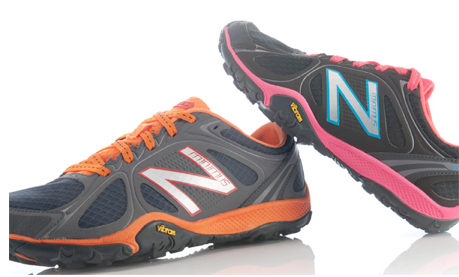 The Minimus 80 Multisport is a barefoot-inspired multi-sport shoe designed for the athlete who needs enough cushioning underfoot to endure a full day of adventure in the outdoors. The Minimus 80 with a 4mm drop will launch in January 2013.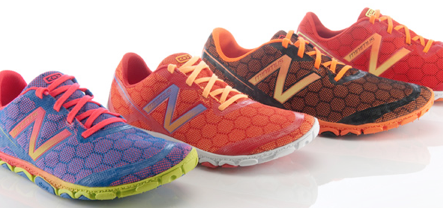 The Minimus 10v2 retains the 4mm drop and is designed for road running but changes include the addition of a Vibram-designed outsole and a modified upper, bringing the Minimus 10v2 more closely in-line with other shoes in the Minimus collection. Available March 2013.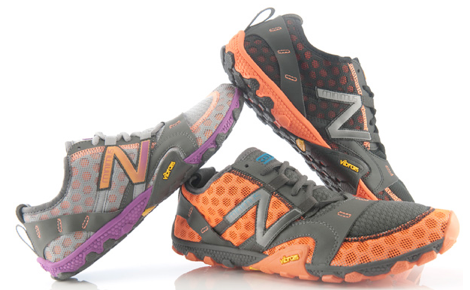 Updates to the Minimus 10v2 Trail are minimal, addressing specific areas of concern. The first of those was a change to the forefoot band with a more traditional synthetic replacing a less forgiving rubber, enabling the band to provide necessary support without completely restricting the foot. Another change is the addition of NuFoam, a material that will stretch and flex to enable the transverse arch the freedom to expand while also providing enough support to ensure a secure forefoot feel. The biggest design update occurred on the outsole, where just enough rubber was removed to decrease overall weight and increase flexibility in key areas, while maintaining durability and traction. Available March 2013.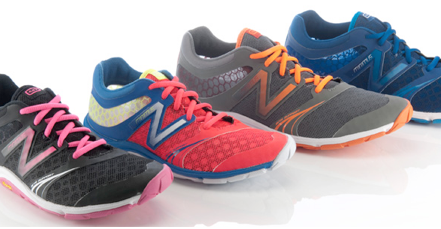 The Minimus 20v3 training shoe is ideal for cross-functional workouts like Cross Fit. It offers a low profile, stable REVlite platform, with reduced midsole/outsole heights in the heel (12mm), to enhance an athlete's ground feel and to allow for optimum power generation during a workout. The low stack height also provides greater overall stability to safely perform lifts at the gym, but is flexible and cushioned enough to wear during a middle distance run. A Vibram™ outsole wraps up the lateral and medial sidewalls to offer maximum durability and traction during rope climbs and other unconventional workouts.
The Minimus 20v3 Trainer also features an anatomically correct natural last with a wider forefoot designed specifically for training, and a 4mm drop. Available December 2012.
***
Mizuno Running
Mizuno is expanding the Wave Universe with the new Wave Evo collection – two different zero drop shoes (Levitas and Cursoris) with a more stripped-down experience focused on midfoot striking and connection with the ground. The two models are similar and the differences are a matter of runner's preference.
The Levitas (6 ounces) has a lighter weight (an ounce difference) and slightly narrower base. With the Cursoris (see photo below), you're getting a more stable base (wider forefoot) and extra cushioning (4mm) in the midsole.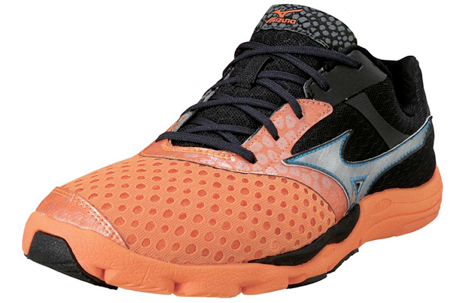 Both will be available January 2013.
***
Teva
Teva is taking a completely different approach to natural running by changing the runner's shoe rather than the runners' stride. Teva spent more than four years developing the TevaSphere technology that solves a real problem for outdoor athletes who face a diverse range of terrain and obstacles in their outdoor pursuits. The new TevaSphere collection has a first-of-its-kind spherical heel and pod-arch system to deliver a more natural point of impact, efficient transition and superior stability on varied terrain.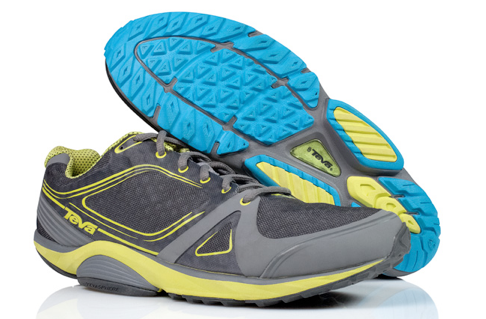 "The majority of consumers continue to land on their heels whether running or walking," said Chris Hillyer, Innovation Manager at Teva. "We felt compelled to create a technology that allows people to transition through their stride in a natural way without expecting the consumer to change."The TevaSphere collection for men and women consists of four styles and will launch at retail in February 2013.
***
Sazzi Sport Sandal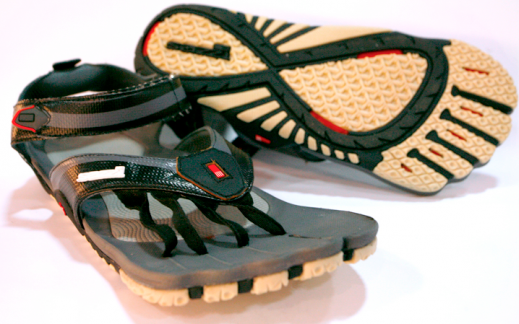 And speaking of Teva, Mark Thatcher, founder of Teva, has once again thrown his sport sandals into the footwear ring with a newfangled design that seems like a hybrid of Vibram FiveFingers and conventional flip flops. (He sold Teva to Deckers a decade ago.) Sazzi Sandals are being marketed as "Toe Motion Footwear," and you can easily see why: along with lateral stability in the footbed, there's an independent four-toe post system. Supposedly, the Sazzi will enhance your foot-to-ground awareness, especially over uneven terrain, something that a thick-soled, large-heel shoe doesn't permit your body to naturally do. Runners and hikers in FiveFingers have long complained how smelly the toe shoes become since the foot is entirely enclosed. With Sazzis, you don't have that nasty biohazard problem to deal with. It's like driving in a convertible with the top down. Two models are available: the Decimal for $80; and the sport sandal Digit (seen above), which is for more active pursuits since it also features a heel strap, for $100.
***
For more detailed shoe reviews, see our own guide on Natural Running Center, or visit Nick Pang's comprehensive Minimalist Running Shoes site.