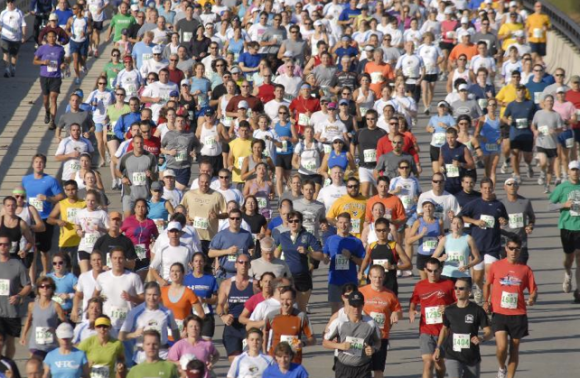 I'd like to invite all Natural Running Center readers to the upcoming Freedom's Run on October 13, 2012 — a day of foot races through the four national parks in eastern West Virginia and Maryland. Freedom's Run is in its fourth year, and the event includes a marathon, a half marathon, a 10K race, a 5K race, and a fun run for children. Runners follow the race routes through Harpers Ferry, along the C&O Canal, across parts of the Antietam National Battlefield, and on the Potomac Heritage Trail.  In 2011, 3,000 people participated in the various events of the day. Distance runners  from 43 states ran in the marathon. If you want to run through history, this race is for you.
Huge teams of volunteers help to make the race possible, along with supportive sponsors, the National Park Service and the Benedum Foundation which provides me a community grant to work on projects in our community involving health. West Virginia University Hospitals East and WVU's Eastern Division are title sponsors of Freedom's Run and Shepherd University hosts the event on their campus. Proceeds from the event go toward building fitness trails at elementary schools. We have helped fund four trails and aim to build a trail at every elementary school in the county. Those are key players, and without them, none of this would have gotten off the ground.
We are the largest race in West Virginia, and people of all abilities and ages participate. It also sends a positive message about the importance of physical activity. To register go to www.freedomsrun.org.
Freedom's Run and our community efforts were the subject of a profile in a recent issue of the West Virginia University Health Magazine (see pages 16-18 of its Spring magazine PDF). And as our nation's healthcare system becomes further bogged down in red tape, over-testing, escalating costs and depersonalized, assembly-line care, it's more important than ever before that people assume greater responsibility for their own health and well-being. We are trying to teach and model that here in our own community,
Though I work in a hospital as a family medicine physician, I much prefer a non-medical approach to staying healthy and focus on wellness and prevention. And at the top of the list in maintaining good health are two words: physical activity.
While the title of the article in the WVU magazine is "Exercise is Medicine," the overall message is pretty much the same.
The author Michelle Moore began the piece by stating, "Many people have the misconception that exercise has to be unpleasant to be worthwhile. Think no pain, no gain, the mantra of weight lifters and body builders. But others who understand that regular exercise is basic healthcare believe the opposite is true."
Here are a couple thoughts I share in the article:
"I like to use the word physical activity, because exercise, to me, is something that is forced on you in addition to all the other things you have to do all day. Staying healthy is all about how you live, what you eat, how you move, all the things you do all day that promote wellness. My idea of a good level of exercise is if you've exercised properly for your daily session, it should feel easy enough that, if you had to, you could turn around and do it again."
"For me, running is the activity that I like.  But, lifelong physical activity, just moving, is the point. Moving at a certain pace and for a certain amount of time as a prescription is what's important."
Thank you Michelle and WVU for the article.