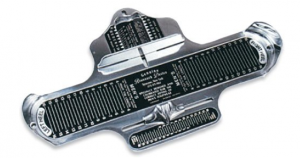 Wide Feet
Question: I ask this as someone with ridiculously wide feet.  I have been a barefoot runner for 4 years now, and very much enjoy going naked, but I have become intensely interested in some more rugged, ultra marathons where having a foot covering will be important.  I've considered simply using huarache style sandals, but I would like to see if there are any fully covered options that will work.So far I have tried New Balance, Merrell and Vivo Barefoot.  NB and Merrell even in their widest offerings are vastly too narrow.  Vivos work ok (Breatho Trail, specifically), but my metatarsal still hangs off the outside edge of the soles.
Jim Hixson:  Unfortunately there aren't as many choices for barefoot runners when it comes to shoes that will give protection and not much more.  You've already tried on the Merrell Trail Glove in a wide, so the option would be to go up a size in length in the wide width.  That's not an optimal solution, but could work.  I'm not sure which New Balance trail shoe you tried, but the one that would be most likely to work would be the MT110 in an EE.  If you can find an MT101 in EE there would be even more width, but they are probably out-of-stock, since that shoe was discontinued last year. Although Altra does not make the Instinct in a an ample width, all of that company's models have a wide toe box and are worth trying.  The Instinct comes with a choice of two (3mm and 5mm) insoles, but you don't have to use them and without there is a significant difference in room.  Another option is to try the Vibram FiveFingers Trek LS, their lace-up version of their first trail model.
***
Kid Stuff
Question: At my children's suggestion, I bought a pair of Merrell Pace Glove barefoot shoes. I am 66, an avid walker/hiker, and haven't worn a pair of high heels for a decade. Yesterday, I wore my Merrells for about 5 hours walking around NYC. When I returned home, I could barely stand up. The pain in my lower back, hips,feet and my calves was terrible. I'm afraid to put them on again. Have you advice? Thank you.
JH: Don't worry, your kids are still smart and have given you good advice! But if you're new to minimal shoes your body will need time to make the transition and that time can vary depending upon individual differences.  Wearing shoes makes a person dependent upon the cushioning of the shoe and reduces the responsiveness, strength, and balance of the foot.  By wearing the Merrell Pace Glove consistently but sparingly your body will be able to make the gradual adaptations necessary to moving naturally with minimal shoes while avoiding injury.  Everybody's goal should be to wear a zero drop flexible shoe, since this allows the body to be in its natural anatomical position, resulting in more efficiency, fewer injury, and better performance.
***
Live Free or Try
Question: Can you recommend a minimal/transitional shoe that has a very soft back/heel counter like  the Nike Free?  I love this shoe for my chronic Achilles tendonosis and was wondering if there is another similarly constructed heel counter out there…no irritation whatsoever on the insertion point in the Frees but, at my age (53) I thought i may need a bit more sole support forlonger runs (over 10K).
JH: I'll rely upon this quote by Winston Churchill for the advice that most makers of minimal shoes try to follow: "All the great things are simple"  Most truly minimal shoes have a soft heel counter.  The Nike Free actually has a 4mm-8mm heel drop, depending on the model, so by going to a shoe like the Merrell Road Glove or Bare Access, New Balance Minimus MR00, Altra Samson, or Skechers GOBionic you will have the advantages of a light, flexible shoe with zero drop that retain the flexibility of the Frees.
***
Plantar F.
Question: I am suffering from plantar fasciitis/Achilles tendinitis type symptoms. These symptoms have presented for nearly 9-12 months. After rest (minimal running) and an attempt at minimal drop shoes, last month I went to a podiatrist who prescribed orthotics, night boot, and Relafen.
JH: This is the classic prescription  or recommendation by most, but not all, podiatrists. And why is that so? Perhaps  to answer that question, it's best to look to Albert Einstein's who once said: "The definition of insanity is doing the same thing over and over again and expecting different results". But in the case of most podiatrists they're simply repeating what they were taught early in their careers and never questioned. Rational research will reveal some surprising information. Plantar fasciitis is caused by wearing supportive shoes that allow the foot to become week, unbalanced, and less responsive than is required to move without continued support and increased susceptibility to injury. The goal then is to begin wearing non-supportive shoes. It's a gradual process, so don't rush it; but your feet will naturally get stronger over time. Go here to read more.
***
Got a shoe or shoe-related question for Jim, please submit it in the comments section below or email the Natural Running Center here.