Natural Running Center's shoe review editor Nick Pang also helms the website Minimalist Running Shoes, which goes into great, useful detail about all the new shoes now hurtling through the commercial pipeline. Nick's shoe database is much larger than NRC's, and includes many shoes in the casual, walking, lifestyle and even golf category. I often joke with Nick that he should open a minimalist shoe store, because of all the free samples footwear manufacturers send him. But these shoes don't sit idle in their tissue-encased boxes. Nick and his small team of reviewers "wear test" them. These shoes are literally put through their paces — on the track, grass, dirt, and roads.
After all this testing, Nick has just published online his tally of what he thinks are the "7 Top Minimalist Running Shoes." They are:
Adidas adipure Gazelle   –   Merrell Road Glove   –   Mizuno EVO Levitas  – New Balance XC 900
Skechers GObionic  – SKORA FORM  – VFF Spyridon LS
Highlights and photos for each of these shoes are shown below.  But first, here, in Nick's own words, is how he came up with the reviewing criteria and what runners should keep in mind when looking to buy a new pair of shoes. — Bill Katovsky
***
After wear testing over 150 minimalist shoes (or barefoot-style shoes or barefoot shoes or minimal shoes or whatever you want to call them), it is still very confusing for someone to choose a pair individually. Minimal shoes are highly individualized and subjective. But the following are key elements:
•    wide toe box
•    low stack height (15mm or lower preferred)
•    low heel-to-toe drop (6mm or lower preferred)
•    lightweight (7.0 ounces or less preferred)
•    flexible outsole preferred
•    sockless wear preferred
For those with narrow feet, wide toe box shoes can cause problems. I have sized up a full size for some models and they were too big so I can simulate the impact. For those running on gnarly trails, you might want a built-in or removable rock plate. Some of you may prefer slight or more cushioning. It does not matter as long as it is working for you and you are not injured. But I highly recommend that a shoe at least meet those key elements.
Based on my preferences and the range of situations I have encountered myself and my tight group of wear testers, from injury to transitioning to advanced minimalist running, I have enough confidence that after seconds of putting on a pair of minimalist shoe (any category), I can tell immediately on either extreme:  great minimal shoe or no-go (too close to traditional shoes). Those that belong in between will require lengthy testing but those usually end up being so-so.
Remember, shoes are only one piece of the solution to sustainable and injury-free running. Personally, running form is primary and shoes are secondary. The complete rankings and detailed reviews can be found here.
***
Adidas adipure Gazelle is the next step for runners already following a Natural Running routine. Specifications show a 16mm stack height and a 9mm forefoot height for a 7mm heel-to-toe drop. The Gazelle weighs in at 6.3 oz. for men's and 5.1 oz. for women's. The adipure Gazelle combines the support features of adipure Motion and the low profile adipure Adapt.
Merrell Road Glove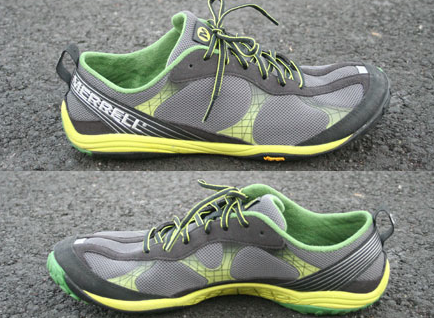 The Merrell Road Glove weighs in at 7.4 ounces (US Size 10) and have a stack height of 10mm. Like the Trail Glove, there is no removable insole and is zero drop. The Road Glove have synthetic leather and breathable air mesh uppers with reflective materials. They also have a fused rubber bumper. The midsole does not have the shock absorption plate found in the Trail Glove and also has a pancake flat Vibram outsole for road running.
Mizuno EVO Levitas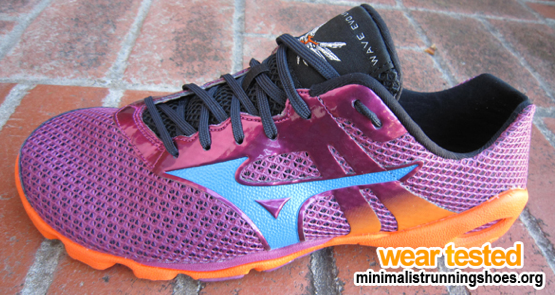 Mizuno is launching their zero drop EVO Levitas next year and is focused on midfoot striking and connecting with the ground. The EVO Levitas is designed from the ground up for the midfoot runner and the toe box area is shaped obliquely and different than almost all minimalist running shoes. The outsole is designed to flex from heel-to-toe and from lateral to medial (outside to inside).
New Balance XC 900
The New Balance XC900 offers an incredibly light, responsive, and sturdy ride without being overprotective or cumbersome with their latest lightweight cross-country flat. Sections in the outsole were perfed out to reduce weight thus creating a cross country and trail running shoe that is high performance and fast. The NB XC900 is for the more advanced cross country runner looking for a nimble, aggressive, and lightweight experience.
Skechers GObionic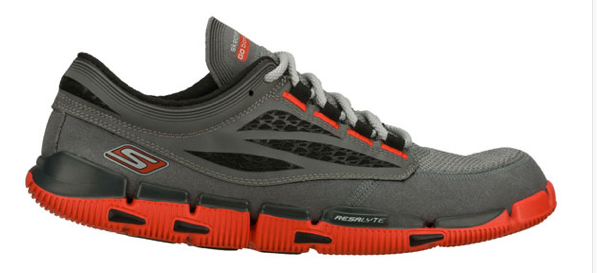 The Skechers GObionic is a zero-drop minimalist lightweight running shoe featuring an intuitive bio-inspired design.
SKORA FORM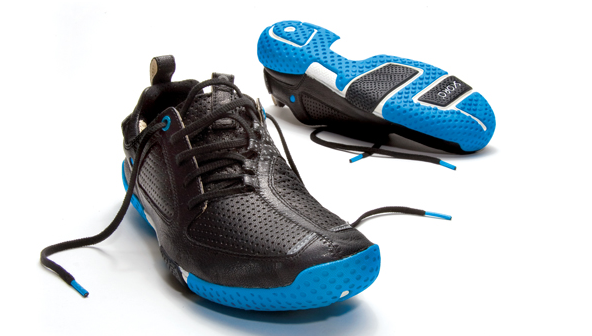 SKORA FORM is designed with an asymmetric lacing and an engineered one-piece tongue to provide a glove-like fit and premium performance. The full leather upper features Pittards Armor-Tan Goat Skin Leather (durable and breathable) with Pittards leather lining for improved permanent water resistance. Ordinary leathers take over 24 hours to dry and are usually hard and prone to cracking. Pittards leather dries in around 6 hours, and is as soft and supple as on the first wearing.
Vibram FiveFingers Spyridon LS

Vibram's first trail running–specific model, the Spyridon LS, is supposed to provide the perfect balance of 'foot feel' and protection on rugged surfaces. The shoe weighs in at 7.2 ounces (EU 43) and has a 3.5mm Vibram rubber sole that provides impact protection from stones and debris, while better allowing proper barefoot dynamics.