Huge Congrats to two Natural Running Center's Partner Stores –Natural Strides Running and Elite Feet –who were selected as  one of "The 50 Best Running Stores in America" at The Running Event in Austin, Texas– which is a fast-growing expo and meeting-and-teaching ground for running store owners and their employees. Best of all, it's where they get to see all the new products, from shoes to hats to tights and more.
Natural Strides Running in Woodstock, GA, is owned by Greg Scott, who shares an amazing passion for running. He decided to give up his career as a school teacher and shift his educational focus to teaching health through physical activity and better movement.
Ken Larscheid., owner of Elite Feet in Brighton, MI, has been involved for many years in the running retail area and in footwear. Ken worked for New Balance and was an early adapter in teaching "Good Form Running". Ken recently opened his own store with the goal of running-form education, something we believe in quite strongly at the Natural Running Center.
This prestigious "50 Best Running Stores" list results from an annual competition conducted by the online footwear trade magazine Running Insight. According to press material, "It starts with consumers nominating their favorite stores through Competitor.com. Then those stores are put through a rigorous evaluation process, which includes mystery shopping to assess customer service, credit ratings from vendors, and assessments about local programs and community commitment."
Our NRC partner stores (they are all independently owned and see our complete list on right side of the home page, or here on the store page) were also highlighted in a feature article in the November 16 issue of Running Insight and Footwear Insight. (article starts as a pdf at p.18).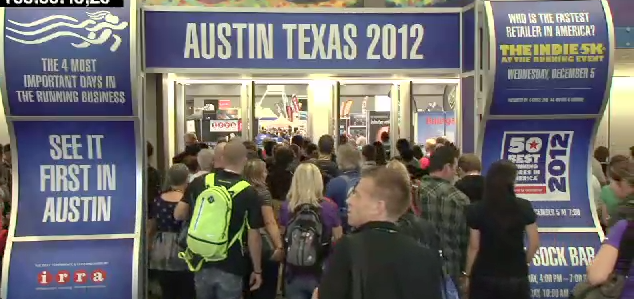 In Austin, I had the opportunity to be part of a presentation on gait analysis and running form with Dr. Paul Langer and Dr. Rob Conenello. We discussed some of what we know and don't know about the topic. I shared some gait training tips in a workshop following the talk.
I love The Running Event and learn so much from other retailers and the companies creating products. The owners of small running specialty retail give back in ways to their customers that large big box stores and the Internet never have and never will.
A few trends I witnessed:
The category of lower drop shoes with protection is growing.
Really good new products in this category that we call "neutral transition".
Less talk about barefoot running this year.
Still lots of confusion about what "natural running" and "minimalism" is
.
Toe boxes are getting wider.
Really cool colors and light materials!
Specialty run retail is in a struggle to keep their niche in the growing world of big box stores and online e-commerce.
***
I also  got to listen to Simon Bartold, a lead researcher at ASICS, repeat the talk that he gave at the Marine Corps Marathon; and once again he took a few weak stabs at the Natural Running Center website by taking sentences taken completely out of context. He believes that minimalism is not just a passing fad; but dead. And how wrong he is, judging by the all the new brands models now available.
Barthold discounted Harvard's Dan Lieberman's important research, and succeeded in convincing the audience that most runners land on their heels, that landing on ball of foot can be bad, and to be cautious with barefoot. This seemed to be his case on "the current state of minimalism" and in my opinion discredited those who are teaching better running-form mechanics in stores.
In brief, I agree with most of what Barthold says about injury prevention: become a better overall athlete, train on different terrains and with different systems, get strong in core, and find a good coaching if you need help. A few of his inferred conclusions about what running instructors are doing is where we part. He made a strong case that runners do land mostly on their heels, that loading on the forefoot is bad, and if you chuck your shoes you can get hurt. I agree here completely.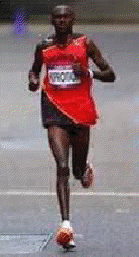 He showed this picture of London 2012 Olympics marathon gold winner Steven Kiprotich landing on his heel to make some point. This appears to be a downhill section of the course. Not sure what race he watched but Stephen looks pretty perfect to me and lands under his center on the level ground. Whether his heel occasionally touches gently first is irrelevant.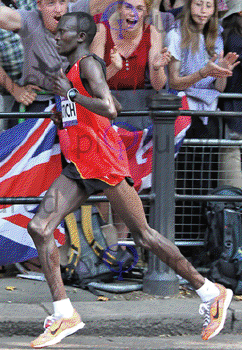 He further commented on London 2012 Olympics women's marathon gold winner Tika Gelana and said how common opinion is "she has bad form". Not sure whose opinion this is; I've never heard it. She looks pretty good too: perfect posture and landing close to center.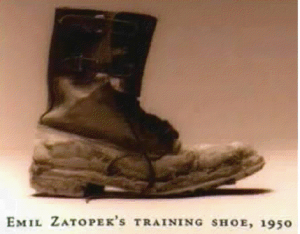 And finally to make some point he showed Emil Zatopek's boots. Emil won multiple gold medals in the 1952 Helsinki Games; and did some Rocky style training in combat boots in the winter. If I recall he raced in the standard wafer thin spikes of the day. Emil didn't overstride, kept his knuckles close to sternum, and a

powerful drive from the glutes with hip extension.
***
I wanted to pose these questions to the large audience after Barthold's talk:
How many of you are teaching better running mechanics in your stores? (likely a lot)
How many of you tell runners to land on the ball of their foot? (probably none, unless part of a complete progressive training package)
How many telling their runners to chuck their shoes and run barefoot? (probably none, unless part of a complete progressive training package and in very small doses at first)
Barthold and his supporters who dominate the podiatry web forums, love to post comments that those in the minimalist movement "cherry pick" the literature.  Judging from his talks, he does the same thing. At worst, he is intellectually dishonest by  showing that single picture of Kiprotich landing on his heel and drawing some conclusion from it, whereas one cannot draw any conclusions.
So do not fear learning better form and experimenting a bit yourself with less shoe. Experience and science is on your side. With that said, I highly recommend that you read Pete Larson's timely post on Runblogger.com called "The Future of Minimalist Running Shoes and the Value of Variety."
It begins:
This morning I opened my email to find an alert that the newest edition of SGB Weekly magazine…The first article in the issue was an interview with Simon Bartold. Simon and I have had our disagreements in the past, but I also think we tend to agree on many issues regarding the etiology and management of running injuries. His interview is interesting, and there are things I agree with, and things I don't.
The first question asked of Bartold was " HOW DO YOU THINK THE WHOLE BAREFOOT/MINIMALIST TREND IS EVOLVING?"
His response:

"I actually think it's dead. I think the big vibe around minimalism and barefoot as it existed 18 months ago has run its course. We're starting to see a lot of retailers say, 'We really can't sell it. Inventories are stacked up. And we can't find anything to justify it scientifically.' So it's going to go back to where it was – what we called racing flats 10 years ago.
WHAT MINIMALIST PRODUCT ARE YOU TALKING ABOUT?

"Mostly the zero-drop footwear and the whole talk of it as a main running shoe for the bulk of people. That's the story we've been told. We've been told that if you go to a zero-drop running shoe then your gait will change and you'll be running naturally like a caveman. But I think the concept has a fatal flaw and I believe people have seen through it. It's taken 3 or 4 years but I think that concept is dead in the water."
Read here for a really great Runblogger post, because there's a lot more as Pete expertly lays out his case to the contrary. For Barthold to say that minimalism is dead is akin to saying that eating real natural food is also dead, a claim which could be made by someone in the lead of large agribusiness. And for his audience of listeners or readers, can any of them comfortable squeeze into their 1990s racing flats?
Happy Holidays.