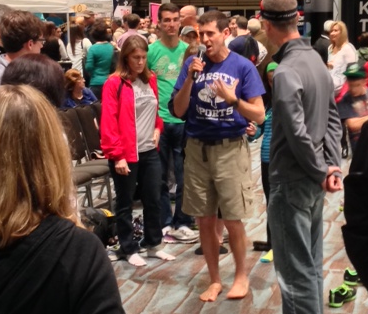 I was recently in New Orleans and had a blast.  It was a privilege to be part of a fun and inspiring running event that is the Rock and Roll. Jenni Peters and Ryan Green of Varsity Sports (an NRC Partner store)  and Newton Running supported my trip and a number of talks.
The highlight was bringing the topic of Natural Running to the main stage with some of the past and current legends of running; Frank Shorter, Rod Dixon (NYC Marathon winner), Mo Farah, Kara Goucher, Martin Lel (3-time London Marathon winner), Gebre (NYC Marathon winner), and of course Louisiana's own local legend Jenni who ran in the first women's Olympic Marathon Trials in 1984,
Jenni  has since spread the love of running through the Bayou, opening 4 stores and training and mentoring thousands  of new and experienced runners over the last 30 years.
This was my first R&R event. There were approximately 5,000 runners in the full and 15,000 in the half. The races start together which made for fun company in the first half. These large events are inviting to entry-level runners and should be embraced. Oprah started the mass movement of women's running with her marathon in 1995 but the half-marathon are much healthier.
New Zealand Olympian Rod Dixon, who now lives in Los Angeles, got the kids going in large waves. What a sight!  He hosted the short run through his KiDSMARATHON Program.  Rod's innovative programs are spreading around the country through events and school programs. It is a 8-10 week "In School" running and nutrition education program that enables KiDS to complete a full marathon (26.2 miles) by running approximately 3 miles per week. In New Orleans, they ran the final mile!
It was also fun for me to do the main stage talk and get folks moving in mini-form clinics through the weekend. Runners asked the common questions on shoes, running form, and barefoot running.  One surprise guest was a fellow family practitioner Bob Dizes who worked with me at the Air Force Academy in the mid 90's.  Bob was literally a wounded warrior running and now has found health through form and minimalism and is teaching and coaching hundredes of adults and youth now with the Road Warrior program in O'Fallon, Illinois. Bob and his wife Jen ran the half-marathon,  and are on a tour of several cities in the U.S. and abroad on race vacations.
The kids were great in the clinics too as they masterfully performed the skipping drills.
I think it also adds impact at another layer by going out and getting in the mix on race day and being part of the pack. This is where you feel the culture shift that is happening today. Running is activity for all. Lots of minorities and youth too. Women make up 60-70% of most half-marathons now.
Best story in the half was a father and son story. The son is 18 years old and severely autistic. They have been running together for 3 years now. I met them Friday before the event and shared the bus ride back post-race. Both of their lives are changed through running as they connect now in a special way. Father and son ran it in about 2 hours.
I ended up running 2:45 for 11th overall in the full marathon and 1st masters (I'm 46). My time was slowed a little by doing air guitar as I ran by the band stations. I wanted the bands to know I appreciated them.
The National Anthem was played by Pearl Jam guitarist Mike McCready who then ran the race. Not sure if Mike will get the invite to play at the Marine Corps Marathon , but hey, .this is the Rock and Roll Marathon.
That's all for now. And be sure to check out Natural Running Center's two new sections: Talks/Clinics and Podcasts. See tabs at top of the home page.