by Nick Pang.
Merrell recently launched its new M-Connect series of running shoes. It is a complete collection featuring running, training, and hiking shoes in addition to apparel. They have everything for the beginning transitioning runner to the advanced minimalist runner. This is Merrell's biggest introduction to date and is a complete solution addressing the needs of every runner on both ends of the minimalism spectrum.
For those starting out, the Merrell Mix Master Move with 4mm drop and ample cushioning is the perfect starter shoe for those coming from heel-cushioned traditional running shoes. Or if you have been running in lightweight shoes like racing flats or closer to the ground shoes (8mm drop or lower), you can go with the Merrell Bare Access 2 with 0mm drop and light cushioning.
If you are looking for an upgrade to your current minimalist shoe (4mm drop or lower), the Merrell Road Glove 2 with 0mm drop and minimal cushioning is the next shoe for you. On the barefoot end of the spectrum, for those advanced minimalist runners, the new Merrell Vapor Glove is the ultimate barefoot-style running shoe. With 0mm drop and only 5.5mm from the ground, this super-lightweight shoe weighing about 6 ounces or less is the shoe minimalist runners graduate to.
You can learn more about how to transition to minimalist running shoes with Merrell Bareform or Merrell's Barefoot Training Program. Of course, you can also see the two books that I have written on this subject: Wear Tested and The Minimalist Runner.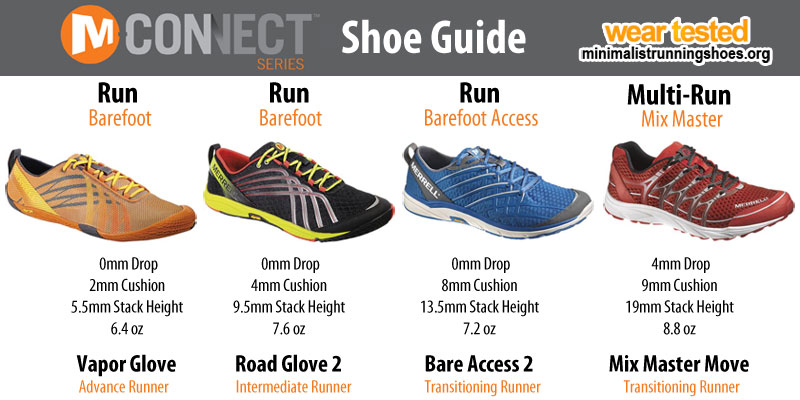 In a nutshell, starting with Merrell Bareform and Training Program, pick one of the shoes from the M-Connect collection depending on where you are in the transitioning program and follow Merrell's instructions.
Personally, whatever program you follow, let your body tell you when to stop and rest. Or your foot. Always listen to your body. Slowly transition from cushioned shoes to minimally cushioned shoes like Merrell Vapor Glove. The goal is to enjoying running injury-free. I've been running for over 25 years, 22 of those years in traditional cushioned-heeled running shoes with a heel-striking form that gave me knee and back pains. The last 3 years were the best running years for me – midfoot striking in minimal shoes with no pain or injury except when I transitioned too quickly in the early years. Sustainable injury-free running is my personal goal.
Read the full detailed review of the individual shoes in the Merrell M-Connect series here.
Merrell M-Connect Series
Free up your running style with Merrell's barefoot running shoes. Barefoot running helps you adjust to your natural gait, strengthens muscles and often alleviates pain. However, it's important to ease into this new style to avoid injuries. Choosing a more cushioned running shoe is ideal for runners who like longer distances, train on harder surfaces or are transitioning to barefoot running.
Merrell Vapor Glove
The Vapor Glove is Merrell's lightest, super-flexible, and most barefoot shoe. It is zero drop with an all-mesh washable and breathable upper that molds to your foot while ventilating heat and moisture. It also has reflective details for increased visibility. A new ultra-thin Vibram outsole and full toe wrap bumper completes this Merrell non-toed version of a Vibram Five Fingers. MSRP of $80.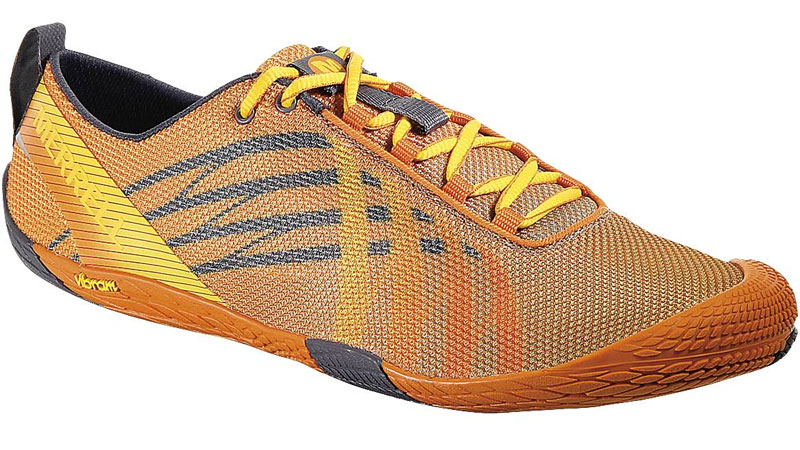 Merrell Road Glove 2
The Road Glove 2 is also an upgrade to its original version with a new mesh and synthetic leather uppers. It also has reflective details for increased visibility. With a zero drop, the Road Glove 2 has a midsole enhanced with a protective toe cap and slight cushioning. MSRP of $100.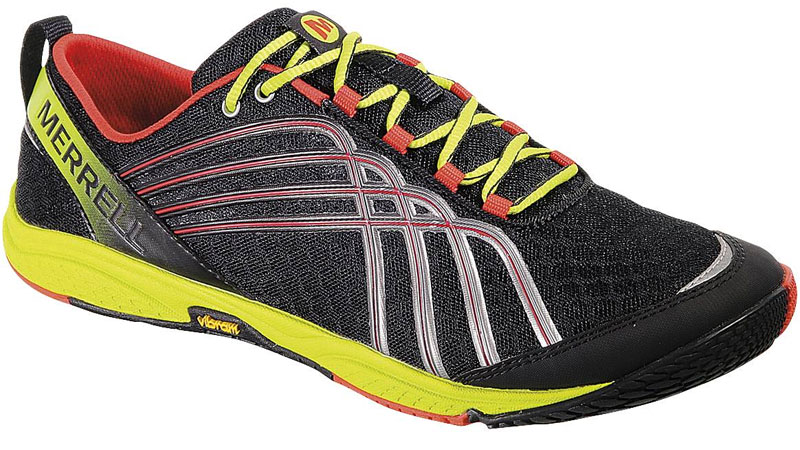 Merrell Bare Access 2
The Bare Access 2 is an upgrade to its original version with a new Bare Vibram outsole and a redesigned upper that is made of a synthetic mesh. It also has reflective details for increased visibility. The Bare Access 2 is zero drop and has a uniform toe-to-heel cushioning to let your feet land flat with less impact as you adjust. MSRP of $90.
Merrell Mix Master Move
Unique in this shoe is the textile and synthetic leather uppers with molded eyelets for secure lacing. It also has reflective details for increased visibility. New to this shoe is a Merrell Float midsole that is 10% thinner and 25% lighter to provide more feel and ground control. For heel strikers, the Merrell Air Cushion in the heel absorbs shock and adds stability. MSRP of $95.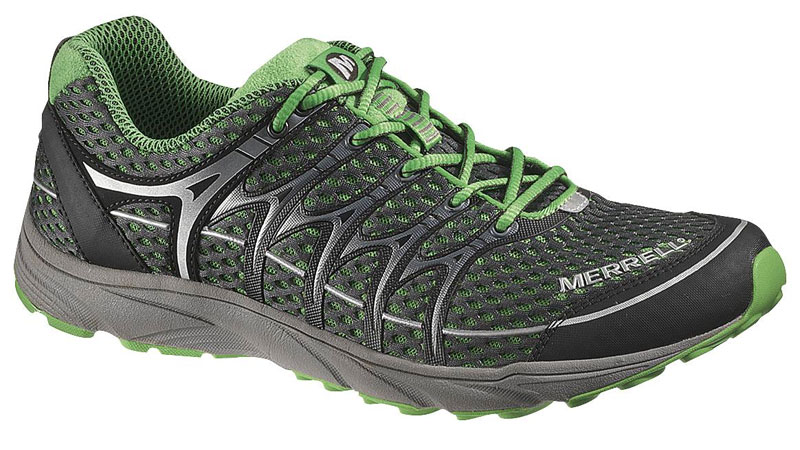 [nrcwhere2buy shoebrand="Merrell"]