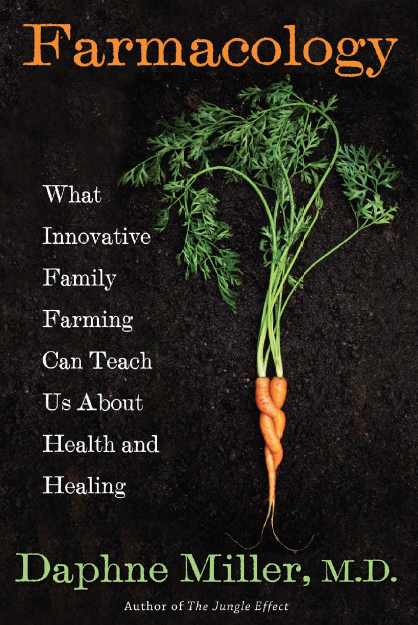 Please enjoy this excerpt from a new book called "FARMACOLOGY:What Innovative Family Farming Can Teach Us About Health and Healing," from my colleague Dr. Daphne Miller.  Dr. Miller is a fellow Family Physician and we met a little over a year ago at an event promoting Nature Prescriptions.  Dr. Miller is one of the nation's leads in using activity and healthy food as medicine.  This is what Hippocrates spoke of and we have strayed far from this ideal.  I just finished her book which is a bold personal journey to discover the roots of farming and the links to health. –Dr. Mark
Meeting Wendell Berry

by Dr. Daphne Miller
Port Royal, Kentucky, is a town so tiny that even the GPS in my rental car seemed unaware of its existence, since it kept offering me alternative locations with "port" or "royal" somewhere in their name. I quickly gave up on technology and dug around in the glove compartment for an old-school, paper map. And there it was, a tiny dot not far from the Indiana border, about sixty miles south of the Cincinnati airport. Leaving the rental lot, I headed along the interstate, passing Big Bone Lick State Park, the Kentucky Speedway, and countless Days Inns. It was not yet 1:30 p.m. local time, but my day had started ten hours earlier and three time zones away in Berkeley. I couldn't help thinking that this was a pretty elaborate pilgrimage for what was likely to be a short conversation. Truth be told, I wasn't even sure what we'd talk about, but even so, I was excited and pushed down on the pedal a little harder.
I found my exit and turned onto a shady two-laner that snaked along, perfectly in sync with its neighbor, the Kentucky River. Although summer was almost over, the rolling pastures on either side remained an emerald green—a jarring sight after the muted patchwork of tans that I'd just flown over in Northern California. I spotted a couple of sagging, tin-roofed barns that I guessed must be defunct tobacco drying sheds and then, about a mile later, two churches, a farm supply store, and a cluster of weathered wooden houses, their wide front porches furnished with rocking chairs. Was this Port Royal? I couldn't be certain, because there was no sign. I bumped over train tracks, took a few more bends, and finally pulled over near a vegetable patch and next to the mailbox of Lane's Landing Farm.
Several months earlier I'd written a letter on cream-colored paper that surely must have landed in this very same box. I'd just finished reading The Unsettling of America, a book by writer, activist, and sixth-generation Kentucky farmer Wendell Berry. I left one particular chapter, "The Body and the Earth," so riddled with notes and stars that I could barely read the original text. There were two sentences that I found especially inspiring:
While we live our bodies are moving particles of the earth, joined inextricably both to the soil and to the bodies of other living creatures. It is hardly surprising, then, that there should be some profound resemblances between our treatment of our bodies and our treatment of the earth.
This was exactly what I was looking for! A farmer who had given considerable thought to the links between agriculture and human health. I wrote to Mr. Berry immediately, introducing myself and asking if I might pay him a visit. To my delight, a week later he called me, an overture that I now understand to have been singularly generous, given that he handwrites everything and avoids even the most basic technologies. He explained that he receives many requests and has to be selective about visitors, but a doctor interested in having a conversation about medicine and farming could not be denied. So we set a date, and Wendell Berry told me to come at 2:00 p.m., after midday chores. I should have left it at that, but so great was my excitement that I offered to come earlier and help out. His first response was silence, and then he said, in the politest of Kentucky drawls: "Ma'am."
No more was needed, as the message was clear: He would not dream of offering to help me do my job as a doctor. Why in the world should I presume that I could help him be a farmer? On my end, I winced with embarrassment and assured him I would not arrive a minute too early. Now here I was, at 2:01 p.m., climbing the steps to the shaded veranda.
Just then, Wendell Berry emerged from behind the screen door. From where I stood, he appeared to be a very tall man, and he was holding a copy of my first book.
"Dr. Miller?" he asked. And silly as I sounded, I could not help but answer, "Yes, and Wendell Berry, I presume?" We both laughed.
"You doctors who kicked over the traces interest me a lot," he said as he settled into one of the white rattan rockers on the porch and invited me to occupy the other. "There are a lot of doctors who are suffering pretty badly, and it is because of that collision of technology with flesh."
In that instant I understood that Wendell Berry knew, better than I, why I was there.
***
Excerpt from FARMACOLOGY, reprinted with permission from William Morrow. Copyright © 2013 by Daphne Miller, M.D. Daphne Miller, MD, is a physician, author, and professor of Family Medicine at the University of California, San Francisco. For the past decade, her writing and teaching has explored the frontier between biomedicine and the natural world. Her widely acclaimed first book, The Jungle Effect: The Healthiest Diets from Around the World—Why They Work and How to Make Them Work for You, chronicles her nutrition adventures as she travels to traditional communities around the globe. A contributing columnist to the Washington Post and other newspapers and magazines, Miller holds a medical degree from Harvard and an undergraduate degree from Brown University. She lives and gardens in Berkeley, California, with architect Ross Levy, their two teenagers, a dog and a cat. Her new book, FARMACOLOGY: What Innovative Family Farming Can Teach Us About Health and Healing, was published on April 16, 2013, by William Morrow.