Altra Zero Drop The ONE is a fast, light, and slightly cushioned do-it-all performance shoe that launched recently. But it is also one of the most anticipated shoe on my 2013 list as I wanted to see something between the Altra Instinct 1.5 and Altra Adam. –Nick Pang, NRC shoe editor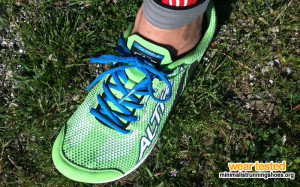 From Altra's literature, "From a casual 7-mile run, a marathon PR, or mile repeats, this shoe delivers a comfortable, cushioned performance. The cushioned midsole allows for maximum responsive energy return while the SpeedPod outsole maps the bones of the foot for a natural flex. Plus, the Zero Drop design allows for natural loading of the calf and Achilles while optimizing the landing angle to ensure maximum power with minimal impact. The One is the one shoe to handle any run on any occasion. "
Altra The ONE is designed for road running and racing, both as a training shoe and a racing shoe. The midsole is made of blended EVA/AltraBound while the outsole consists of blown rubber SpeedPod. The uppers is made of a lightweight quick-dry air mesh with traditional lacing. The tongue is made of a felt-like material and very comfortable.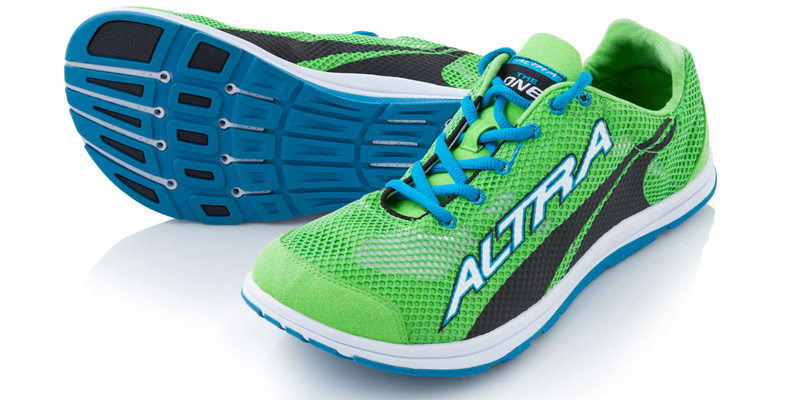 Review Summary
This is the first Altra model that has a non-removable footbed. You can remove it but the stitching will show and you cannot run sockless in them. My pair (U.S. Men's size 10.5) of The ONE weighs in at 8.6 ounces and have a stack height of 18mm. This is similar to the Altra Instinct or Altra Instinct 1.5 with the footbed intact but lighter by about an ounce. I personally like The ONE more than the Altra Superior (lighter and better fit) for non-technical trails but with no rock plate. It does fine on non-technical trails with small rocks and pebbles — there is enough stack height to disperse the shock. But on more than one occasion, a small rock got into the shoe and I had to stop to remove it.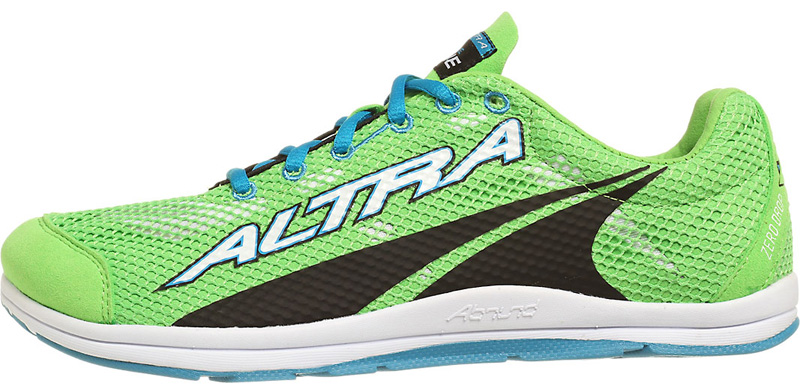 On the tartan (rubber) track, I used The ONE for many speed work sessions. It is light enough and the slight cushioning did not affect my sprint form that much – of course I prefer spikes when doing full speed sprints. Fast repeats of 200m, 400m and 800m worked perfectly with The ONE!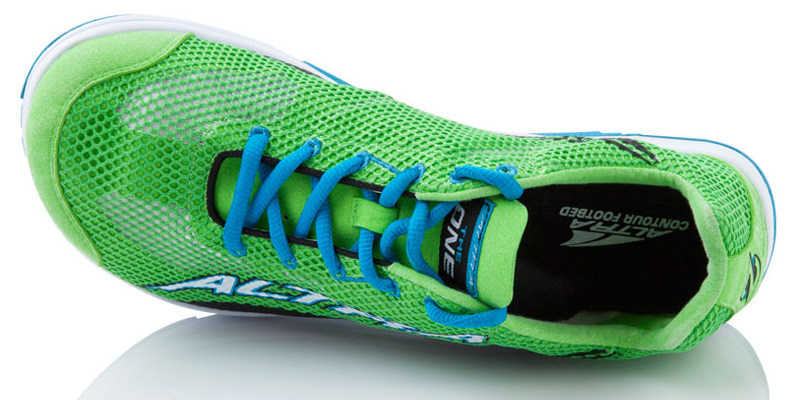 I usually run trails and rubber tracks but decided to test The ONE with some asphalt running. The slight cushioning is welcomed and the traction is awesome. My next 5K or 10K road race will definitely be in this pair of Altra! I cannot find anything wrong with Altra The ONE and this perfect trainer and racer scored a 5 stars in my book. If I have to nitpick, the curved toe box shape makes the shoe appears clown-like.
[nrcwhere2buy shoebrand="Altra"]