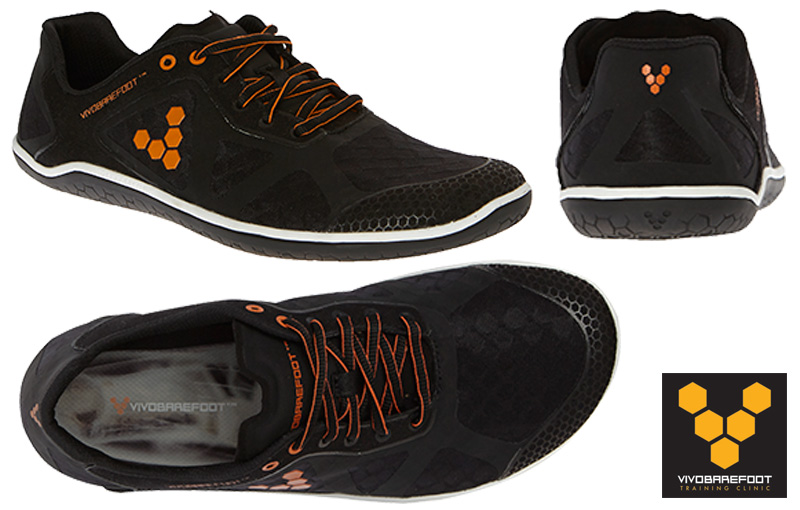 by Nick Pang.   The VB ONE is VIVOBAREFOOT's ultimate on-road or in-gym barefoot performance shoe. The uppers feature a lightweight and breathable hex mesh with V Web lamination for stitch-less lateral support. It is also lined with a soft-fit performance lining containing environmentally friendly Aegis to provide active moisture management, anti-stink, and a pure barefoot experience.
The V Road outsole is a hexagonal two tone ultimate barefoot sole. Tuned for the road and treadmill this flexible, soft and wet/dry slip resistant sole lets your foot do its thing with pure sensory clarity.
Aesthetically, the VB ONE looks like the VB Evo, VB Evo II, and VB Evo Lite. The upper is similar to the Evo Lite but superior in terms of breathability and softness.
Review Summary
My pair of VB ONE (EU43) weights in at 7.2 ounces with the sockliner, 6.2 ounces without. VIVOBAREFOOT shipped the limited edition Training Clinic version (Black for Men, White for Women) that comes with a mini-pulsating metronome, Uncommon Sense DVD, and barefoot running book by Lee Saxby.

Wearing the VB ONE sockless, I took it out for a spin on the rubber track doing a mix of speed work after a couple of miles warming up. I'm happy to be able to sprint in them with great traction and control. Personally, the VB ONE belongs to the same class as the lightweight racers like Merrell Barefoot Vapor Glove, Mizuno Wave Universe 4, Adidas Adipure Gazelle, SKORA PHASE, and New Balance Minimus HI-REZ. Even though this is technically a road shoe, I run dominantly non-technical trails so I took it out for a 4 mile run on the local cross country course with rolling hills. No problem with the hills or gravel or packed dirt and no bruises even though it has no rock plate. This is truly an awesome multi-purpose shoe for both road and non-technical trails.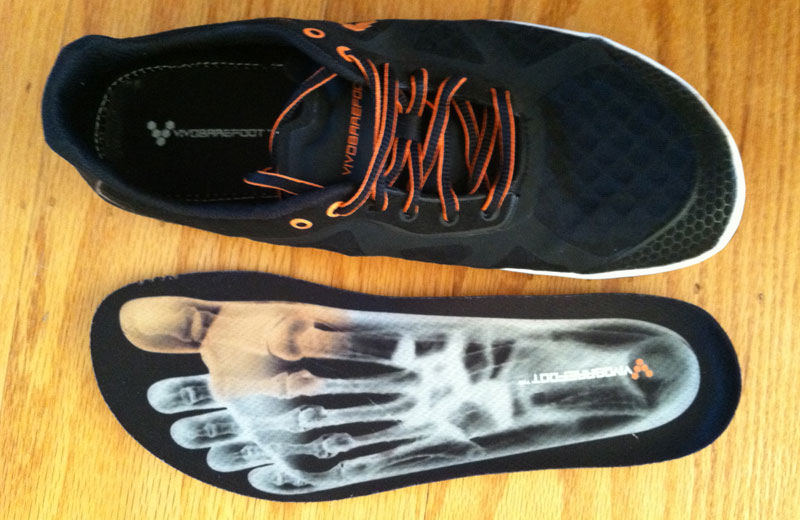 After dusting off the VB ONE with a wet cloth, I can also wear it as a casual an walking shoe with jeans and track pants! The VB ONE is truly living up with the name as the ONE shoe for everything – road running, trail running, speed work, casual, walking, and probably many more activities.
As with all VIVOBAREFOOT performance shoes, the VB ONE is super-flexible, low to the ground with a 3mm puncture-resistant outsole, and designed/crafted using premium vegan materials. It is also the best looking minimalist running shoes from VIVOBAREFOOT hands down in the black and orange colorway (limited edition)!


[nrcwhere2buy shoebrand="VIVOBAREFOOT"]