by Nick Pang, The long awaited product launch of Tony Post's (ex-CEO of Vibram FiveFingers) new company, Topo Athletic, which was previewed last April, is finally here.
Topo Athletic called their approach to design, 'innate amplification'. They are in awe of the genius of human biomechanics, and to that they respectfully bring their modern constructions, materials and designs that optimize these amazing natural abilities. The result is a new kind of athletic shoe – one that brings a subtle but sophisticated technology to the instinctive movement of the human foot and body.
Based on the Japanese Tabi shoe, Topo Athletic's split toe creates a unique anchor point in the forefoot, offering more security and a stronger connection to your footwear. The anatomically-designed toe box allows the remaining toes to spread naturally, delivering comfort and control for optimal performance.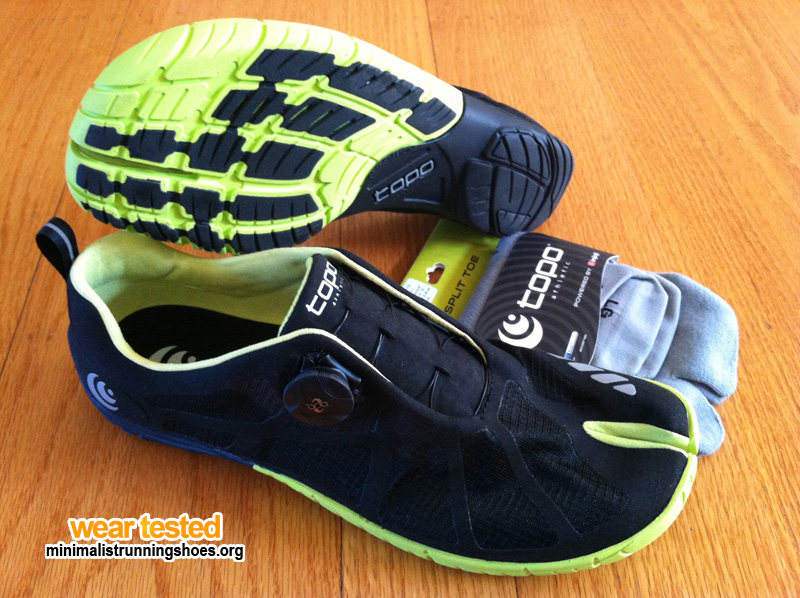 All Topo Athletic shoes have a zero-drop heel-to-toe platform because they don't think a shoe should "fix" the way you run. They also use welded seams because weight and chafing are not your friends. Their philosophy of humble innovation means that they obsess over every detail. But at the same time they understand that the most impressive thing that will ever go into their products is you.
Each model in the men's collection has been carefully crafted to amplify your body's innate abilities; inspiring a better, stronger, faster you. As the foundation to each specialized design, every model features a split-toe anchor point, zero-drop platform and a remarkably lightweight, heat-welded construction.
In this review, I wear tested the racing shoe, RR. Fast and light, the RR is Topo Athletic's performance running shoe. It is an example of engineering that manages to be both elegantly simple and technically advanced at the same time. Dial in the premium Boa® Closure System for a secure, customized fit and get ready to fly in the lightest performance runner in the Topo collection.

Besides the premium Boa closure system the RR also feature a heat-welded seam construction with an ultra-light mesh and microfiber upper. It includes a removable 3mm EVA footbed that is perforated and Aegis-lined for breathability and odor resistance. The 3mm rubber outsole and the 6mm EVA midsole make for a total stack height of 12mm.
Review Summary
My pair of Topo Athletic RR (US Men 11.0) weighs in at 6.4 ounces. Compare this to the B2R Road (Tabi-style, US Men 10.5) at 7.2 ounces without the sockliner. I kept the sockliner in the prototype RR because the footbed looks unfinished with exposed stitching – I only run sockless. Both the B2R and Topo Athletic shoes come with a pair of split-toe socks.
As I had written before, I'm not a big fan of split-toe shoes. But B2R did a great job of making the Road model comfortable and functional. However, Topo Athletic did a better job with the split-toe and uppers integration in the RR model – I barely noticed the toe post and never got any hot spots or blisters running sockless.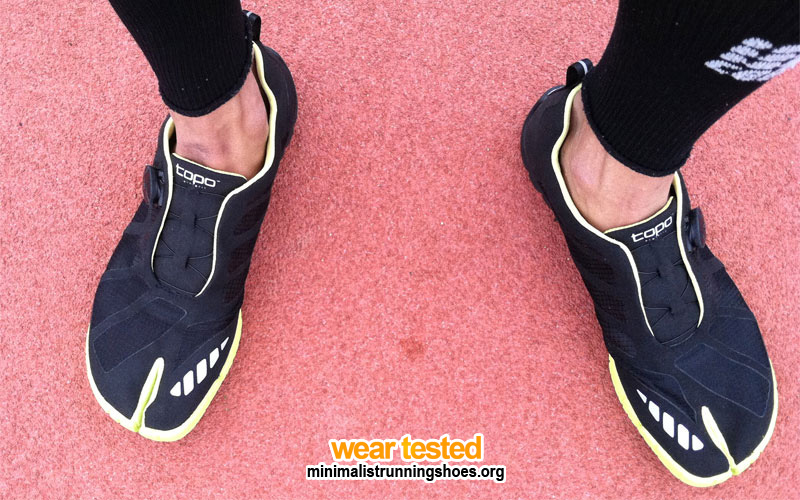 I also noticed that the forefoot flex on the RR is stiffer than the B2R Road. But what stands out for the RR is the use of a Boa closure system. I have seen the Boa system on triathlon (Zoot Ultra Race 4.0) and golf shoes (FootJoy M-Project) before but never on a road racing shoe. And I fell in love with it!
The Boa system works like magic – set and go! Never worry about your laces getting lose while running (my high school cross country and track daughter can attest to that) or having to adjust. Boa provides custom comfort with smooth, even closure and no pressure points for a glove-like custom fit. Once locked into place, Boa reels and laces stay that way. Boa reels offer micro-adjustability or fine tuning.
The RR is not just for running on asphalt, rubber track, and concrete. I took it out on a hilly cross country non-technical trail and not a single pebble got in. It feels like my VFF Spyridon LS and I have no problem running over rocks even though there is no rock plate. I also use it for speed work on the rubber track.

My final observation is that while running in the Topo Athletic RR, it brings out the flaws in my running form like a pair of Xero Shoes sandals (as barefoot as it gets) or barefoot running does. Your arch and calves will feel sore if you have been running mostly in cushioned minimal shoes or traditional running shoes.

[nrcwhere2buy shoebrand="Topo"]