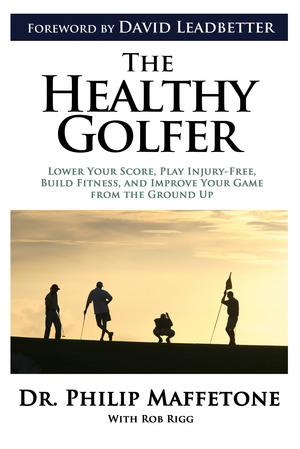 As a recreational golfer, it was with great anticipation that I received Dr. Phil Maffetone's new book in the mail. In a departure of Phil's previous titles, this one was centered on golf.  Phil's work has significantly  influenced my life, running, teaching on health, and practice of medicine. I was eager to see what he had to say about the great game in "The Healthy Golfer".
In addition to working with world-class endurance athletes such as six-time Hawaii Ironman champion Mark Allen, Phil treated a number of amateur golfers and several PGA players during his 30-year-career in private practice.  Phil has even appeared on the "Golf Channel" with golf-swing expert David Leadbetter. Phil talked about the importance of nutrition while playing. Too often, golfers munch down a hot dog, bag of chips, and cola right before heading to the back nine, and then wonder why they begin to mentally and physically fall apart before they reach the 18th green.
Unlike so many other golf books and DVDs that focus on technique,  Phil's book takes an entirely new approach that looks at the entire mind-body connection. As he explains in the introduction: "All golfers want to improve their swing, and as a result, lower their score. But often, despite numerous golf instruction videos, lessons with pros and time on the range, they are still far away from reaching their goals. Maybe that is because golfers are thinking about the process of improvement incorrectly? Maybe achieving a repeatable swing and staying calm under pressure is not all about time on the range or on the course, but the manner in which you care for your body and mind because that is the foundation of a great golf game."
"The Healthy Golfer" won't tell what is the best grip for holding a club or how to achieve that correct swing plane. Instead, it will teach you — and I found that many runners are, in fact, golfers — how to lower your score by better learning how to listen to your body; by wearing the right shoes without heels and ones that have flat, flexible, spikeless soles; by going barefoot during the day; and by eating the right foods. Phil's book could just as easily be called "The Natural Golfer."  His message for golfers is the same one that he has for runners. And like running, golf is an endurance sport.
Looking back at my own youth,  I think my aerobic base as a runner was built on golf.  From the ages of 11 on, I would walk 18 or more holes of golf a day in the summer with my brothers and friends at our local course.  The bag weighed as much as I did.  We never had lessons and got by playing with blades (old-school wooden clubs with a tiny sweet spot) and developed natural swings. Now golfers rely on their oversized, titanium clubs like the Big Bertha driver, and as a result, they often do not get the feel of the ball and club. Our golf shoes were flat and thin-soled Converse and Keds.
As I grew into an adult I continued loving the game. My wife Roberta and I sought out a small hamlet in Colorado with a little-known course tucked onto the Red Rocks called Perry Park.  Walking was encouraged there and we even took our dog on rounds. Eighteen holes would take us three hours and we finished more refreshed than when we first set out. We were on friendly terms with the staff and none of the maintenance crew frowned on my morning runs on the course. (An activity forbidden on most public and private courses today.)
Roberta and I experienced golf at its purest on a trip to Ireland.  The links courses invited the walk/hike.  The terrain was impassable for a cart. The elderly caddies were the healthiest and strongest seniors that I have ever witnessed.  As we moved and traveled around the U.S., we became disturbed at the new requirement by most courses that golfers had to ride carts. They wanted to speed up play and get more golfers on the course. Walking was prohibited! I refused to play these courses.  For some reason I could not think about the game correctly while riding in a cart.
Today I am a true minimalist golfer and love it that way.  I carry just six clubs and all of them over 25 years old: original Taylor Made metal Driver and 5 wood and original steel-shaft Ping Eye irons  5,7,wedge (gift from Granddad) and a putter. I used to play to about a 9 handicap and need more practice to get back there now. Roberta's favorite "golf" shoes are Skora and I mix between Vivobarefoot, FiveFingers, and Skora.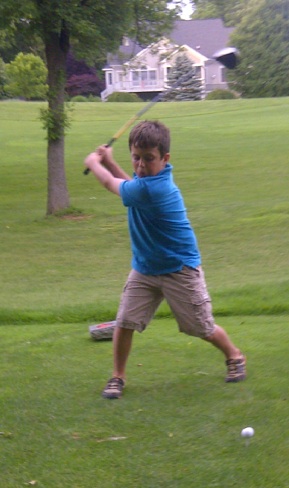 I enjoy the walk when I play. Our local course, Cress Creek Country Club, in Shepherdstown, West Virginia, still encourages walking.  I am also allowed to run there during the early morning hours (barefoot on the summer days).  My two children are learning to play and love the game for its simplicity.
My father-in-law Casto DeBiasi is 92 and still walks the course (with four clubs).  A couple years back a small group of young players in carts came up on him and asked him his age.  He replied "90".
One response: "Wow. I hope I can still get out on the course when I'm 90".
Casto's reply: "Then get out of the cart."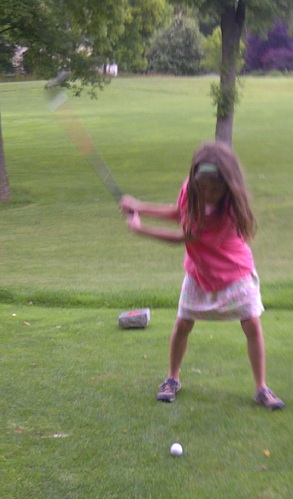 Phil's book is refreshing and important because golf is a ticket to continued health and fitness for all ages, and yet the modern style of the sport –electric carts; large, heavy bags filled with too many clubs; stiff, ill-fitting shoes with soft spikes –are robbing many golfers of reaching their potential and of the truly satisfying experience of mastering what is known as "golf from the ground up." And like with running, feet and their connection to the ground play a critical role that affects what happens to the rest of the body.
"The Healthy Golfer" shows that one's own biomechanics actually get worse by riding in a cart. Instead of resting between shots, the body needs to be moving and active. A recent study cited in the book looked at scores by those who rode in a cart and those who walked (usually pulling a bag, not carrying it), and found that walkers had lower ones.
 
Walking while golfing is an activity that the entire family can enjoy even if at different levels of aerobic development and skill on the course.  On less-crowded courses, walking a round should not take more than three or four hours either.
Thank you, Phil, for your continued work into taking health and fitness beyond the gym,  triathlon, and into the music studio and now the golf course.
***
Highlights from "The Healthy Golfer" (To read chapter excerpts, go here)
• The need for relatively slow and easy exercise, such as walking, to enable your aerobic system to improve endurance for better golf.
• The benefits of flat and unstructured footwear on and off the course, and the reasons to avoid expensive and over-designed shoes that put your body in a position to fail or get injured.
• The importance of focusing on burning body fat for unlimited physical and mental energy, rather than relying on carbohydrates, which come with severe and erratic limitations in energy.
• Reasons to stay away from refined carbohydrates that can reduce endurance energy, affect blood-sugar levels, and disrupt important hormone balance, including those that create stress.
• Why stretching before play is not recommended because significant flexibility can be obtained with an active warm up through walking, and without the risk of injury that can accompany stretching.
• How to balance your dietary fats to reduce inflammation and improve brain function.
• Why spending adequate time in the sun allows your body to obtain more vitamin D that will improve athletic performance, and how to protect yourself from getting burned.
• How to ensure that age will not become a barrier to your enjoyment of the game and why you can play into your 80s, 90s, and beyond, and yes, without fatigue or injury.