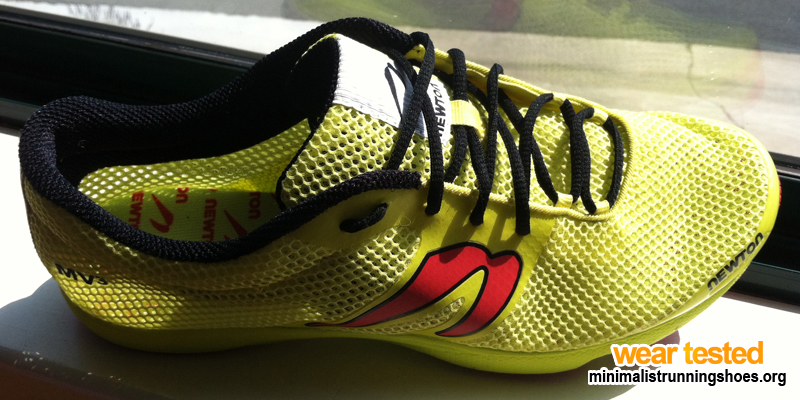 by Nick  Pang, NRC Shoe Review Editor.   I recently reviewed the Newton EnergyNR, a bridging and transitioning shoe for runners who want to experience the unique technology platform and ride found only in Newton running shoes. Now with the MV3, Newton Running has launched the lightest running shoe in its racing line. Ultra-lightweight and designed for speed, the MV3 is a racing shoe with a zero-drop profile and is designed for short or mid-distance racing as well as  weekly speed workouts.
The uppers consist of an updated ultra-light highly-breathable and fast-drying mesh with a seamless anatomical support strapping. The lacing system is slightly asymmetrical. The MV3 has an enlarged toebox and has a TPU toe cap.

The midsole is made of second generation Action/Reaction technology in midfoot with a biomechanical metatarsal sensor plate and high-rebound EVA. The metarsal-flex provides enhanced forefoot flexibility. The package also comes with a 3mm lift for those who are not ready for a zero- drop shoe. The midfoot area is widened for greater stability.
The outsole is made of a high-traction 5-lug forefoot pattern with high-density rubber in heel and toe. They are slightly lower profile than the MV2.
Review Summary
My pair of Newton MV3 (US Men's 11.0) weighs in at 6.0 ounces and has a stack height of 16mm. The heel-to-toe differential or drop is 0mm. The second you put on the MV3 racer, you can feel a major improvement from the previous version, the MV2.  These positive changes include a wider toe box, soft and ultra-breathable uppers, lower forefoot lugs. I did size up by a half-size based on previous experiences with the MV2.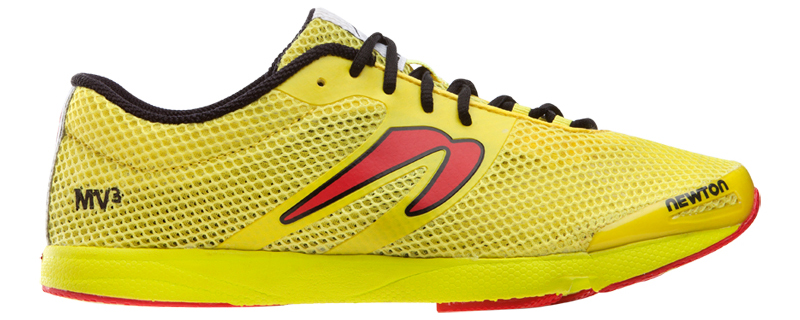 The uppers feel thinner than a pair of socks to me, and I haven't worn running socks for over 3 years! Running sockless in the MV3 is such a joy with the soft, thin, and slightly stretchable uppers. The sockliner (anti-friction and anti-bacterial) is not removable and the tongue does not slide around (very important for me) because it is connected to the strapping support.
With the MV2, I cannot walk comfortably wearing it. The MV3 has lower profile forefoot lugs and walking in them is natural and comfortable.
There is only one speed when you put on a pair of Newton MV3 -and that seems to be all out! Even after testing over 200 minimalist running shoes the past several years,  the MV3 got me excited when wearing them on the tartan track. I can't fully explain it, but I  just mentally and physically wanted to run fast even though I started slowly after less than a half lap.  Going fast messed up my aerobic heart rate training and so I ended up doing more speed work instead.

I was so impressed with the Newton MV3 that I wore it several weeks ago at the National Senior Games in Cleveland, OH, which were held in the Baldwin Wallace University stadium.  I ran the 400m heats (50-54 age group) in the MV3 because of its comfort, great traction, and light weight as a racing shoe. But I went out too fast in the first 300m of my race and paid for it dearly in the last 100m. But my performance in the 400m will only get better now that I can train in these shoes. I had better luck in the triple jump. I did 3 triple jumps in the MV3s.  I just missed getting a bronze in the triple jump by 4 inches. I can now honestly say that the MV3 has been track & field tested! Maybe Newton can design a track shoe with spikes…
The Newton Running MV3 is available for purchase (MSRP $125) at: Newton and Zappos

Newton shoes available nationwide:
here
Also available at these NRC partner stores: