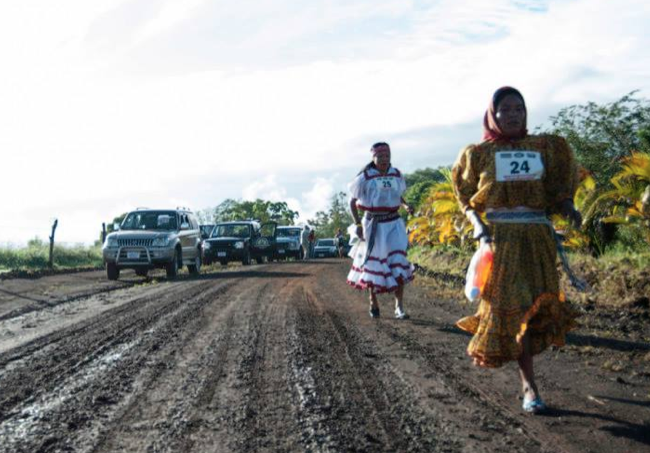 by Charlotte Clews.
The Tarahumara people are renowned for their long-distance, trail-running skills and while much has been written about their top male runners who consistently win international ultra-marathon races, little has been said about the remarkable Tarahumara women.
In addition to honing their agility and stamina on the rugged terrain of the Sierra Madres of northern Mexico, Tarahumara girls and women also compete in a traditional game of catching and tossing hoops with long sticks while they run. (The men play a different game that involves kicking a wooden ball down the trail). Though the women may run or hike several hours a day, it can be difficult for them to leave their children and household duties behind to travel for races. In addition, male chauvinism, is alive and well in Tarahumara culture.
Indeed, when it came time to invite a group of a dozen Tarahumara to travel to Costa Rica to compete in the 52k and 100k La Ruta Run on November 16, 2013, several men initially refused to travel if Tarahumara women were included. Fortunately, two women came anyway.
The Tarahumara's travel expenses were paid for by the La Ruta race director Roman Urbina, who also invited several runners from the U.S. and Canada, as well as runners from native Costa Rican tribes to gather during the week preceding the race for a kind of minimalist and indigenous runners' cultural-exchange program.
Which is how I had the great privilege of meeting two Tarahumara women, María Isidora Rodríguez González and Silvia Castillo Ramirez. I had traveled from the frozen hinterlands of Maine to test my tropical running skills in La Ruta Run and to meet the remarkable Tarahumara runners that had unwittingly inspired me to throw out my old motion-control, large-heeled shoes several years ago, and to finally run pain free, first barefoot and then as I took on more rugged terrain, in zero-drop minimalist shoes.
Silvia, Maria Isadora and I ending up sitting next to each other on a minibus while touring San Jose, the capital of Costa Rica, for several days. Little by little I learned about their lives and the hardships that Tarahumara women endure while trying to feed, clothe and school their children in a rapidly modernizing culture where the potential income earned by indigenous women is between zero and a few dollars a day. As I heard more of their stories, I became even more inspired by their running and the courage it took for them to make this trip.
At the age of 36, this was Maria Isadora's first time leaving her remote home in the Sierra Madre Mountains of Chihuahua, Mexico. Her native language is Rarámuri, and for the first few days we were both equally shy speaking Spanish with each other.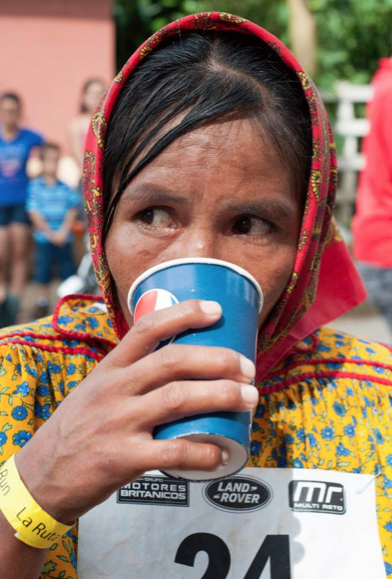 I was struck by Maria Isadora's courage. She told me that the scariest part of the trip for her was seeing the ocean for the first time, but then there she was, standing waist deep as the swells rolled in around her. Paralyzed by shyness, she barely lifted her hand to shake mine when we first met, but then there she was a few days later, grasping both my wrists firmly as we demonstrated a partner yoga stretch together. She could barely stomach the bland tico food and told me next time she would bring her own chilies. When I said "next time?" She said yes, she would like to travel more. Her 17-year-old daughter, Valentina, has just started running more seriously and she hopes that they can run together next time. I hope so, too.
She was also curious about my knitting. I was making a hat for my friend's baby, but the hat ended up much too big for a newborn, which is how I had come to discover that she has a one-year-old (whom the hat would fit perfectly!) The hardest part of her coming on this trip was leaving her still-nursing son behind with her husband and two teenage children.
Maria Isadora's family lives in a wooden shack and her work is herding goats, following them for several miles a day up and down the steep canyon trails. She goes home for lunch, making all her tortillas by hand because she doesn't own a tortilla press.
She came on this trip planning to run the full 100-kilometer race, but on the morning of La Ruta Run she was suffering from a sinus infection and headache and decided to run only to the official halfway mark — 52 kilometers.
I too only ran the 52k. Even so, the 9,000 feet of elevation gain, combined with slippery, deep muddy trails and the energy-sapping heat and humidity made for a very full day! Only nine of the 40 racers continued on to complete the 100k distance. Five of those were Tarahumara men, with Silvino Cubesaré taking first place in 11 hours  and 15 minutes.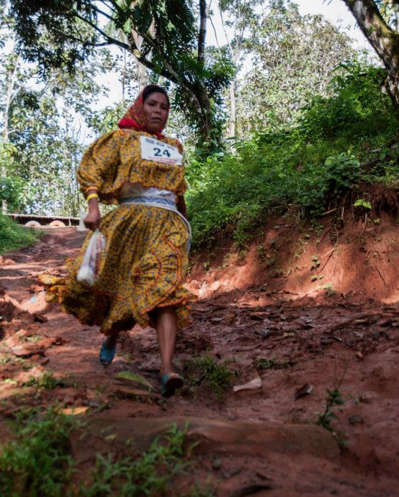 While I ran with a fancy, super-lightweight hydration pack and a dozen packets of Gu, Maria Isadora carried the plastic water bottle given to her by the race directors in a small grocery bag along with a small amount of pinole (ground corn) and some cookies from an aid station. She was just as unaccustomed to the humidity as I was, but she ran in her traditional full-length gathered cotton skirt while I tried to stay cool in my super-wicking Spandex shorts and Coolmax tank top.
Even more remarkable were her shoes. She navigated the incredibly steep, slick trails in the same cheap plastic sandals that she had worn all week.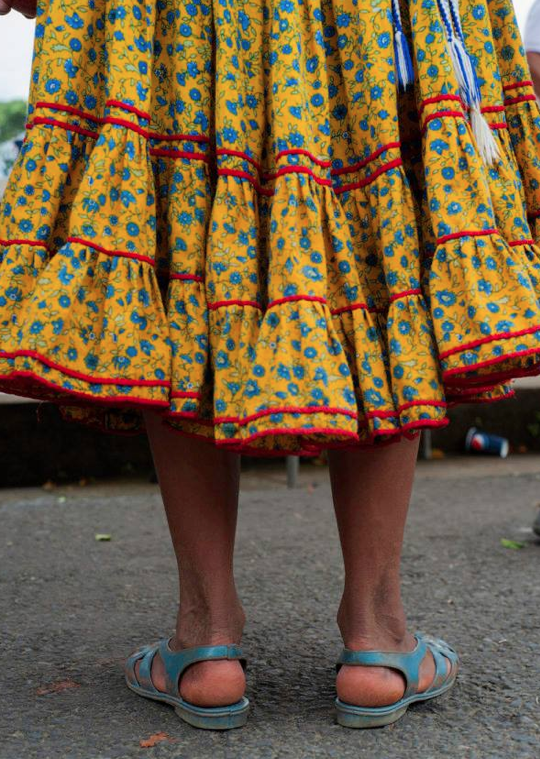 Maria Isadora stuck close to Silvia throughout the race. Ten years her junior and an accomplished runner who has competed and placed well in long-distance races in Mexico. Silvia could easily be the poster child for modern-day indigenous female runners.  She gets up at 5 a.m. to run for two and a half hours every morning. Then she comes home to cook breakfast for her seven-year-old daughter and the other children that live with her, gets them ready for school and goes to work as a housekeeper. She says she doesn't like to "train" in any particular way. She just likes to run. Her daughter started running last year. Silvia says Tarahumara kids run because it is the best way to get to and from anywhere.
Silvia ran the 52-kilometer race at La Ruta, but she said that she ended up running slower because she fell on one of the muddy downhill sections and got her dress dirty. She stopped at the next stream crossing to wash her dress but said that was a mistake because the wet cotton was heavy and trapped the heat, which made it harder to run.
She said running in the jungle was the scariest part of the trip for her.
I agree, running along side-pit vipers and bullet ants is nerve-wracking, but my own low point in the race came when I got lost and took an hour-long detour up a steep, muddy hill. At the top of the hill, I discovered a fantastic view, but no aid station. Instead, a farmer and his horse came up the trail from a field behind me. When I asked him if he'd seen "anyone else with numbers on", his already impossibly wrinkly tan face crinkled up even more in hysterical laughter. As I plunge-stepped and glissaded back down the deep muddy trail, I couldn't help but love the security and traction of the tread of my New Balance shoes.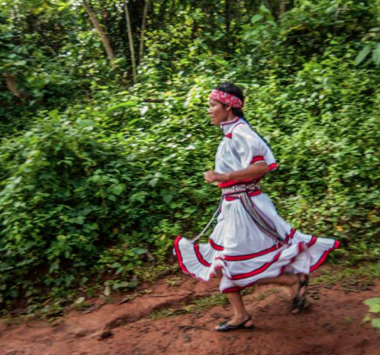 After the race, I asked Silvia if she would change her clothes or shoes next time and she said she might shorten her skirt a bit and try sneakers if she runs in the jungle again (where she runs at home is very dry and rocky). But generally she prefers her plastic sandals to huaraches (the traditional sandals worn by Tarahumara men) and though she was gifted a pair of Xero Shoes sandals on the trip and she liked them for walking around town, she said she would feel too nervous using them for a race.
When I asked Silvia what she wants American women to know about her life she told me: "We work too hard and get paid too little." As we drove through the coffee plantations she asked if it was possible for the Tarahumara to come work the harvest, and she wanted to know how much I could sell my hand knit hats for.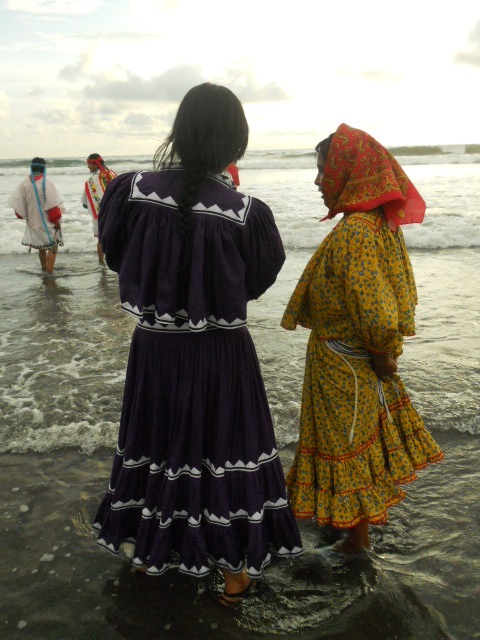 One of the best moments of the trip was when Silvia and I were looking at photos from the race. When we got to a photo of a certain, very handsome young runner from the Cabecare tribe that lives in the Talamanca Mountains of Costa Rica, Silvia made me pause and then collapsed in giggles while asking me if I knew his name. I didn't, though he was one of the men I passed right before I got lost. I told her I'd seen him walking a lot in the race and surely he was too slow for her! I also told her that I'd overheard the Cabecare men say they want to train harder and come back to run faster next year. She replied with a smile, "Then I will too".
I hope that we can both return to run La Ruta again next year. But, like the Cabecare men, I will have to train a little harder if I want to keep up with Silvia.
While it seems that the long-term future of the Tarahumara people grows more uncertain each year due to increased deforestation, mining, drug trafficking, and a persistent drought, we can only hope that more Tarahumara women will step forward to be justly rewarded for their tremendous courage and hard-earned talent. They too, were born to run.
***
To read more about Charlotte Clews's adventure in Costa Rica, traveling and running with the Tarahumara, please visit her blog on her website at http://www.yoga-runner.com. For more information about La Ruta Ultra Run, go here.  Photos by Eduardo Reyes Paniagua and Charlotte Clews.