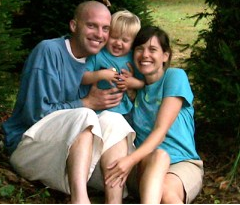 Thousands of miles from the Copper Canyon region of Northern Mexico is a small organic farm that's located on the western outskirts of North Carolina adjacent to the Pisgah National Forest. Co-founded by Will Harlan and Emily Diznoff in 2005, Barefoot Farm is partially modeled on the self-sufficiency farming methods practiced by the Tarahumara for centuries. Barefoot Farm's water is gravity-fed to the farm from a pristine mountain spring. With a contemporary nod to modern technology, the house and farm are powered and heated completely by solar energy. Photovoltaic and solar thermal panels line the roof of the energy-efficient house they built.
Barefoot Farm's website explains how they do things there: "Our five-year-old son, River, helps with berry picking and seed planting. Our three dogs protect the goats, guard the beehives and berry brambles, and chase away critters. They also occasionally snack out of the compost. Our Saanen dairy goats provide fresh milk daily. Thousands of honeybees in seven hives keep our fields and forests well pollinated."
But the eight-acre farmstead is anything but your typical, eco-friendly place to grow crops, raise livestock, and live off the grid.  The nonprofit farm provides fresh, local, organic produce to low-income families in need. The farm also helps indigenous Tarahumara farmers. Each year, Harlan makes the long journey to the Copper Canyon to provide much-needed assistance in the drought-stricken region.
Their website explains: "Barefoot Farm directly assists Tarahumara farmers by providing them with native maize seeds, basic tools, and assistance with water resources and land protection. 100% of all farm proceeds and donations go directly to establishing grassroots seed banks for Tarahumara farmers. We also provide water and irrigation, basic tools, micro-loans, and other support."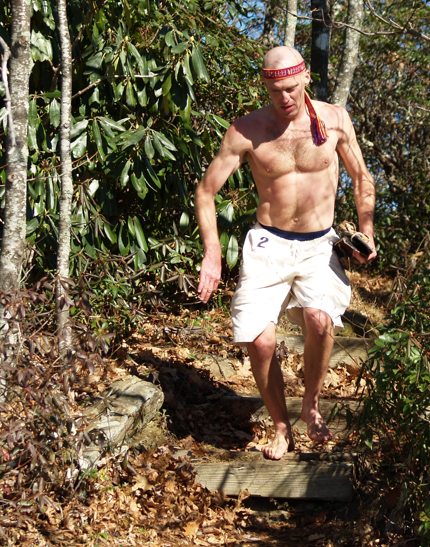 Nor is Barefoot Farm's involvement with the Tarahumara a new development.  Once again, from their website: "We have spent many years with the Tarahumara, modeling our own farm after their practices. We have also built relationships with the people, enabling us to provide direct assistance to the Tarahumara farmers who need it most. Drought, logging, and soil erosion have made subsistence farming even more difficult for the Tarahumara, and many farmers lack the resources to continue growing their ancient varieties of corn. We provide the seeds and tools to enable Tarahumara to continue their traditional farming and running culture."
Harlan, who is an elite trail runner and a cross country/track coach, also runs the same trails with the huarache-wearing Tarahumara, joining them in their traditional ball races and ultra runs through their steep, ancestral canyons.
An offshoot of Barefoot Farms, Barefoot Seeds now offers $1,000 student-athlete scholarships each year to young Tarahumara. The scholarships support the cost of school, including tuition, books, clothing, uniforms, food, and lodging. Scholarships also cover passports and travel to races.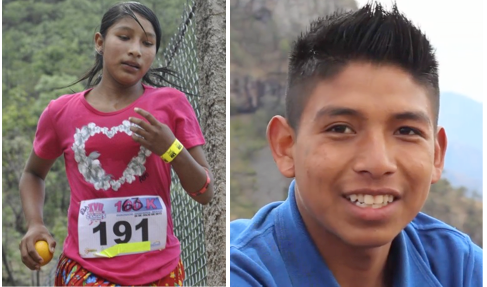 Two 2013 scholarship recipients are 16-year-old Silvestre Rascon and his 13-year-old sister, Catalina Rascon. They are indigenous Tarahumara from the Porochi region of the Copper Canyons who excel both as students and as runners. Catalina recently won the Cerocahui 60K Ultra Trail Race.
For more information and if you are interested in making a tax-deductible donation to Barefoot Seeds, go here.  A donation of $35 provides a year's worth of maize seeds for a Tarahumara farmer. A donation of $50 enables a Tarahumara farmer to grow additional crops to support his family.