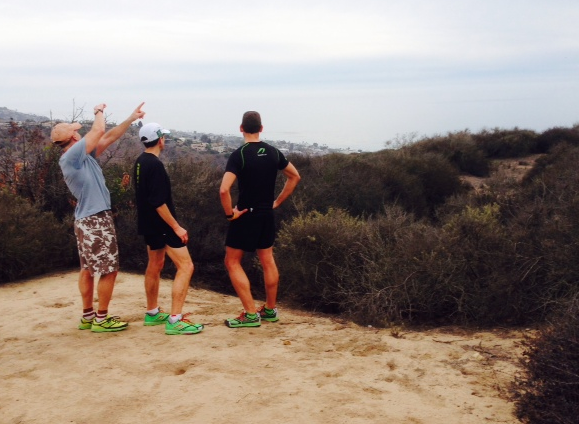 A common currency in the world is running and physical activity. A simple pair of shoes can set you free and take you on great adventures, meet new people, and share in the joy of simple movement and health.
I recently spent two weeks traveling 25,000 miles and visiting three continents to teach healthy running, I also had the privilege to learn from the local cultures. This was all part of an international push by myself and colleagues Jay Dicharry and Ian Adamson. We've been teaching a Continuing Medical Education course titled "Healthy Running" here in the U.S. and at several international sites. The goal for CME participants is understanding more about exercise and health, natural movement and healthy footwear. This is a global medical message and one that can resonate anywhere, from Germany to Dubai to Los Angeles.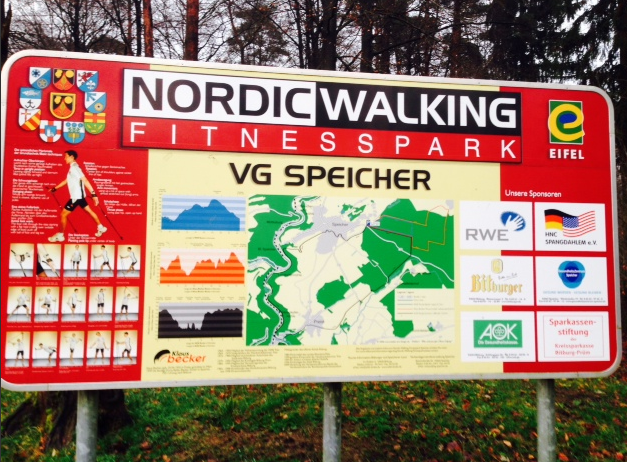 Our first stop was Frankfurt, Germany and Spangdahlem Air Force Base. I spent three days there and got to run through the countryside. What one notices immediately when going to any Germany village is the abundance of trails. There are forests with Nordic Walking and Volksmarch paths in almost every village.  Nordic Walking is a popular European and Scandinavian pursuit in which you walk with ski or trekking poles for power and balance. It works the whole body and the poles come in handy on rough terrain, especially on hills.
Volksmarches are non-competitive community walks and runs. Groups meet at the trailheads and walk a traditional distance of 10 kilometers.  All ages are present on the trails as well as many dogs. I noticed immediately how well behaved the dogs were in Germany. None were on leashes and all stayed near their masters.
Even in the cold and darkness (same latitude as northern Maine) families were out walking the trails.  It was hard to find an obese person in the village.  Their food is fresh and no fast food exists in the villages except on the U.S. Military Base.  Children in Germany keep more active too at home and school.  Public school begins at age 3 and they have 2 to 3 recess periods a day.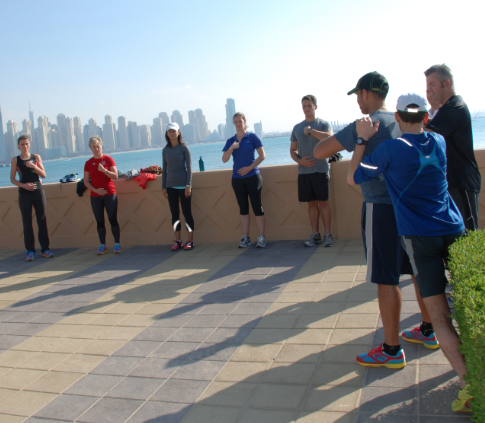 The next stop was Dubai in the United Arab Emirates. As good fortune would have, we stayed in the Jumeirah Zabeel Saray Hotel on the man-made "Palm". The five-star hotel was our sponsor and provided all the lodging and amazing food and facilities. The owner of the hotel is also a runner!  The city and sea views from the Palm, which is a man-made island devoted to tourism and relaxation, are amazing. In this land of material affluence and excess, surprisingly I saw hundreds of runners and even more walkers on the well-kept paths along the Arabian Sea.
The month of January is best for running as the temperature is pleasantly warm.  In summer the only time one can run here is at night or dawn due to the intense heat.  At our CME course we met runners, physical therapists, and coaches from throughout the Gulf region who were all eager to open their minds to some new ideas about footwear and form.
Unlike Germany which has stayed true to traditions, Dubai is facing an obesity crisis as the invasion of the western lifestyle has hit the area hard. Fast food restaurant are everywhere, and the locals eat it up.   There's Cinnabon, McDonalds, KFC, Cheesecake Factory, among others, and all have cheap Western fast-food prices.  Combined with a brutally hot summer climate where one rarely leaves the inside comforts, especially if there's air conditioning, this presents an unhealthy scenario that often leads to obesity, diabetes, and heart disease.
This situation is made even more bleak as I enjoyed some of the best Lebanese and Middle Eastern foods I've ever had.  These foods are made from very simple and inexpensive ingredients with wonderful mixes of legumes, spices, meats, and real whole grains. Many of the children do have some unique opportunities for physical activity if they have the means; for example, there is the world's largest water park, an indoor ski hill, and an indoor amusement park equipped with lots of things for climbing and jumping around in addition to the indoor roller coaster.
After two straight days of canceled flights at international airports, I finally made it back to the U.S. and a brief stop home where I enjoyed the East Coast's "endless winter" snow days with my two kids.
The last stop on the January Healthy Running tour was in Los Angeles, California. I had not been aware that much of California was in the middle of one of the worst droughts in history. We ran on some local trails in the Laguna Hills which, we were told, are usually lush with green vegetation this time of year.  Sadly the plants were brown and the dust was heavy. There is a real fear for what the summer will bring as the water reservoirs and aqueduct sources are drying up. In fact, the 2014 fire season has already started in many places.  So for us West Virginians and East Coasters, embrace and love the rain and all the snow.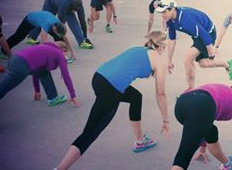 Our hosts at Rausch Physical Therapy in Laguna is a state-of-the art sports rehabilitation center. Their clinic is equipped with all the expertise and knowledge to restore health. Their staff understands how the body works from the inside out. There are massage therapists, sport chiropractors, one of the world's top fascia specialists, and a friendly staff that give you a feel of community.  Hundreds of race numbers and pictures with short "thank you's" adorn the walls. The in-house espresso machine is also a nice touch.
I learn as much as I share on these journeys teaching the benefits of healthy, injury-free running.  Hearing firsthand about the experiences of athletes and health practitioners from around the world help me to keep connecting the dots to achieve optimal health. The late Steve Jobs said this: "You can't connect the dots looking forward; you can only connect them looking backwards. So you have to trust that the dots will somehow connect in your future. You have to trust in something – your gut, destiny, life, karma, whatever. This approach has never let me down, and it has made all the difference in my life."
The more I teach and learn, the more I appreciate the simplicity of running, and in simplicity one surely finds true happiness.
****
upcoming courses
Mar 10-11 US Pentagon
June 3-4 Johannesburg South Africa
June 28-29 Boulder CO
July 12-13 Athens GA
July 26-27 Portland OR
Aug 7-8 Beverly MA
Aug 30-31 Falls Church VA
FOR MORE INFORMATION,GO HERE: WWW.HEALTHYRUNNING.ORG