All movement, whether it is walking, running, dancing, or lifting, requires balance and symmetry to do it safely.  What we measure in gait labs looks at things the eye cannot see. These include specific forces, timing of phases of gait which are fractions of seconds, and the gait differences from right to left.  One of the simplest principles of staying healthy and injury free is maintaining balance in all planes, front to back and side to side.
We too often see runners sustain injuries which could be prevented by daily maintenance and balancing the body.  The highest-level athletes are always balancing,and are especially tuned to this if there is any pain or discomfort in their bodies.  They do not focus on treating symptoms; they figure out the cause and address it. Witness Olympic skier Bode Miller's successful rehabbing from a career-ending knee injury and surgery. He spent countless hours working his body back to strength and balance, and as a result, just accomplished being the oldest alpine medalist in Olympics history.  If not for a minor mistake and suboptimal skiing conditions that hampered  his go-for-broke style, he might have won gold in downhill too.
At Two Rivers Treads we have had the privilege of doing initial testing of the TrueForm Runner motorless treadmill.  (www.samsarafitness.com) We received the first production model to introduce to runners and walkers here in Shepherdstown WV.  It was developed by our friends Jeff Vernon, Robin Desjardin, and Brian Weinstein.
Five years ago, company president Jeff Vernon could not walk from his car to the curb without extreme back pain. He also has a fused ankle. He then went about restoring his own health through relearning proper movement patterns and running form.  He began wearing Vibram FiveFingers. His body immediately started to recover.
As a big believer in functional movement, he wanted to get others interested. Fortunately, his neighbor, Brian, leads a family-owned machinist company in Connecticut.  Together, they essentially created their motorless treadmill in the garage, but it took many engineers and research and trial to refine and perfect it. What amazes me now about Jeff is how fluidly he can run on his self-propelled treadmill.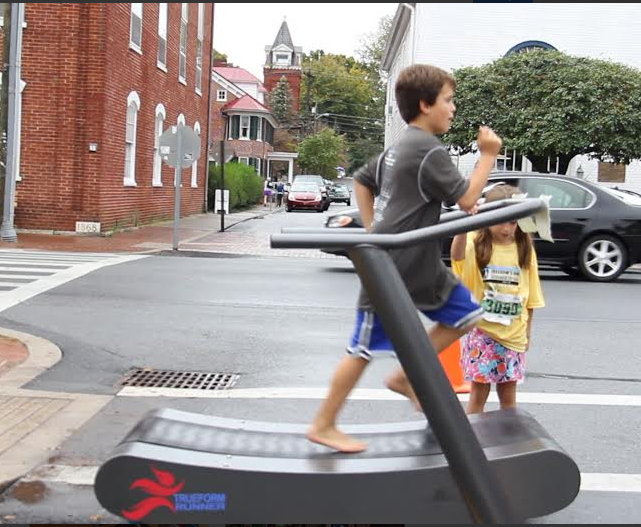 Our own experience with the fun, useful machine at Two Rivers Treads has convinced me that this is a fitness tool that will thrive. I have watched adults and kids get on the treadmill at our store and have a blast running.  It's like riding a unicycle (but you won't fall off), because your gait must be smooth and balanced. You will also find a natural, relaxed rhythm.  All movement is a rhythm and dance requiring mostly unconscious neural pathways to create and sustain the motion.  A motor-driven treadmill, on the other hand, doesn't require balance and rhythm. Poor, old running habits don't disappear on an electric  treadmill; in fact, they are reinforced.
With local, functional movement specialists Paul Koczera and Laura Bergman, we brought the TrueForm Runner to The Running Event in Austin,TX, where we demo'd it with leading running researchers, major footwear companies, and  Olympic athletes. We then took it to Reebok CrossFit One at Reebok Headquarters in Boston. It has been well-received wherever we brought it.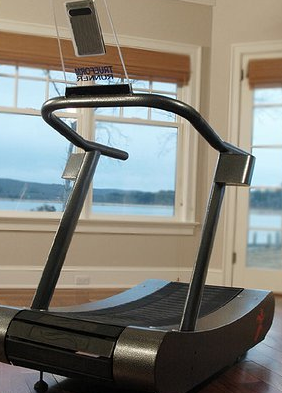 Balanced running is practically guaranteed on the TrueForm Runner. Here are several features of the TrueForm Runner which make it unique:
•    You set your own rhythm and pace–and not try to keep up with a motored belt
•    You cannot overstride with a foot landing way out in front.  You will stop moving.
•    You engage the powerful muscles in the posterior chain (the glutes especially)
•    The treadmill will never wear out because it's solidly built with  a stainless steel platform and 180 precision sealed bearings; a firm rubber pad fits over the steel bars.
•    For those who like being off the grid, no electricity is needed.
In running, which is essentially a serious of hops, your power is right underneath you. The slightly curved platform of the TrueForm Runner ensures you find this sweet spot or else you are simply not moving smoothly and certainly not quickly.  You need to try it to feel it, like finding the sweet spot of a golf club.  You learn better with a precise blade and not swinging away with the oversized Big Bertha driver.
For more on the TrueForm Runner, watch this really fun, instructional two-minute video. One comment you will often hear from users is this: It teaches you how to run properly. Though you might not want to do what we did– and run on it in the back of a pickup truck as we drove  around Shepherdstown.
And for an indepth immersion, Paul Koczera, exercise specialist and USA World Team Trialthlon member Laura Bergman, and I have created a 40-video education series for TrueForm Runner. Go here: http://www.samsarafitness.com/
***
Last week, I learned something great last week at West Point from Dr. Peter Gorman, one of the geniuses of sports science. He developed a gait analysis system called OptoGait which we are bringing to the U.S. Air Force.  Peter knows his stuff. He invented the heart rate monitor 30 plus years ago. His analogy is athletes get DRUNK (Dramatically Reduced Utilization of Normal Kinematics) and need to "sober up" before training hard again.  This makes a lot of sense and the DRUNK system allows athletes to see real time what they are doing and make subtle corrections in motion to restore balance.  We will soon have an OptoGait System at Two Rivers Treads within the month for our community to experiment with.  This will perfectly complement the TrueForm Runner.