On the last day of March, the American College of Sports Medicine (ACSM) released a groundbreaking position paper called "Selecting Running Shoes."  To those who came across the paper the following day, they might have mistakenly thought this was some kind of April Fools' joke. It wasn't!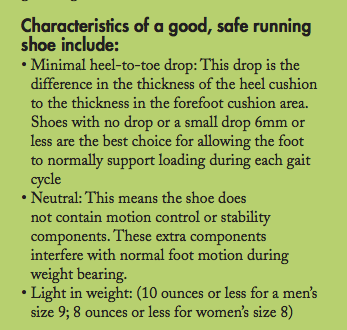 After a generation of sports medicine doctors, podiatrists, coaches, and shoe stores "prescribing" elevated heel, cushioned, and supportive shoes with controlling devices, the science and experience are now finally connected to helpdirectly benefit runners and walkers. The ACSM has refined their position statement to align with ours at Two Rivers Treads in Shepherdstown, WV. It just so happens that it mirrors our footwear section which is 5 years old: http://tworiverstreads.com/category/footwear-essentials/ 
Because ACSM is the world's authority on exercise and health, this is big news for all runners (and walkers), and especially for everyone else in the footwear industry,  Read the full paper here: http://www.acsm.org/docs/brochures/running-shoes.pdf
(Please add your thoughts about this new position paper in the comments section below. Thanks).
The two ACSM coauthors, Kevin and Heather Vincent, are now at the University of Florida in Gainesville with a human performance lab. Kevin is an MD PhD, and his wife, Heather is a PhD in Exercise Physiology. Both are fellows of the ACSM and are objective and scientific in their thinking.  It must not have been easy for Kevin and Heather to challenge the old beliefs, and then guide the change.  We will  have an interview with them on NRC in the coming weeks.
The Vincents trained under my friend Dr. Casey Kerrigan, cofounder of OESH shoes, frequent contributor to the NRC, and who ran the gait lab at Harvard and then at the University of Virginia. Casey is also the most published person in the country on footwear and biomechanics.  She is so passionate about her beliefs that she left a tenured professor position at UVA to start making a better shoe in her Charlottesville factory.  I visited OESH two weeks ago and she has some really healthy shoes!  We will get them here at Two River Treads as soon as she ramps up production. Read about Dr. Kerrigan's journey and learn some science here: http://naturalrunningcenter.com/2014/03/30/race-build-shoe/
So the message for everyone is a simple one: If you are passionate to make change, then please hang in there.