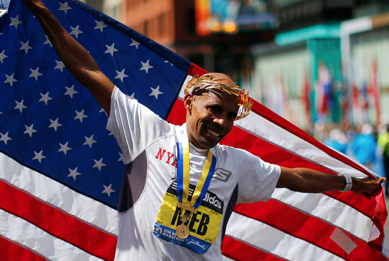 April 21 was my twenty-first running of the Boston Marathon. The week before, I wrote a Dr. Mark's Desk's piece challenging runners to be fearless on race day just as the bombing victims have been fearless in their journey back to health. At last year's marathon, I had already finished the race and was with my family, safe in a nearby hotel a block away, when the terrorism attack occurred. The bombings destroyed lives, wrecked bodies, and brought the running community together in a universal show of compassion and support.
This year, I also gave an annual talk at the American Medical Athletic Association Sports Medicine Symposium on strategies for running the Boston Marathon.  After running 20 Bostons, I've either made or seen every mistake in the books. Usually we delve into science, pacing, physiology, weather and such.  My challenge this year to the runners –no matter what their ability, tweaky injuries, or suboptimal training  –was to be fearless. We all got something, but nothing compared to what the victims have gone through this year in rehab and pain.
Probably the guy with the most stressful day on the planet took time also to talk to the physician conference. Race Director Dave McGilivray thanked the many for their heroic work last year.  One quiet hero was Harvard Sports Cardiologist Dr. Aaron Baggash.  Aaron had walked out of the medical tent and out onto the course as the med tent was eerily quiet on a cool day.  He was right there on the site of the first bomb and was the first responder even with shrapnel in his body.  Aaron was leading the medical tent again this year.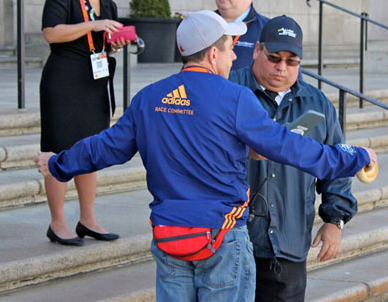 Dave gave a short but emotional talk as he reflected on the race. When he arrived at the scene he was stopped by police.  His own children were at the finish bleachers.  He showed his "Race Director" badge.  He was quickly told by local authorities that the race was over and it was law enforcement territory now.  This year the city of Boston made a mission to take the race back from fear too.
But a few more words about Dave. He's a remarkable individual. A supremely talented endurance athlete, he's completed 126 marathons and competed in eight Hawaii Ironman Triathlons. His personal bests are: marathon at 2:29:58 and for the Ironman at 10:36:42. Also consider all the great things he has done a race director
Allow me to quote from his website:
Race director, philanthropist,  motivational speaker,  accomplished athlete. Dave McGillivray is a professional with a purpose. From his extraordinary run across the U.S. to benefit the Jimmy Fund and Dana-Farber Cancer Institute in 1978 to serving as technical director then race director of the BAA Boston Marathon since the 1980s, McGillivray has helped organize more than 900 mass participatory events since founding DMSE, Inc. in 1981, while raising millions for worthy causes close to his heart. Dave also shared his personal journey this year dealing with heart disease.  He has been a runner his whole life running well over 100 marathons and even running across the USA to raise money.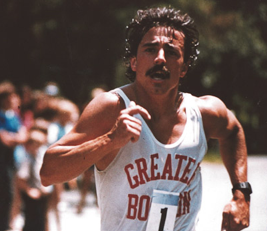 Dave faced the sad but all too common reality of a coronary event and widespread heart disease.  He left a simple but profound message for us all: 'Run to be healthy, not just to be fit'.  Dave fixed his diet and got off all the crappy food, lost over 25 pounds, de-stressed as much as a type A person could, and resumed running for the love of movement and for what it gave him.
Race day was an incredible spectacle on all accounts.  It started with security tighter than the Pentagon but we all made it to the start.  Thirty-seven thousand  runners stood silent for the national anthem.  Over 100 amputees set out on the course well before the main pack.  I passed several of these fearless runners through the day and gave huge shout out for each one. The estimate crowd size was 2 million and over 5000 law enforcement and these were the ones in uniform.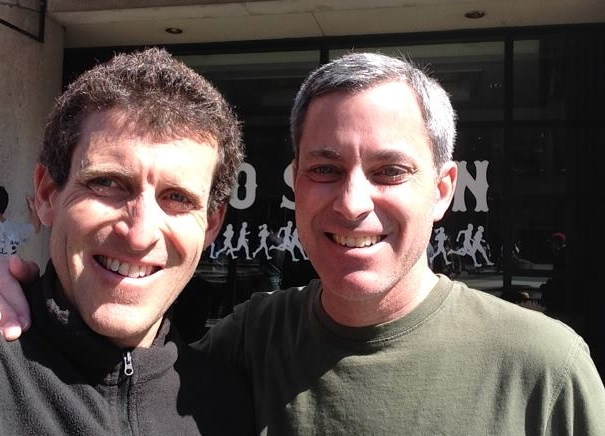 American Meb Keflezighi ran fearless taking the lead early and fighting off a posse of East Africans to be the first American victor since 1983.  Considering a sub optimal prep this winter I was happy finishing in 2:48 and 37th in Masters  age group at age 47.   This does not get easier with age and I am proud I ran fearless over 26 miles with the longest training run since the fall being 13 miles. I joined my brother Neil also for the 10th time we have run this event together.  Neil finished in 3:14. Neil and I ran high school cross country together over 30 years ago and I think this keeps us younger and closer. (post race selfie at the bar attached)
So  my challenge to all runner is  find a personal goal and go after it without fear of failure or the usual excuses or inhibitions.