by Nick Pang.     The Topo MT offers the ultimate hybrid experience by pairing the best features of a trail and road shoe. A rugged lug outsole provides multi-directional traction and the three density sole platforms offers plating protection without sacrificing ground feel. Reduced weight and increased flexibility will help you maintain your pace when you move from trail to road.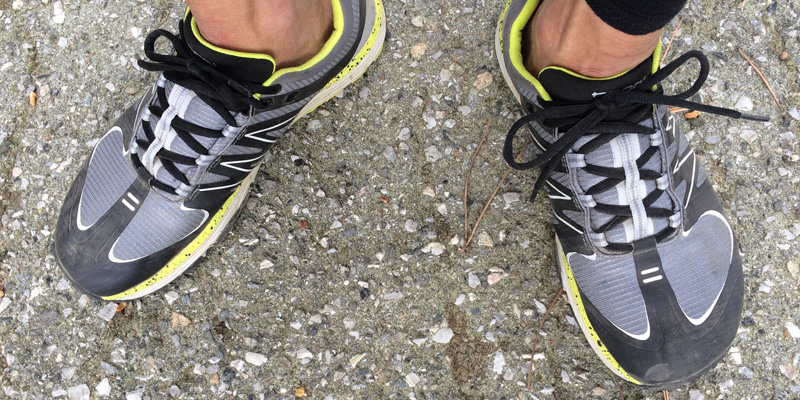 Technical Specifications
Rugged outsole for multi-directional traction
Three density midsole for plating protection and comfort underfoot
2mm heel-to-toe differential
17mm forefoot stack height, 19mm heel stack height
Seamless printed upper pattern on breathable mesh

Review Summary
My pair of Topo Athletic MT (US Men 10.5) weighs in at 8.6 ounces but it feels light and flexible. Even though this is a trail shoe, I took it out on asphalt and concrete first by walking over ten miles in them sockless to make sure I don't get any hot spots or blisters and also to break them in. I only do this for trail shoes if I feel they are a little stiff or have too much protection.
Initially, the Topo MT felt a little stiff and cushiony. Running on trails, they felt totally different than walking on asphalt or concrete! The stiffness and cushiony feeling went away and I'm delighted by the lightweight and comfortable uppers of the MT – very breathable mesh uppers with printed overlays kept my feet dry and cool.

After two runs on trails, I'm sold. I got used to the light cushioning. The aggressive outsole has great traction on the cross country trails I run in. The criss-cross lacing system provided a really snug fit in the midfoot area. The extra wide anatomic closed toe box allow your toes to spread naturally.
Remember, we are all individuals and comes in all shapes and sizes. The same is true for cushioning. Some of us like more, some of us like less. I'm in the latter camp but there are days when I like a little extra cushioning. The key here is to mix it up and rotate your running shoes to work different muscles and iron out those muscle imbalances.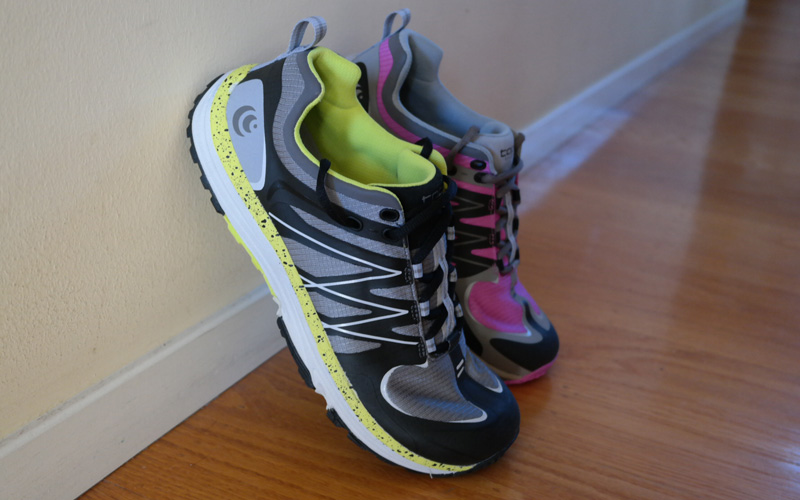 With over 100 miles in them, the outsole and uppers are dirty but does not appear to be worn down at all. I expect great durability from running in non-technical trails and long walks with my dogs nightly. Lastly, the Topo Athletic Mountain Trainer is a serious contender for the 2014 Wear Tested Trail Shoe of the Year (we're having three categories this year – road, trail, casual. Hats off to Topo for another amazing running shoe – I think they've hit the sweet spot in the shoe last.