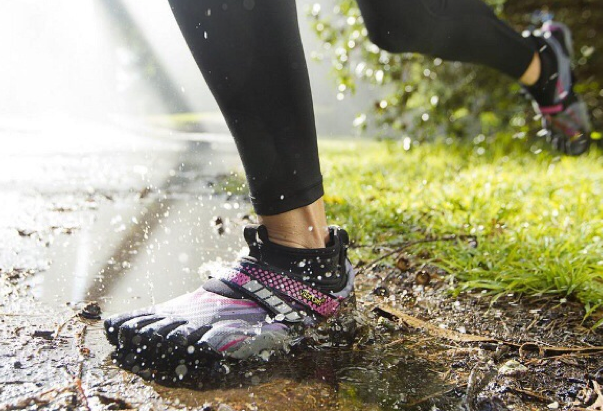 Several weeks ago, Vibram USA, which is the parent company that produces and distributes FiveFingers running shoes, agreed to settle a lawsuit that alleged the company made "false and unsubstantiated claims about the health benefits" of its toe-glove footwear. According to the court filings, Vibram will deposit $3.75 million into an escrow account and those funds will be distributed to those valid class members who purchased a pair of Vibram FiveFingers. The company will award up to a maximum of $94 per pair, though the agreement acknowledges that based on similar settlements it is reasonable for class members to expect to receive between $20 and $50 per pair.
The class-action suit originated with a runner by the name of Valerie Bezdek and the help of a high-powered law firm in Boston which targets large companies on consumer product issues.  The suit alleged that Vibram deceived consumers by advertising and marketing that its FiveFingers shoes could reduce the incidence foot injuries and strengthen foot muscles, despite the presence of scientific evidence.
Was the plaintiff's assertion legitimate?  Or was the settlement yet another example of the highly litigious nature of the American legal system?  (Hey, the law firm netted close to a million bucks in the settlement. It pays to sue! ) Vibram isn't the only footwear company which has seen its financial toes stomped on. In 2011, Reebok was ordered by the Federal Trade Commission to fork over $25 million, a rather stiff fine that was prompted by the company's claim that its line of shape-up shoes helped tone the body and give one a stronger butt and legs. The following year, Skechers agreed to pay $40 million to consumers who bought its rocker-tread shoes under the misleading impression that they helped promote weight loss and a more muscular body.
To understand more about the Vibram FiveFingers settlement and what it means in the larger context of running injuries and the athletic footwear market, we turn to two seasoned experts and Natural Running Center contributors. The first essay is by Jim Hixson, who gives an excellent, thorough and lucid appraisal of the entire matter. He's worn VFF since 2007!  The second essay is by northern Ohio podiatrist Dr. Nick Campitelli. (His piece originally appeared on his blog: http://www.drnicksrunningblog.com/my-thoughts-on-the-vibram-fivefingers-lawsuit-and-why-minimalist-shoes-do-not-create-injuries/   Also check out Steven Sashen's fine, insightful essay here: http://xeroshoes.com/barefoot-shoes/will-vibram-fivefingers-make-feet-stronger/  –Bill Katovsky
***
Comprehensive Look at the Vibram FiveFingers Class Action Lawsuit and Barefoot Running
by Jim Hixson – Motion Center
In the wake of the recent settlement in the class action lawsuit against Vibram FiveFingers (VFF), the media seemed especially joyous in providing us with the news that the "barefoot fad" and "minimalist craze" were now over.  It was an "I told you so!" reaction, that occurs when we have been encouraged to act in a certain way or purchase a particular product that is supposed to improve our health, but then we discover or are told that this claim is false and we are now free to resume our flawed, but comfortable, way of life.
Supporters of minimal shoes and natural movement claim:
•    Natural movement is safe, efficient, and enjoyable.
•    True natural movement can occur only when the body is aligned correctly and moves without restriction.
•    Wearing traditional shoes, makes our feet muscularly weak and imbalanced and alters our natural gait, making us     less efficient and more prone to injury.
•    Being barefoot places us in our natural condition.
•    Since we often can't be barefoot, wearing minimal shoes that fit the shape of our feet and have thin and flexible soles, allows us to replicate the barefoot experience.
•    A careful and relatively long period of time is required to make a thorough and safe transition to both wearing minimal shoes and being barefoot.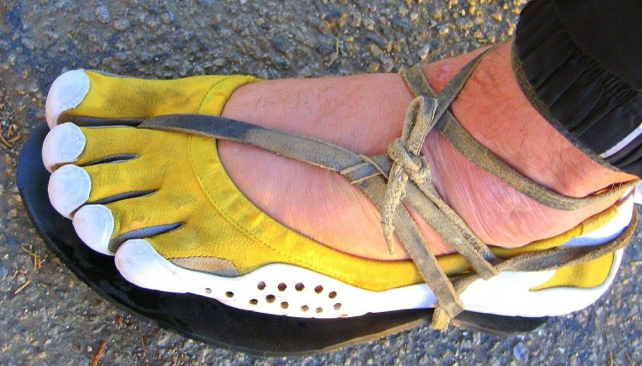 This sounds very reasonable, although the fifth point presents some difficulties, since there is the implication that being barefoot and wearing minimal shoes are very similar experiences.  I would argue that wearing very minimal shoes, like VFF and Xero Shoes (very different products, by the way), does provide a "more barefoot experience" than wearing the Brooks Flow or the Saucony Kinvara, and certainly the ASICS Kayano; nevertheless, no minimal shoe provides a true barefoot experience.
My first reaction to the decision by the plaintiffs and VFF to settle their lawsuit was one of scorn for the plaintiffs.  My second reaction, after looking at all the VFF models in my closet and thinking about the many customers, who have truly benefitted from wearing VFFs, was the same.  Then I began to consider a third reaction.
In October 2011,  Canadian footwear expert Dr. Steven Robbins wrote:Minimal shoes are deceptively advertised as having the protective advantages of the bare foot during locomotion without a datum to support this claim. This gives users a false sense of security which could account for injuries. Furthermore, minimal shoes resemble all other footwear with regard to the level of protective plantar sensations produced during locomotion that initiate protective responses. They moderate localized plantar deformations and reduce plantar shear relative to equivalent levels associated which barefoot locomotion. This accounts for attenuation of the behavioral response which protects the unshod individual.
I thought it might be a good idea to actually read the original complaint against Vibram, which barely anyone in the media reporting on the settlement seems to have done. The complaint was filed on March 21, 2012 in the United States District Court for the District of Massachusetts, by Valerie Bezdek, individually and on behalf of all others similarly situated, against Vibram USA, Inc. and Vibram FiveFingers, LLC.
Bezdek, a resident of Florida, bought a pair of the VFF Bikila online through the VFF website on April 13, 2011.  At some point she became disappointed with her new shoes, and concluded that she had been deceived by VFF's advertising claims that she would experience health benefits.  There is no indication how long the plaintiff wore the shoes before deciding to take legal action.
Ironically, the plaintiffs admit that the VFF website made strong recommendations to its customers that it takes precautions when going through the transition from wearing traditional shoes to VFFs, especially if the customer was contemplating running, and mentioned that the process for runners could take "a year or more."  The website also included the warning: Minor discomfort is not unusual for some individuals, depending on your foot type and running style, but you should not continue if pain persists.  Transitioning slowly to build proper strength is imperative when beginning to run in Vibram FiveFingers.
On the hangtag of each pair of the VFFs there is the statement: If you are running in FiveFingers for the first time, we encourage a very gradual transition to ensure a safe and pleasurable experience.  Please visit our website, www.vibramfivefingers.com for resources related to natural running and training.
This is a summary of the plaintiff's argument:
•    Barefoot running has increased in popularity, because it supposedly provides health benefits;
•    VFF claims that their shoes mimic barefoot running and provide the same health benefits;
•    VFF had an advertising campaign that implies that their claims are supported by scientific evidence;
•    In fact, "research has not yet adequately shed light on the immediate and long term effects of this practice [barefoot running] and VFF had no scientific evidence to support their claims about the benefits of barefoot running or their own products";
•    "Indeed running in VFFs may increase injury risk as compared to running in conventional running shoes, and even when compared to running barefoot;"
•    Claims that a product provides health benefits, that are not supported by scientific evidence, are inherently deceptive;
•    VFF's "deceptive statements about barefoot running are also deceptive statements about FiveFingers;"
•    These deceptive statements were made to take advantage of customers in order to sell them expensive shoes that did not provide health benefits and, to the contrary, might even lead to an increase in some injuries for some runners.
The complaint referred to several different studies that cast doubt on the claims VFF had made about barefoot running and, by extension, their own products, but these studies don't support the contention that barefoot running does not have positive effects. For example, there are these two statements from 2012 in the Journal of the American Podiatric Association:
1. While anecdotal evidence and testimonials proliferate on the Internet and in the media about the possible health benefits of barefoot running, research has not yet adequately shed light on the immediate and long term effects of this practice. (APMA Position Statement on Barefoot Running)
2. Research is ongoing in regards to the risk and benefits of barefoot running.
Benno Nigg, an oft-quoted biomechanics expert, is also quoted in the VFF complaint: The current claim that people running barefoot have less running related injuries than people running in shoes is a speculation with no epidemiological support.  We suggest that nobody knows at this point in time whether or not people running barefoot have more or less injuries than people running with conventional shoes.  (Benno Nigg, Biomechanical Considerations on Barefoot Shoe Concepts, Footwear Science, June 2009, p. 76)
Since barefoot running has become popular (again!) only recently, it should not come as a surprise that there are no longitudinal studies that describe the effects of barefoot running on health, especially on the difference in the type, incidence, and severity of running related injuries suffered by those running barefoot and those running in traditional shoes, respectively.  I would strongly argue that, when barefoot running is done correctly after a thorough transition, there are health benefits; however, even if that statement were true, there has been no study that equates being barefoot with wearing VFFs, or any other shoe.
A key statement made by VFF on their website is the following:Vibram FiveFingers footwear is different than any other footwear on the planet.  Not only does it bring you closer to your environment, it also delivers a number of positive health benefits – by leveraging all of the body's natural biomechanics, so you can move as nature intended.
A condensed form of this statement would be that VFF shoes are unique and deliver health benefits.
•    Improved foot health;
•    Reduced risk of injury;
•    Strengthened muscles in the feet and lower legs;
•    Stimulated neural function improving balance, agility and range of motion;
•    Improved spine alignment
•    Reduced lower back pain; and
•    Improved proprioception and body awareness.
I've worn VFFs since 2007 and I can say, without a doubt, that I experienced all of these benefits.  I have also experienced these by being barefoot, but the experiences are not exactly the same.
On their website and in their literature it is obvious that VFF conflates being barefoot with wearing their shoes.  Although wearing VFFs makes it much easier to move naturally than wearing traditional shoes, wearing them does not duplicate the barefoot experience.  The barefoot experience is different for the simple reason that wearing a shoe is not the same as being barefoot.  The major difference is that any material between the sole of the foot and the ground means lessened plantar sensation; although a thicker shoe reduces this sensation much more than a pair of VFFs.
Before we look at the specifics of the settlement, it's important to acknowledge that VFF stated that they had decided to put the matter to rest and avoid any additional legal expenses.  The court brief stated: Vibram expressly denied and continues to deny any wrongdoing alleged in the Actions, and neither admits nor concedes any actual or potential fault, wrongdoing or liability.
It is important to realize that this settlement was not a victory for either side; the plaintiffs did not have to prove any of their claims and VFF did not have to refute any of these same claims.  It would have been interesting to see the evidence presented by both sides, but the possible decisions of juries are always unknown and legal costs can mount very quickly.  I believe a good case can be made for many of VFF's claims, except for the one that equates wearing VFFs with being barefoot.
According to the settlement VFF agreed:
•    to deposit $3.75 million into an escrow account and those funds will be distributed to those valid class members; based on similar settlements it is reasonable for class members to expect to receive between $20 and $50 per pair;
•    that any money not claimed by members will be donated to the American Heart Association for research on the health benefits of running; and
•    not to make "any claims that FiveFingers footwear are effective in strengthening muscles or preventing injury unless that representation is true, non-misleading and is supported by competent and reliable scientific evidence."
The last part of the settlement implies that VFF could make these claims in the future, if they were supported by scientific studies.
One of the silliest claims made by the plaintiffs was that VFF shoes had been designed to "capitalize on this fitness craze [barefoot running]", but VFF products had been on the market since 2005 and this "craze" didn't even start until after the publication of Christopher McDougall's Born to Run, in 2009.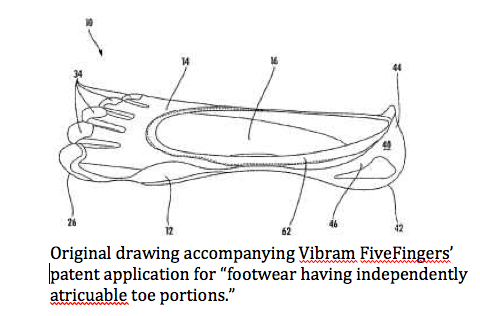 In fact, the prototype for the first VFF shoe actually went back to 1999, when it was invented by Robert Fliri, a design student at Italy's Free University of Bolzano.  The first VFF model released to the public, the Classic, was designed as a shoe for water sports, specifically yachting, so sailors could maintain a grip on a slippery deck, while the preserving the sensation of being barefoot.  It was no coincidence that the owner of Vibram, a company that has made high performance outsoles for shoes since 1937, was a yacht racer.
It's important to realize that VFF shoes were not originally intended for running, or for any sports other than those involving water.  Vibram couldn't even convince another company to make their shoes, so they decided to produce them themselves.  Soon after the shoes became available customers began using models such as the Classic, Sprint, and KSO for a wide variety of activities, including walking, hiking, parkour, bouldering, and, of course, running.
The demand for VFF shoes was immediately driven from an increasingly broad base of customers who were, from my experience, very satisfied with this type of minimal footwear.  In 2009, I worked in a running store in St. Louis, that sold over 1,000 pairs, so I was very familiar with the surge in popularity; in fact, for 18 months, from 2009-2010, it was impossible for a dealer to place an at-once order, because the supply of all VFF models was so limited.
Since Vibram was not originally a running shoe company, it didn't know the first rule followed by companies that sell traditional running shoes:  Don't make any claims about the health benefits of a shoe, because there aren't any!  For example, there are no scientific studies that wearing traditional running shoes is correlated with a reduction in the rate of running related injuries, which makes sense, since there has been no reduction in those injuries over the past four decades.  Nevertheless, the advertising of running companies is clearly meant to imply that their shoes do provide health benefits, otherwise there would be little point in highlighting typical improvements in cushioning and "pronation control."  For anybody who believes that this information might be available, please read Athletic Footwear and Running Injuries, where Dr. Joseph Froncioni, an orthopedic surgeon, describes his unsuccessful attempt to obtain information about the health benefits of traditional running shoes from the Nike Sports Research Lab.
Ironically, an article was just published in March/April 2014 Journal of the American Podiatry Medical Association, entitled "A Theoretical Perspective on Running-related Injuries" that directly challenges the idea that traditional running shoes provide any protection from running related injuries.  The authors write: "Although PCECH [Pronation Control Elevated Cushioned Heel] shoes are a common clinical application for the prevention of RRIs [Running Related Injuries], there is a lack of support for this practice in the scientific literature."
Since the lawsuit was settled and neither party had to prove its own claims or disprove the counterclaims of its opponent, the questions raised by the lawsuit remain unanswered. Does running barefoot running provide any of the following health benefits?
•    improved foot health;
•    reduced risk of injury;
•    strengthened muscles in the feet and lower legs;
•    stimulated neural function improving balance, agility and range of motion;
•    improved spine alignment
•    reduced lower back pain; and
•    improved proprioception and body awareness.
•    Does the wearing of Vibram FiveFingers duplicate the barefoot experience?
•    Do traditional running shoes provide any health benefits?
•    Is there a correct (safer and more efficient) way to run?
•    Is it possible to make a safe transition from one form of running to another?
•    Is there a way to reduce the type, incidence, and severity or running-related injuries?
•    Why don't the major shoe companies make the claim that their shoes provide health benefits to runners?
Finally, let's look at the claim made by the plaintiffs that there have been no scientific studies that prove that barefoot running provides any health benefits.   From an evolutionary perspective, it makes no sense that humans have developed over the past several millions of years, yet have only recently become incapable of moving without the assistance of external cushioning and support.  Our natural condition is the same as that of every other animal that uses its feet to move.  In certain conditions, some protection in the form of footwear is advisable or even necessary; however, in general, humans require no extra support or cushioning to stand, walk, and run.  There is little doubt, based upon this reasoning, that the claims made by the proponents of barefoot running will eventually be proven by scientific studies that will appear in peer-reviewed journals.
While we were born to run, it's also becoming increasingly evident that we are now born to sue.
***
The Aftermath of the  Vibram FiveFingers' Lawsuit and Why Minimalist Running Shoes Do Not Create Injuries
by Dr. Nick Campitelli
Unfortunately I have to waste my time writing about something that is not productive but I must do so to answer all of the questions I keep getting. I feel the need to straighten out the way some people are thinking.
To begin with, Vibram USA was sued for making false claims about their footwear product known as FiveFingers. Their website touted benefits of many, but in particular that your foot can become stronger by wearing FiveFingers. This is a true statement, although it was not scientifically proven at the time the claims were made.
The 2005 Nike Free study demonstrated a strength gain in the abductor hallucis muscle of the feet after subjects ran 6 months in the shoe. We have since seen Daniel Lieberman of Harvard publish a similar study on the New Balance Minimus and Merrell Barefoot Glove also demonstrating a strength gain in the abdcutor hallucis. My colleagues and I at the Kent State University College of Podiatric Medicine also have scientific data which we collected over the past 2 years that we are very excited to share as well. Albeit a bit too late for this legal battle, it will certainly shed some light on what happens to our feet during normal locomotion in a pair of FiveFingers.
I have been very fortunate to interact with the Vibram USA where I spent a lot of time assisting in foot education, and with the help of Daniel Lieberman, write a transition protocol/running brochure for helping others transition to running in this manner. I was never employed by Vibram USA, nor did they influence me in any way to endorse their product. I did not sell their product and I do not represent them in anyway. I reached out to them 5 years ago when the barefoot running boom began and explained that this is a great way to protect the feet of those who are running barefoot. It allowed natural running. It was a great product to wear that no one else was making. It was to our feet what gloves are to our hands. So simple, yet thought of as so "weird" looking.
However, by wearing them our feet could function in the normal manner which they were intended to and yet not be considered barefoot. Many doors were opened for me through this adventure and I have encountered so many great individuals in the running community and shoe industry. I have also made some friendly enemies given the fact that I don't recommend orthotics. I've had the opportunity to meet people from all over the world via Dr. Nick's Running Blog which is growing astronomically by the second. What Vibram has done for the foot and running industry is truly a milestone. Some may not realize, but they helped change the way we look at running now, and more importantly for me, how we look at foot function.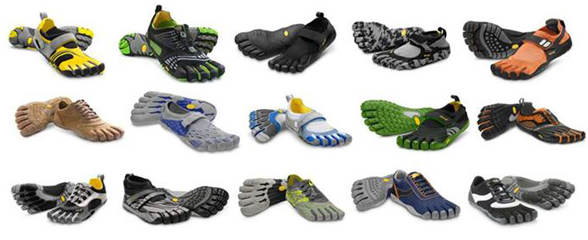 I was able to resolve a 10-year old injury which was the result of ongoing poor biomechanics indirectly related to my motion control running shoes. I used FiveFingers as a tool for learning how to run. I had been running since the age of 16 and was able to PR at the ages of 37-39 in a 5k, half marathon, and marathon. Not because I was wearing FiveFingers, but because I learned how to run. I guess I shouldn't
say I learned how to run, because that could be misleading. I realized the previous shoes I was wearing was inhibiting my ability to run naturally and was altering my gait. Altering my gait so much that I was slowing down, placing abnormal stress on my forefoot, and living with chronic pain. Eventually my injury resolved on its own as the stress to my forefoot diminished as I acquired a more natural gait by running in FiveFingers. As with many, it took time. Months in fact. But, my changes were permanent and I've been pain-free since 2010.
So did Vibram make false acquisitions? I do not feel they did and I will explain why. They were able to break into and industry that for over forty years made the claim that our feet needed stability, motion control, and cushion to reduce or prevent injury. This industry not only sold this philosophy to the consumer, but also to physicians who then recommended it to their patients. The idea that shoes need to be fitted according to foot type with respect to arch height was instilled into all shoe manufactures and then passed down to specialty running shoe stores, retail sporting good
stores, Runner's World and other periodicals, as well as the health care professionals. Surprisingly, there is no scientific research or evidence to support this. And for the naysayers that will respond to this post with articles and claims that there is evidence, then why has the shoe industry changed? Why has the average drop height of shoes decreased by over 20%? Why has the flexibility of shoes increased? Why have the majority of all high end running shoes companies introduced minimalist shoes (New Balance Minimus, Merrell Barefoot Glove, Nike Free, Adidas Adipure, Altra Running Company, Saucony Kinvara, Brooks Pure, Skechers GOrun and GOMeb)?
If the injury rates are still as high as 70% in traditional running shoes, then did these companies not make false claims as well? Are you getting it? It's not the shoes that are the problem. It's the training patterns and the way people run that create injuries.
The traditional running shoes with high cushioned heels and motion control midsoles are severely inhibiting natural running form so bad that a high percentage of runners are getting injured. Pronation has nothing to do with overuse injuries. I can list countless articles that demonstrate this. Vibram made no more claims then did the rest of the industry over the past forty years. Look how many individuals bought shoes because they had a gel pad or air in the sole. Have you ever cut open an ASICS gel shoe to see the gel pad in it? There's more cushion in the case I store my iPad in. And, If this gel is so crucial, then consider this:  they sell you a shoe with gel in the heel for "X" amount of dollars, and if you spend a few extra dollars, you can get gel in the forefoot too. Are they not liable than for injuries to those who could not afford a shoe with gel in both the forefoot and the heel? The same goes for the Nike shoes and all shoe companies.
Consider a physician who recommends a running shoe to a patient and they buy the "less expensive" model from the same brand. If this patient buys the $80 shoe instead if the $180 shoe who is responsible for the injury? The shoe company or the physician? Meaning if the $180 shoe with more motion control and stability propaganda is needed why do they sale the $80 shoe? Shouldn't they be responsible for the injuries the $80 shoes created?
Listen, I'm not trying to cover for the claims that Vibram made. Shoes do not create stress fractures, overuse and osteoporosis does. Running in FiveFingers does not create plantar fasciitis, overuse and weak abdcutor hallucis, abductor digiti minimi, and flexor hallucis brevis muscles do. Walking barefoot does improve posture so it's pretty safe to assume that wearing a FiveFingers would improve posture. Ankle equinus is a pathologic condition that podiatrist claim many foot injuries and disorders are the result of. It refers to the ankle joint not being able to obtain more then 10° of dorsiflexion or upward motion. Well guess what happens when you put on a traditional running shoe with a 14mm drop height? Ankle joint motion is restricted and the foot is in equinus. Should we sue the shoe company?