by Nick Pang.   Wearable technology is making sports like football (not soccer) safer with concussion-prevention sensors embedded in helmets and mouth guards with live data via Wi-Fi on the field and sidelines. What about running? Even with all the latest shoe- cushioning technologies and research, runners are still get injured every year. Now Scribe Labs wearable technology can potentially prevent running injuries by analyzing your running form and running shoes.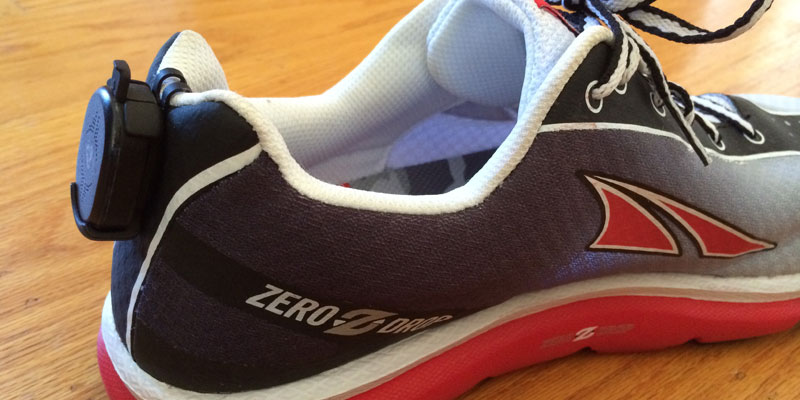 I've been testing running shoes for over 5 years with more than 300 pairs under my belt (or feet) and I'm at the point where I can put on a pair of shoes for a few seconds, walk around in them for a few more seconds, and can usually tell if it will hurt me or not when running in them sockless. It will take about 3 or more miles of running before I can draw a definitive conclusion.  It's all about feel and all the standard characteristics found in minimalist running shoes: wide toe box, flexible, zero drop, low stack height, and lightweight. But I cannot quantify the results or have a scientific comparison between shoes. Until now.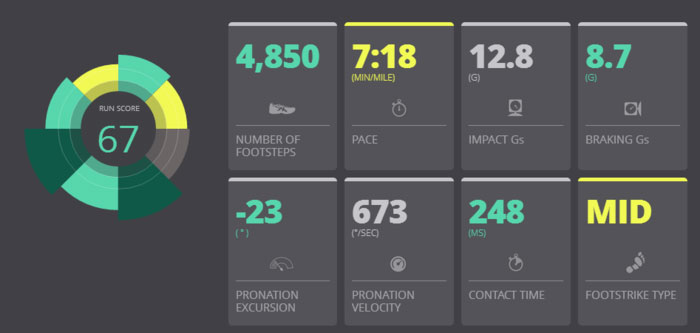 runScribe is a clip-on running wearable that mounts on the back of your shoe and uses a 9-axis sensor to precisely capture the movements of your foot during the gait cycle. The precision measurements, combined with runScribe's kinematic engine delivers the most advanced set of running metrics available outside of a professional lab environment. Most activity trackers and running watches track steps, distance and speed. But runScribe makes thousands of calculations for every stride and reports on 13 detailed kinematic metrics. The scale and detail of data available through runScribe has never been capture dbeforein a consumer device, giving athletes, trainers and coaches real-world data to make informed training decisions.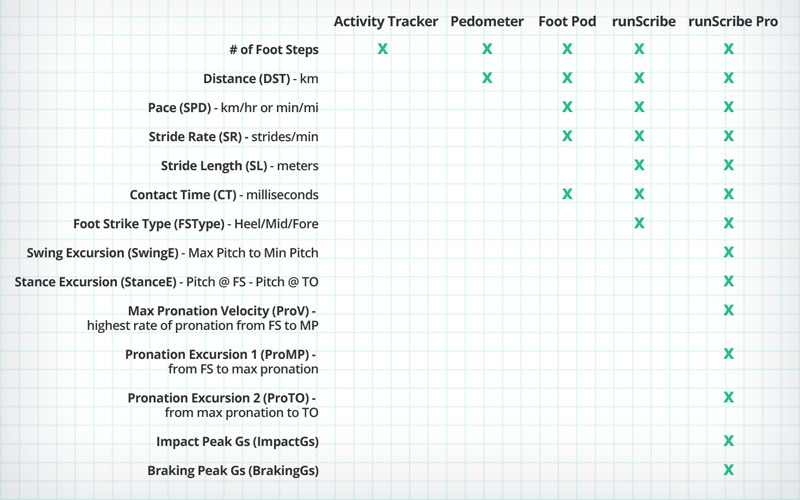 From the 13 kinematic metrics, your runScore is developed. runScore is a measurement of the intensity of your run, based on your runScribe history. It is unique to you, and the score gets smarter over time. The 13 kinematic metrics reported by runScribe are analyzed and compared with previous runs. It is one quick way to assess the overall run, compare it to previous runs, and you can easily drill down into the details to understand why your runScore changes in different environments. While runScore provides you with a snapshot, the data visualization tools will allow you to dig into the details of each of the 13 metrics.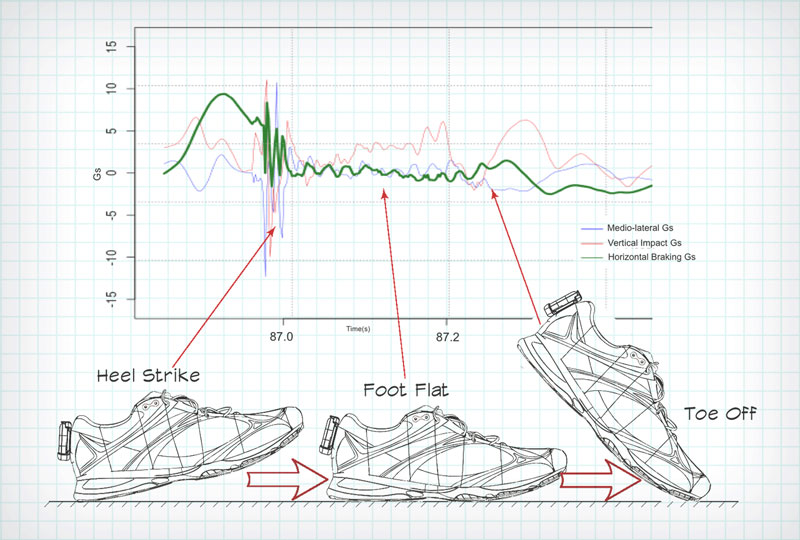 I did a quick test with the help of Scribe Labs in the local high-school rubber track with a semi-controlled environment. I tracked and measured eight different running shoes (2 spikes included) and even threw in the results from an athlete doing speed work on the Astroturf. From raw data to high level visuals, you can easily monitor the changes over time or with different shoes, different terrains, and running forms.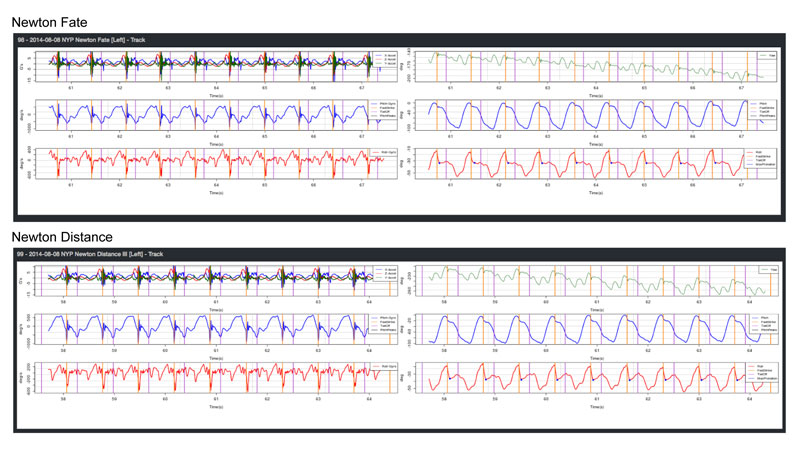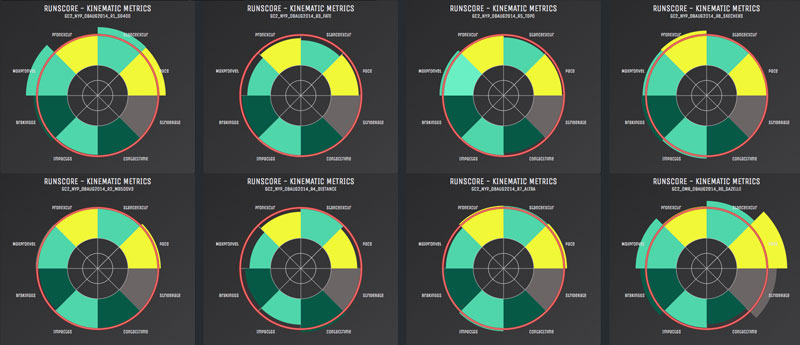 For runners, evaluate Impact Gs, Braking Gs, and Pronation characteristics in different shoes and terrains to determine which shoes best suit different scenarios. For sprinters, track kinematic metrics like Contact Time, Swing Excursion, and Acceleration Profile to better understand the differences in each phase of the sprint. For jumpers, use Contact Time, Impact Gs, and Braking Gs to better understand your approach in the last two steps before takeoff. Obviously, for injury prevention, watch the kinematic metrics so you can answer some these questions versus waiting for exhaustive research papers from academia or shoe companies.
Is Max Pronation Velocity is related to increased injury risk?
Is Braking Gs a good predictors of injury?
Does different shoes or cushioning characteristics reduce or increase Impact Gs?
I will also be doing my own exhaustive tests in the following weeks on more shoes in addition to analyzing my sprinting and jumping form. Correlating the final results (time/distance) with the runScore and kinematic metrics as a potential predictor of injury risk and performance is the holy grail!
Many versions of the devices are available depending on what kind of data you want to access.
runScribe Starter – Get a quick look at your runScore to get an idea of the intensity of your run (you can upgrade to Pro at any time).
runScribe Pro – See your runScore but also get access to all 13 kinematic metrics – explore in details where and why there are differences.
runScribe Science – Access all the raw data (accelerometer, gyro, and quaternion) to see every detail that runScribe captures.
runScribe has just launched a Kickstarter campaign so head over there to pre-order a unit. Hopefully they will get funded quickly so I can learn and see all the data mining done with crowd sourced data – from runners (customers) once they have runScribe attached to their shoes later this year. We can learn so much about the impact of running shoes and running form and how to prevent running injuries. All done with thousands (or millions) of runners (various levels, gender, and built) in the real world instead of on a treadmill in a lab with limited subjects.
If you are interested in using runScribe to become a shoe reviewer, see my post on Wear Tested, "Be a Shoe Reviewer and Personal Coach with runScribe".