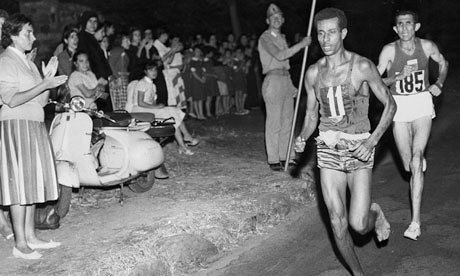 Abebe Bikila in Rome 1960
Leesburg 20k on Olympic Marathon Day. Correct Toes are great product if you have foot deformities caused by modern shoes.
In 1960 Abebe Bikila of Ethiopia became the first Olympic Champion from Sub-Saharan Africa and the first to win the race barefoot.  Over the last 50 plus years the East Africans have dominated distance running.  Today Kenyan Eluid Kipchoge and Ethiopian Feyisa Lelisa took Gold and Silver but pressed by the courageous running of US Galen Rupp who took the Bronze.
More amazing on the US side was school teacher Jared Ward, not part of Team Nike, taking 6th.  Meb Keflezighi at age 41 had a rare off day finishing 33rd in 2:16, but in Bikila style he did 3 pushups at the finish after a slip.  After his marathon wins Bikila would spontaneously break out into Callisthenic routines.
Bikila's victory in Rome was the triumph of a small country over the regime which had marched in and occupied in World War 2. Although neither Italy nor Ethiopia were still under fascist rule, the legacy of the 1936 occupation was still present and Bikila's triumph under the Arch of Constantine was a victory for the modern Olympic movement of friendship through sport.
Bikila repeated his marathon Gold in Tokyo in 1964, a little over month after having an operation for acute appendicitis which left him minimally able to train.  Not expected to even run in Tokyo, Bikila not only won but set the Olympic record of 2:12 and became the only runner to win 2 Olympic Marathons, a feat not equaled since his time.  In 1968 Bikila lined up in Mexico City with a fractured foot and was unable to complete the race.  He is recognized as one of the greatest Olympians of all time.
Tragically Abebe Bikila was the victim of a tragic auto accident in 1969 while swerving to avoid hitting traffic during political protest at this unstable time.  The accident left him quadriplegic.  He regained the use of his arms enough to participate in the early movement of sports for people with disability.  He died too young at age 41 in 1973 as a complication of the injuries from the accident.  His funeral was attended by over 70,000 of his people. The New York Road Runners award the prestigious Abebe Bikila award for exemplary contribution to distance running.
Sadly violence and protest are still common in Bikila's homeland.  The silver medalist made a gesture of solidarity at the finish line today which puts his life at risk on return home .
Watch the historic video from Rome of Bikila's victory under the lights of Rome.
https://www.youtube.com/watch?v=v1_umU-Bizs
Kipchoge Taking Charge in Rio
So in honor of Bikila on this day of the Olympic Race I ran the Leesburg 20k barefoot.  A cloudy morning made the August heat bearable. The often rough texture of the road and bikepath made the feet a bit raw in the final couple miles but I'm sure nothing in comparison to the surfaces Bikila trod over in Rome for twice the distance.
The spirit of Abebe Bikila lives on with our local Freedom's Run.  Bikila was courageous and our course through historic Civil War Battlefields on Harpers Ferry, Antietam, and Shepherdstown will inspire you to set a personal challenge and conquer it. We were recently named a Top 10 Destination Race by USA Today so come join us October 1. www.freedomsrun.org
Continuing in 2016 is the opportunity to run for free and to earn incentives including free minimal shoes (Bikila did put on some thin shoes in 1964) by running for causes of community fitness trails at local schools and activities surrounding our history and heritage. http://www.gofundme.com/freedomsrun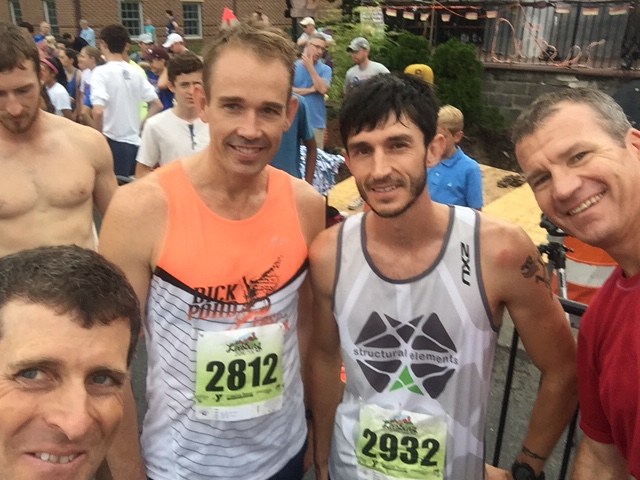 Comrades Veteran Mick Brown, West Virginia Training Friend Brad Dodson, and Former Marine and Marine Corps Marathoner Hall of Fame Memeber Alex Hetherington at the start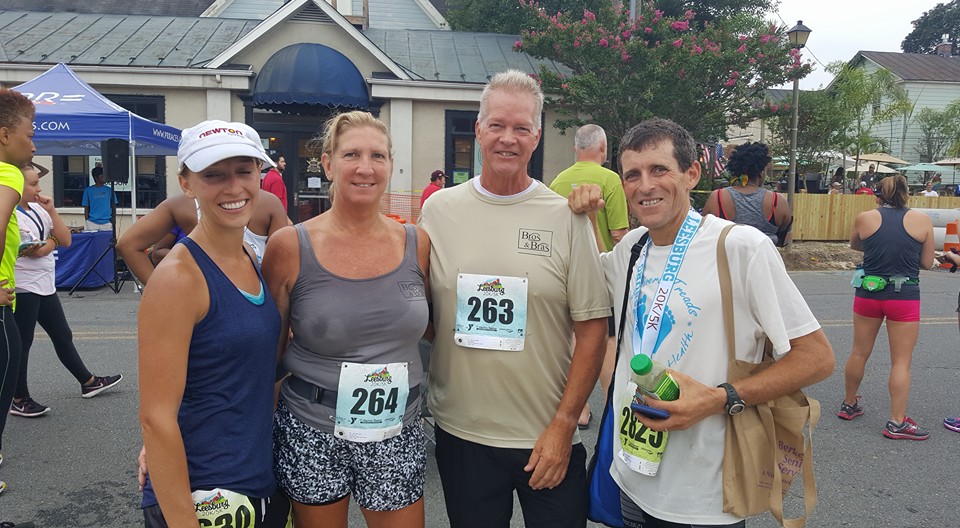 Freedoms Run co-director Katie Thompson and local running friends Anne Gore VanTol and Jack Hooper  at the finish.