This week sharing the story of my friend Jennie Brackens who with the tribe of Bros and Bras are changing the landscape of health and fitness in our community.  We all talk about "exercise science" , but more important I think is "exercise humanity".  Thanks Jennie for sharing this amazing story on why we run and accepting new challenges as part of being human.  Come join our tribe at Freedom's Run (tentative Sept 30 2017) and the Harpers Ferry Half  (May 13 2017).
..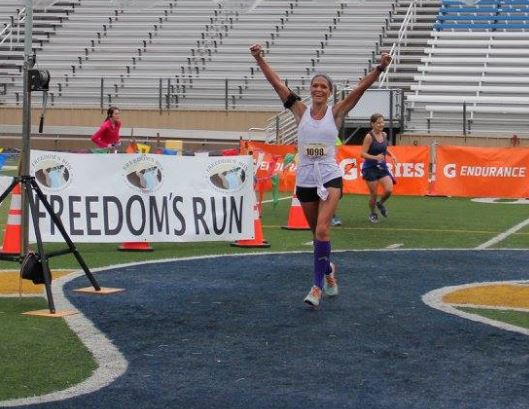 …………………………………………………
Here's my story. I was never a runner. Some people seem to be born with an innate ability to run; I am not one of those people.  I could hike for days and "looked" fit but could barely run 1/4 mile.  I hated it and it haunted me.
A few years ago, inspired by friends who overcame similar challenges, I decided to make running my goal.  It started slow.  I loved hiking our local trails and walking through our national parks in the Panhandle and I used them to learn to run my first miles.  They were quiet places where I didn't need to worry about looking silly with my poor form and slow pace (I hadn't yet been taught Dr. Mark's brilliant wisdom on running slow in order to learn to run well).
Eventually, I entered just about every local 5 and 10k I could to get experience.  I ran a lot. I trained a lot.  Weights, gymnastics, aerobics, cycling.  Anything I could do to improve my overall health.  Running still hurt but I became much stronger.  I also made a lot of friends—people who couldn't care less about pace or podiums.  Many of them are true champions, but you'd never know it.  They accepted me as a "runner" just like them.
I got better at running, but still, one last goal haunted me: the half marathon.  I never had aspirations of running a marathon or becoming an ultra-runner like some of my friends, but it bothered me that I struggled with distance.  It seemed that everyone and their mother was able to run a half, except for me.  It's funny, I remember feeling the same way before my first 5k!
In 2014 after a heavy year of 5 and 10k's I committed to running the Freedom's Run Half Marathon.  It would be my first half.  I ran the 10k in a previous year and absolutely loved it.  Freedom's is to me, the ultimate event bringing history and community together.  Its director, Dr. Mark, is someone who takes great care to nurture and build our running community; he's run countless marathons and yet, he encourages people like me.  That same year at Freedom's, my husband founded a community fitness and social group called Bros and Bras, a group for encouragement where "no judgement, no expectations" is the motto and "NoBody" would ever get left behind.  I didn't know it yet, but it would be where I'd find my running tribe.  It felt like the perfect time to take on my ultimate goal.  Only, it didn't happen.
One week prior to the race, I tested the course to make sure I could do it (lest I be embarrassed in front of 1000 runners on race day).  I had the distance under my belt but something felt wrong.  In mile 10 my knee gave out so severely that I could barely walk.  In the last stretch of the course (the lonely 3 miles back to Shepherdstown), I dragged my leg, sobbing and mortified that I had ever been so foolish to think I'd complete a half marathon.  In my mind, I was back to not being able to run a 1/4 mile and I gave up on ever running a half.  Instead, that year, I taped up my knee and managed to run the 10k.  The injury held out but ultimately took a long time to completely heal.
In October 2015 I was still content with just running anything at Freedom's run, so I ran the 10k again and watched excitedly as my new friends in Bros & Bras ran their first 5 and 10Ks and half marathons. It was beyond exciting to watch others reach their goals.  So many of them asked why I didn't go for the half again (they always believed in me).  It continued to haunt me.  I envisioned crossing the Freedom's Half finish nearly every time I ran, but in my heart, I was sure that it wasn't possible.
In May 2016 I was prepping for my usual 5K at the Harper's Ferry Half event.  Next to Freedom's, Harpers Ferry Half Marathon is my second favorite event.  I ran regularly and built my miles throughout the winter and spring and actually had a good amount of distance under my belt.  I had enough to run a half marathon.  It literally hit me the night before the race that I could try again.  I trained on the course and on those HILLS.  Though Freedom's was my ultimate dream, I thought, wouldn't it be amazing to run both in one year?  It was a longshot so I told nobody about my plan and I cried at the registration table on race day.  I was terrified, but I ran it…and I finished my first half marathon.  No pain and no injury. It was possible!  Finally, my spirit and my sights were once again set on Freedom's.  If I could conquer Freedom's, including those last three miles were I dragged my leg two years earlier, I would slay my final dragon.
In the several months of preparation leading up to Freedom's 2016, I committed myself to the art of running as I never did before.  Diet, mobility, clinics, podcasts, I did it all.  I took on a second half marathon for experience and focused so much more on technique, not pace.  Running started to hurt less and I truly loved it.  I was ready for Freedom's.
So we've finally reached the end of my story.   On Saturday, October 1, 2016, I slayed my dragon.  It was rainy and muddy but it was one of the most beautiful days I will ever experience.   I did something I never imagined I'd ever be able to do: two of the greatest half marathons to exist in one year and three half marathons in total.  My last three miles were extra sweet (and completely pain free), but the very best part of my experience was running into the stadium (that moment I envisioned for two years), being met with a massive line of my friends extending their hands for high-fives, as well as friends running behind me carrying the Bros & Bras guidon (NoBody left behind).  Those people kept me going when I was a lost runner, right up until the moment I found myself again.
Through all of this I've learned one certainty: Anything is possible…especially with a little help from your friends.  Jennie Brackens
Sharing a few pictures of the day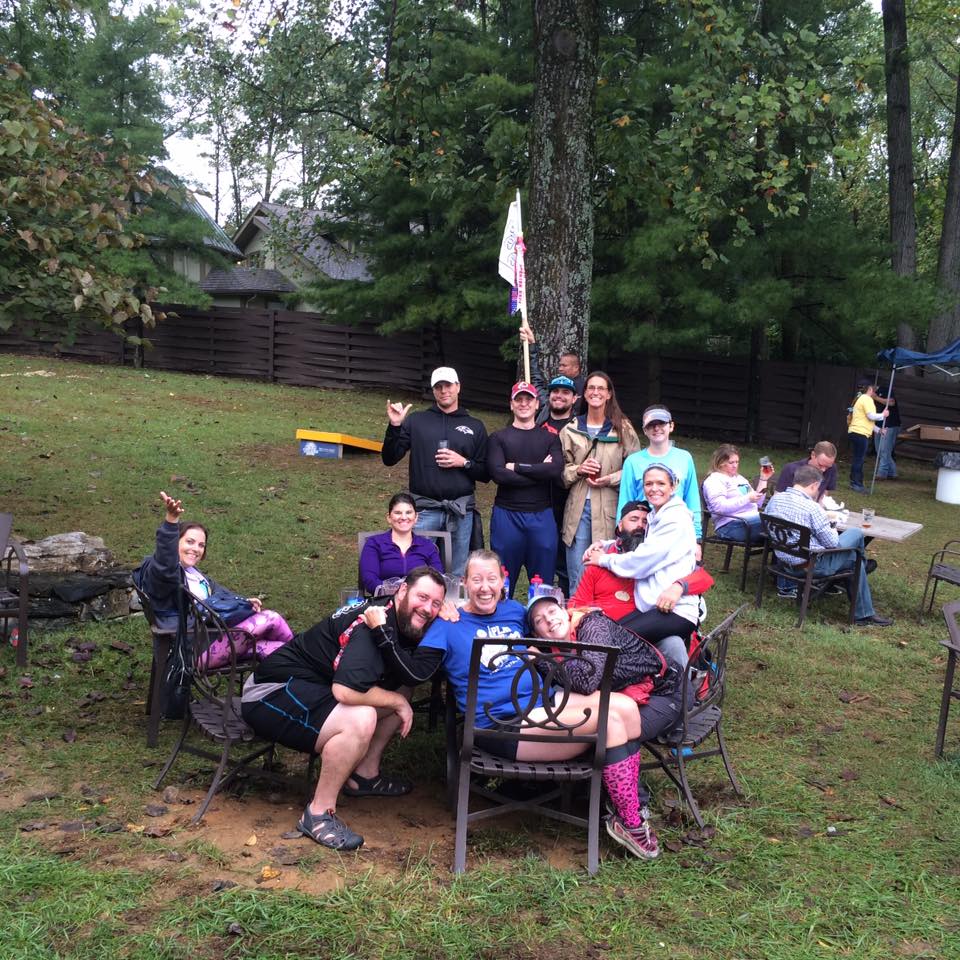 Post Race Beer and Friendship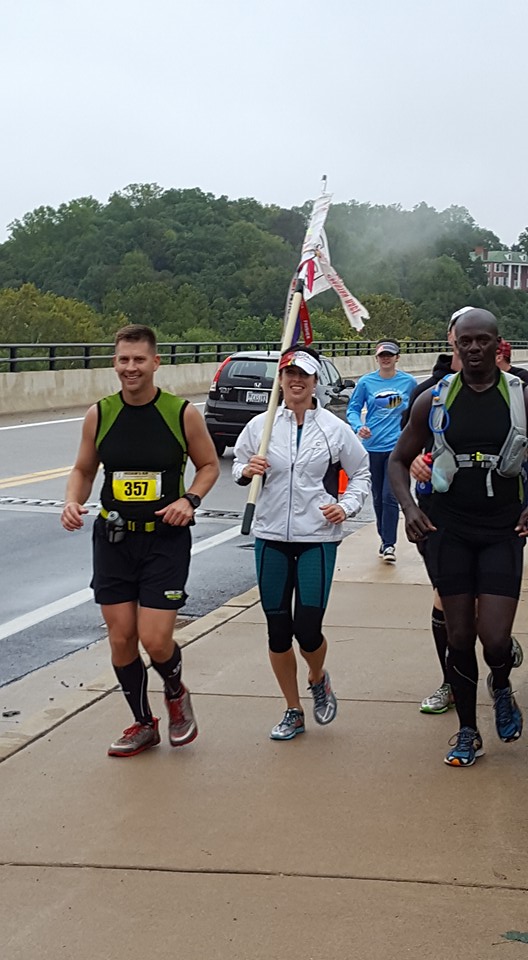 Laura Bergman who helps put the bodies back together leading Darryl Jones and Bill Young to a marathon finish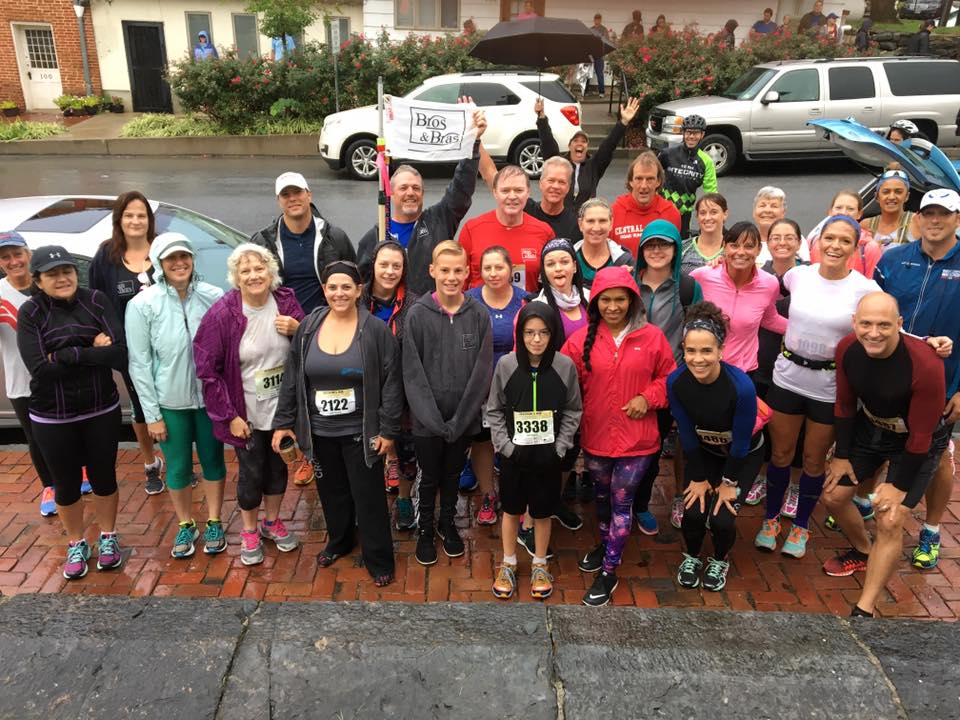 Time for the 5k!  You do not need to do a Marathon of Half.  Just smile and get out the door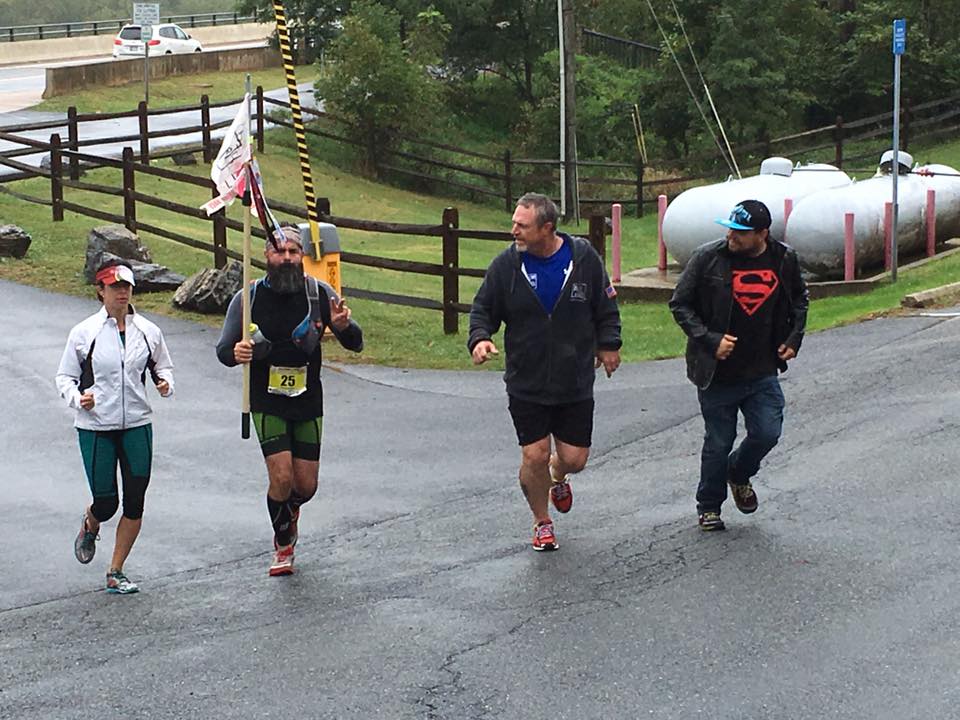 Tribe leader Kevin Brackens heading to a marathon finish on a wed and muddy day. 12 miles of marathon were on muddy C&O Canal after an early morning downpour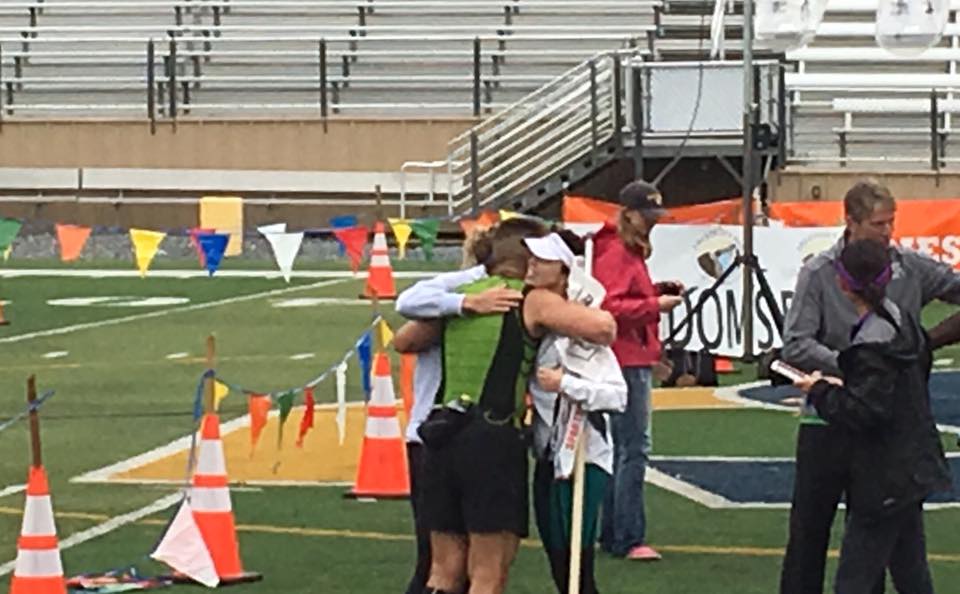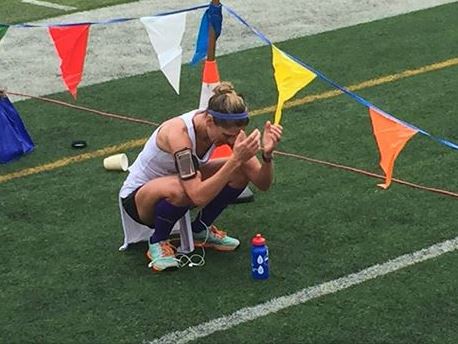 The finish! Now time for beer 🙂