Marine Corps Marathon after action report. Semper Fly 2016 at my 24th Marine Corps Marathon and proud to represent the USAF.
The weekend started at the AMAA Marine Corps Marathon Sports Medicine Conference where my topic was "Running with Diabetes" and a focus on low carbohydrate adaptations to endurance sport.  I followed a Sports Nutritionist who presented the traditional approach of 6-8 grams of carbs per kg of body weight per day for those doing endurance sport (that's a lot of carbs…. 500g a day for a little guy like me).  This all works fine if you are what is now the minority of the population and are not expressing insulin resistance.
Myself like many of the 30,000 out there at the Marine Corps Marathon are carbohydrate intolerant/insulin resistant so I presented the alternative approach of adapting the body to use fat.  The goal as my friend Dr. Phil Maffetone has said for years-  you need to be "Healthy and Fit".  Read this important paper by Phil.
I enjoy the discussions at academic conferences. We all share experience and come away with new ideas and things to try with ourselves and patients. We had some wonderful speakers sharing emerging topics in sports medicine and health.  Our next meeting in Boston Marathon .  Join us! http://www.amaasportsmed.org/
The highlight of the weekend is joining my USAF teammates as well as friends from the Marine Corps, Army, and Navy as we compete for the Armed Forces Championship.  Here are a few pictures from photo day.  Many thanks to XOSKIN and TASC for generous donations to the USAF.  We have this gear at Two Rivers Treads in Shepherdstown.
The race for me was another experiment in footwear and fueling with low carb strategy.  Pre-race meal was bacon and eggs and Grandma's Italian meatloaf the day prior and race morning of almond butter and a banana with a UCAN shake.  UCAN is the secret sauce for fuel without an insulin spike which will sabotage fat burning. I could not get UCAN on the course so topped off a bit with a few ounces of Gatorade even 4 miles or so.  When you are running you can utilize the some glucose with insulin independent pathways, but the majority of fuel is from fat.
I started relaxed and conservative since it was reported to be the warmest day ever in the 40 + years of the race (high reached near 80).  As you see from the image below with the splits the strategy worked great and finished with what my son Leo called "freakish" even pacing.  Won my 50 plus age group and was the only 50 plus runner in the top 100 finishing 81st in 2:55.
The Shamma sandals were great too.  Lots of fun comments on the course about them as you can imagine.  I also breathed 100% nasal to keep the governor on and used a simple device called a Nasal Turbine.  I think there is some magic in nasal breathing to engage the diaphragm and release parasympathetic.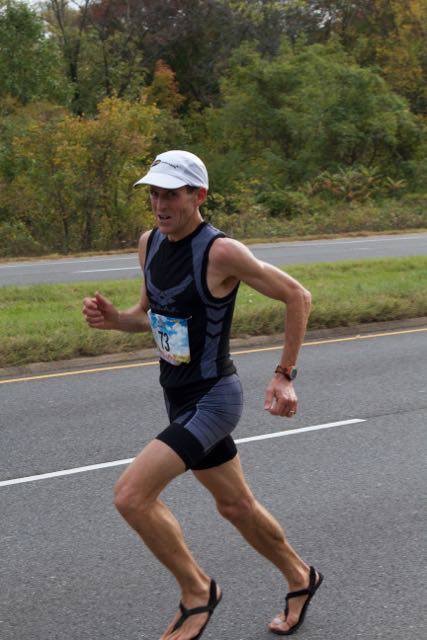 300 yards to go!  trying to keep form 🙂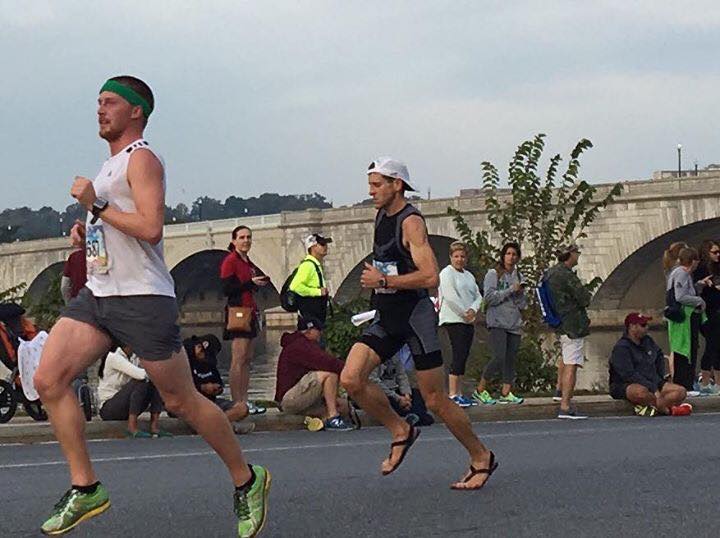 Entering Hains Point- Mile 11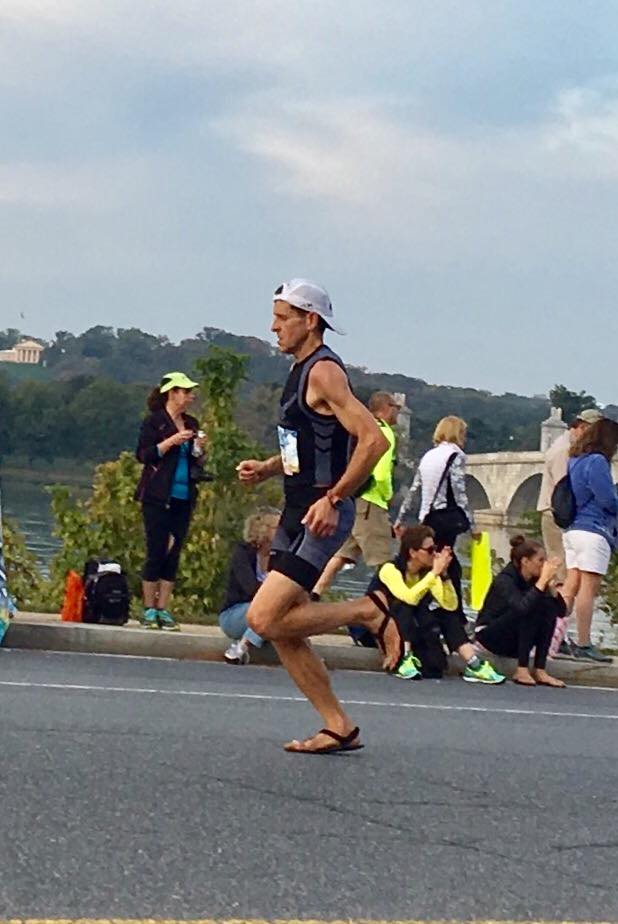 Somewhere alone on the Potomac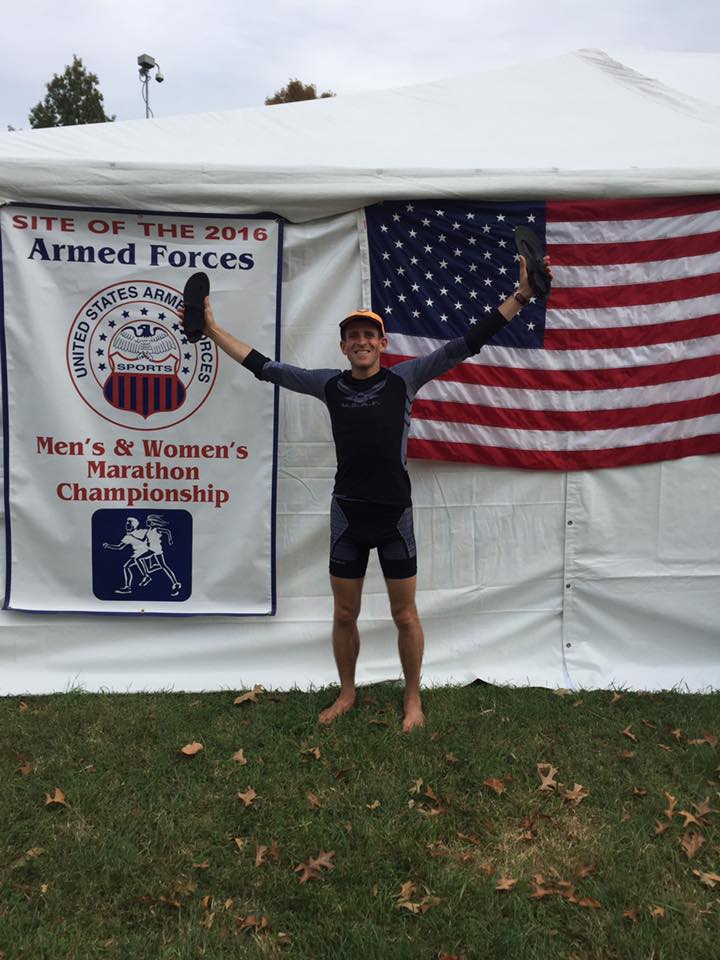 Mission Accomplished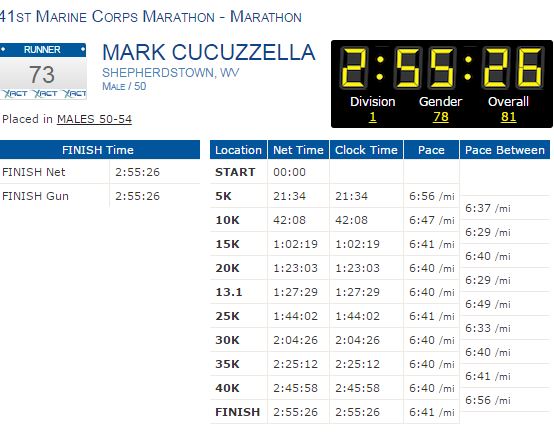 Even Pace!
…………..
Our USAF men's team finished second to a super strong Army team.  The Army takes running seriously and the top runners train as their duty.  Three Army runners made the Rio Team and one won the silver medal in the 5000 meters!  In the end we are all Comrades and my bond with these runners and soldiers gets me out of bed to run every day.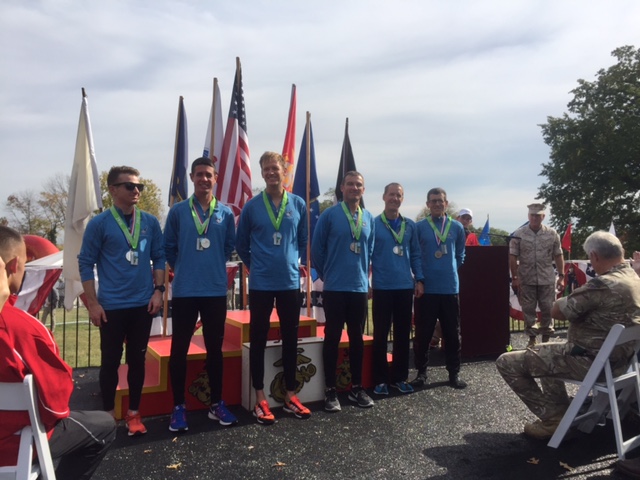 Special congrats to my friend Ron Allison who finished his first Marine Corps Marathon.  Ron is a low carb warrior who has lost half his body weight and regained his health and love of life.  Here is Ron with running partner Jeff Bell who has also lost 80 pounds on the same plan.  The message from Ron's young daughter says it all.
Next up.  JFK 50 miler Saturday. And yes running it on bacon and eggs and in sandals.