"… if you set out on an adventure and you're absolutely convinced you are going to be successful, why bother starting?" – Sir Edmund Hillary.
I will start this post with the end.  Happiness is finishing a 50 mile race smiling and with spring still in the step.  There is a strange exuberance coming to the finish of an ultra marathon that is not felt in shorter events, even marathons.  So much can go wrong over the longer distances and the steely perseverance that we all have is truly tested.  My friend Pat Schneble took this short video as I did the "airplane" approaching the finish.
As we get older the trail running is more about fun and learning about the body and the mind, and not about racing and speed.  So why did I run the JFK 50 Mile  after 2 marathons in the 2 preceding months.  Simple, my friends were doing it and together we are stronger and happier.  Plus after well over 100 marathons there is really not much to learn in 26 miles, but in the ultra world I'm a novice with 10 events and a couple disasters along with  successes. 50 years old and 50 miles sounded like a challenge as did running 50 miles of mostly trail in sandals. But maybe its just about finding some peace on the trail and gratitude that I can still run.  The history of this event and the legacy of JFK and Teddy Roosevelt is important too. This was my 8th JFK and something draws you back.
So I will share the journey in pictures and video and give a little of the strategy and physiology along the way.
First the course.  The graphic below says it all.
15.5 miles of rocky Appalachian Trail more suitable for hiking
26 Miles on the C & O Canal – flat crusher surface with wonderful views of the Potomac
9 Miles of rolling country road- a welcome site after 26 miles of consistent terrain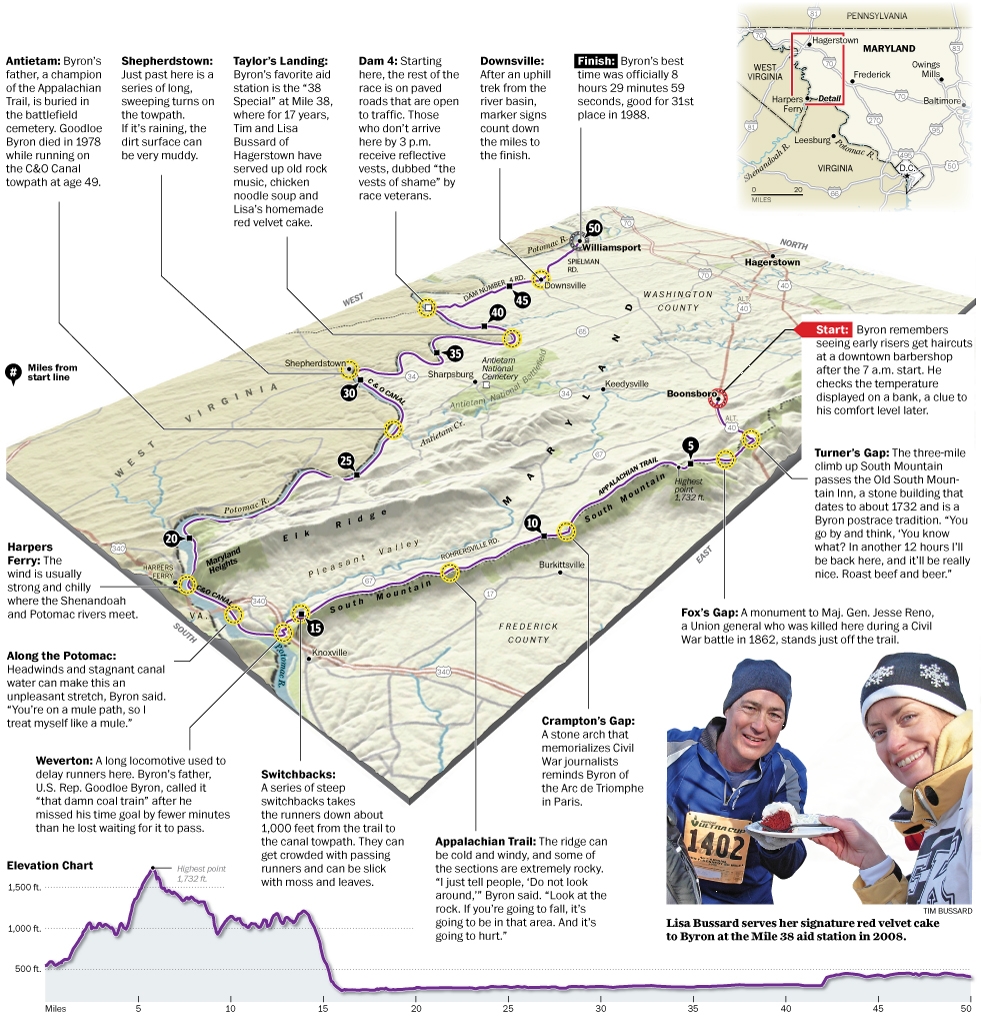 The Start was 6:30 am Boonsboro MD.  Here are my friends Bill Bonderant, James Munnis, JT Peebles, and Jared Matlick in out prerace bathrobes staying warm.  Boxers must know something runners do not about the power of the robe, so we were set to find out.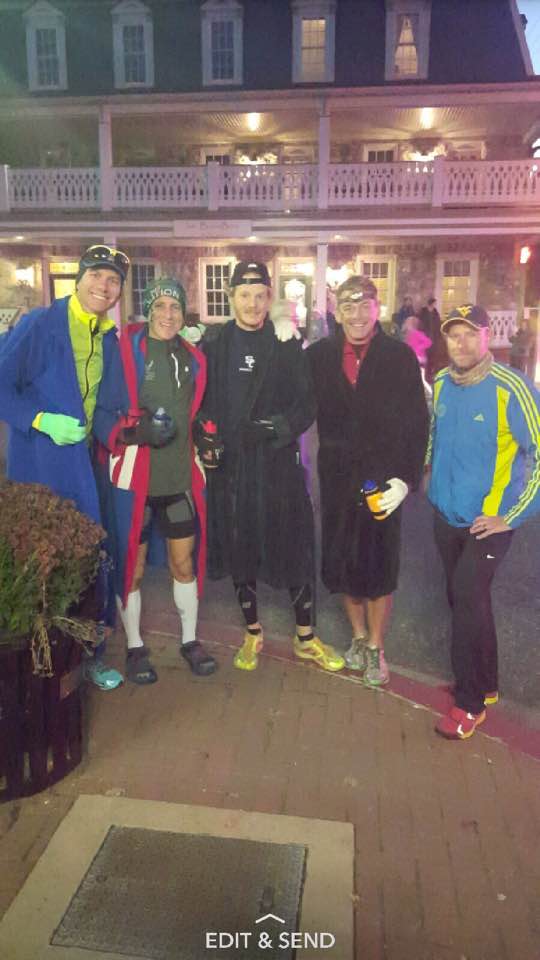 The day started cool so I wore an over layer over my XOSKIN top as well as some Injinji socks with the Xero Shoes for the rocky Appalachian Trail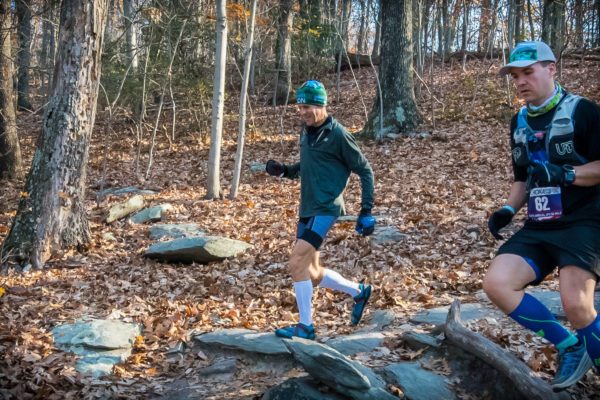 Things got smooth on the C & O Canal .  Here I am with running partner JT Peebles.  This was JT's first ultra although he has completed 3 full Ironmans.  We employed a strategy of walking one minute at every mile post. Here is JT and I meeting our friends Bill and Rachel who gave amazing course support to our group of friends.  Trail friendship is special.  I'm getting rid of the socks, overshirt, beenie, and refilling a bit of UCAN and Vespa. Race leader Jim Walmsley was enroute to a course record at the same spot.  He did not stop for refreshments! The tattoo on my face is from my friends at Trail Runner Nation and gives mystical powers.
JT and I settled into a nice 8:30-9 min pace for most of this 26 mile section.  We each had heart rate monitors and I could sense JT was a bit pissed at me when mine was reading below 90 most of the way.  This is a safe way to run an ultra.  With low heart rate you are burning fat so running out of fuel is not an obstacle to finishing strong.  Here is JT and I at 30 miles in Shepherdstown and refilling the UCAN.  Still having fun and smiling.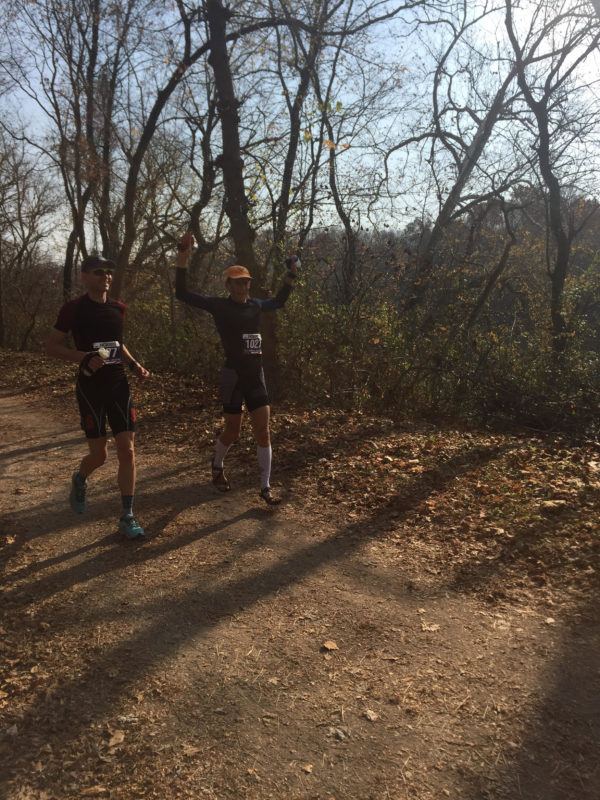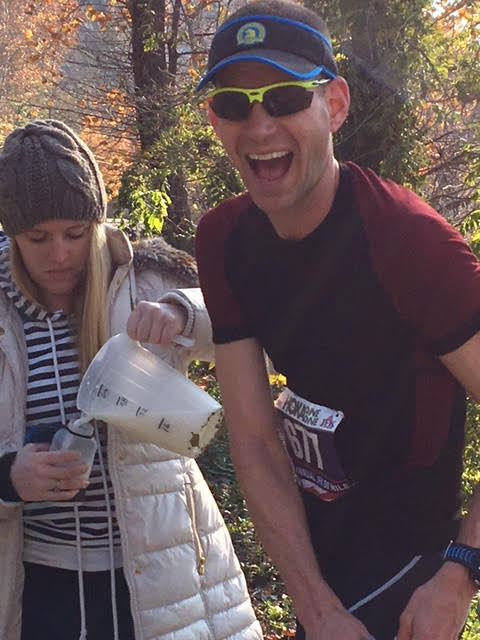 Here is Jim Walmsley running by this point 30 miles in.  He did not stop for refreshments.
The story of the day for steely perseverance was JT.  We ran together until the 38 mile aid station. We were working really smoothly as a team and having fun out there. When we got to mile 38 station JT said " I'm done". I spent a bit of time at this aid station, even changed sandals, and walked a few minutes to see if he would rally but no sign of JT exiting from the aid station. So I went on. His wife and baby daughter were at the aid station too. Surprisingly at mile 42 came a tap on the shoulder and turned around in shock to see him right there!  It is rare to rally in an ultra but never doubt the power of the mind.
At this time a nasty front was moving in and branches were falling from trees.  Time now to run for your life at get to  the barn. We worked together for few more miles and then I pressed ahead with JT finishing strong few minutes behind. Ultras test the spirit.  JT answered and found something in himself he did not know he had prior to this day.
Here is the final stretch  of the Canal at mile 41 when I was alone, focusing on breathing and form, and catching people one by one.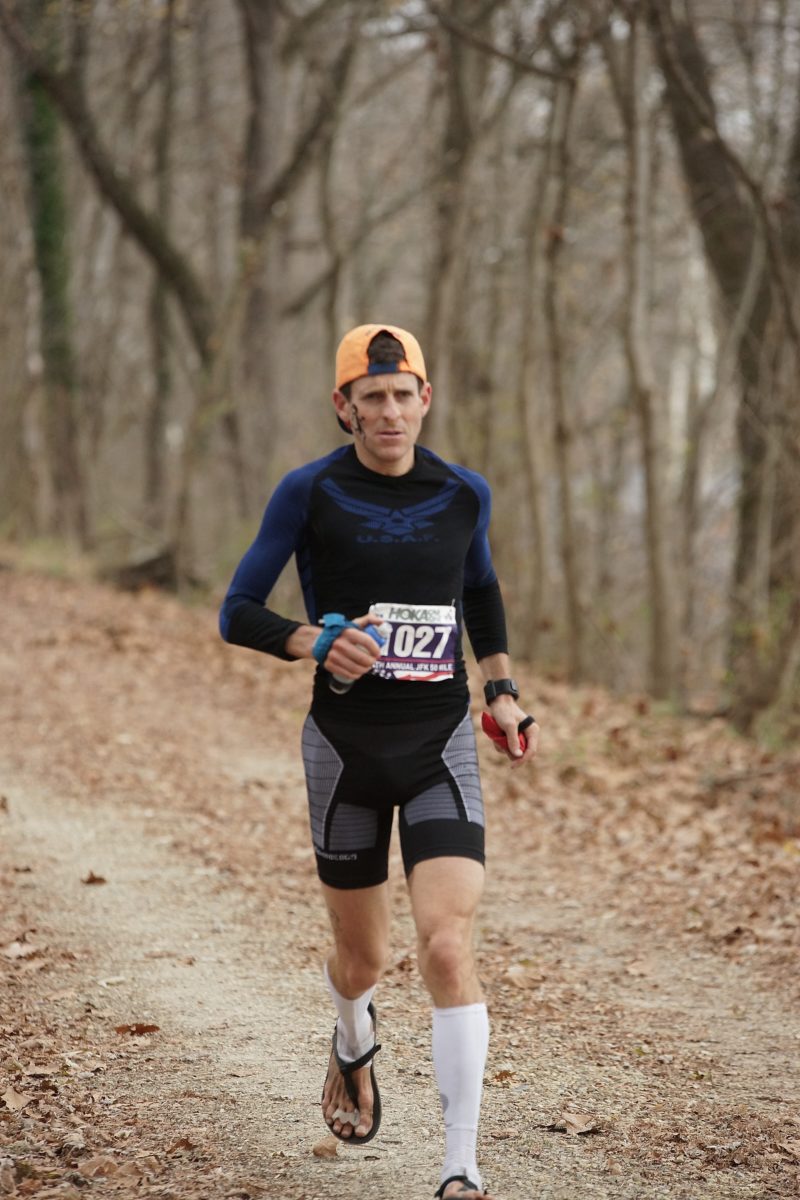 Reaching the finish is a celebration. Here are a few pictures at the finish and post race
Whew- made it.  Now time for beer and pulled pork.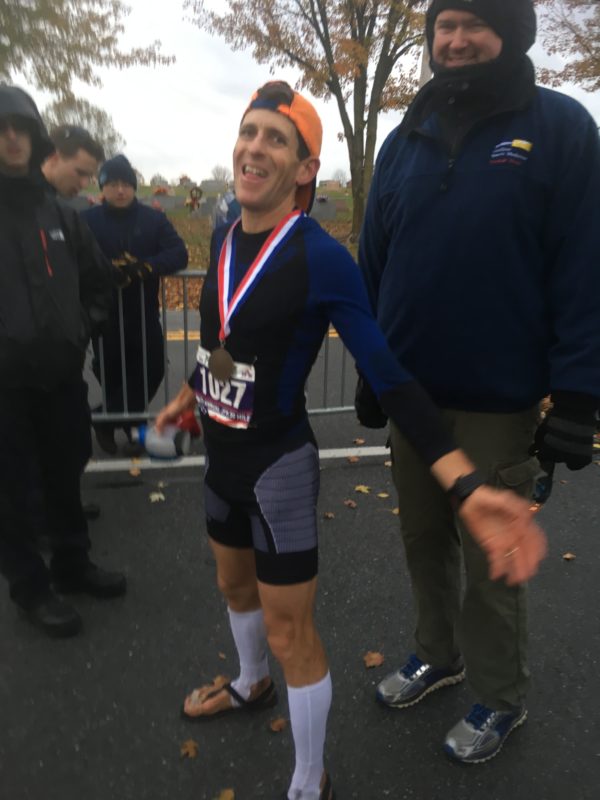 JT (8:39) and James (8:54) Made it too! And back into the bathrobes for warmth
With the new course record holder and former USAF teammate Jim Walmsley who is redefining human limits. Time 5:21 and destroying ultra legend Max King's record.  Jim is the only ultra runner I know who runs like a track runner for over 50 miles. He is the best ultra runner in the world now.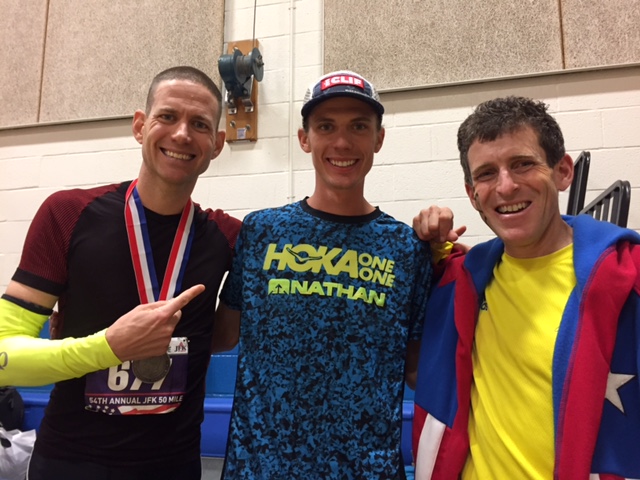 My time finish time was 8:31. Far off my best time of 6:45 here 8 years ago but at age 50 a victory for sure. I felt great the whole day and had energy to encourage others along.   They had timing mats out so here is the post race time breakdown.
miles 1-15.5 on the AT 12:22 min/mile average (mostly fast walking)
miles 15.5 to 27 on the Canal 8:52 min/mile (walk/run strategy)
miles 27- 38 on the Canal 9:22 min/mile (walk/run strategy)
miles 38-50 on Canal and road 9:19 min/mile (walk/run strategy until 3 miles out and then charge for the barn)
50 Miles of Minimal– Here is the race day gear and nutrition strategy
For an ultra my training is pretty minimal too.  40-50 miles a week mostly slow Maffetone Method with daily drills and strides.
Breakfast of UCAN protein and electrolyte, banana with almond butter, a Vespa. (not pictured is the Black Dog Dark Roast)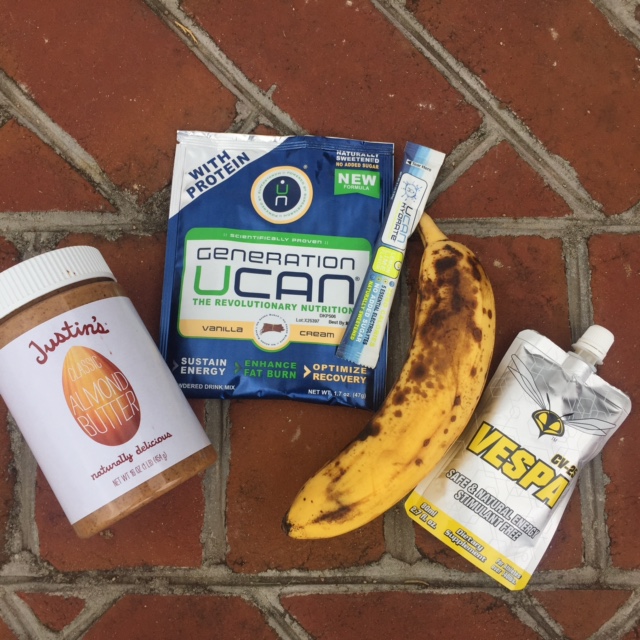 Here is the simple carry kit of a small handheld, a Simple bottle that tucks in back of shorts, and a small pouch for goodies that I carry.
I did not drink free water.  Added the calorie free UCAN hydrate with sodium and magnesium to all water.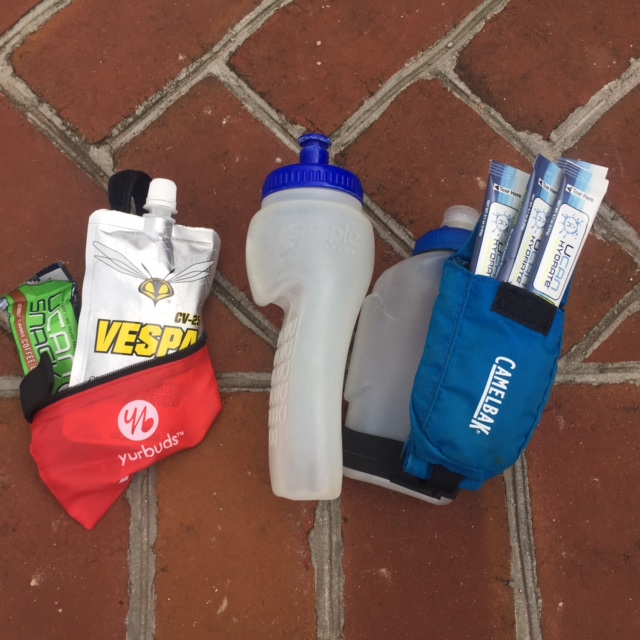 The Footwear 50 miles in Sandals- Xero shoes Umara Z trail for first 38 miles and Shamma Jerusalem Cruisers for the final 12.
I cut the heel and forefoot out of a pair of compression socks to keep my toes free and happy when it warmed up and uses the Injini socks in the early morning cold.  Also had my trusty Correct Toes for the entire route.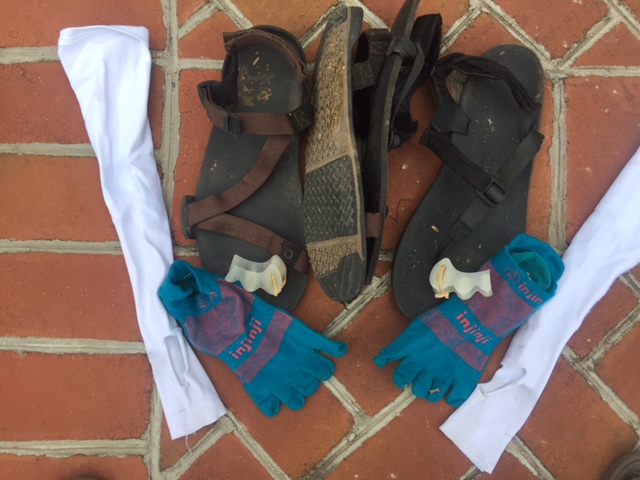 Maybe i'm just dreaming I can run like the legend Arnulfo Quimare of "Born to Run" who beat Scott Jurek in the Copper Canyon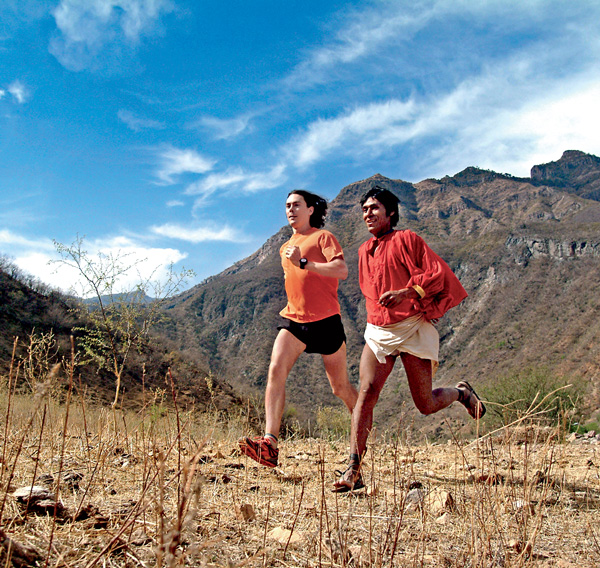 There is magic in the Rhinomed Nasal Turbines to help with nose and diaphram breathing.  This keeps the pulse down.  Here is the TomTom strap free Heart Rate Monitor.  The Trail Runner Nation tatoo is priceless too. If you want to read more on optimal breathing read "The Oxygen Advantage" by Patrick McKeown and "Running on Air" by Budd Coates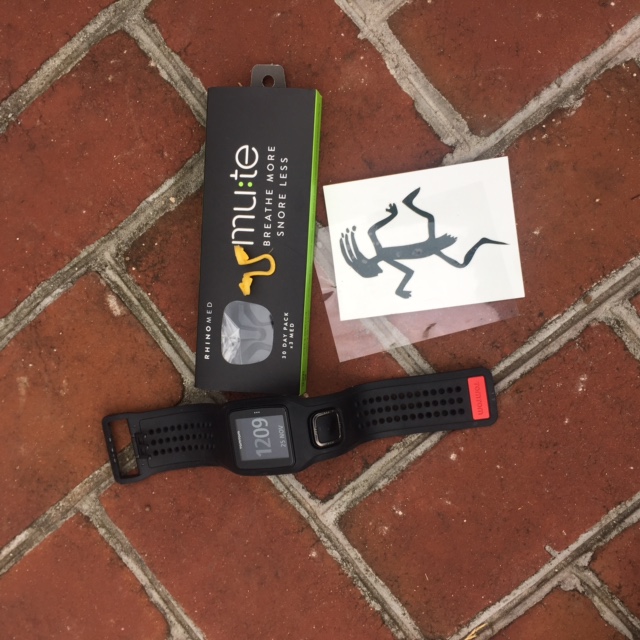 What about nutrition? Before discussing nutrition the pacing is critical and my heart rate was most below 100 (fat burning zone ) until I knew I could get home pushing it. This happened at about 43 miles after getting off the canal and up the first hill and then you can smell the barn. Night before homemade enchiladas with low-carb wraps and quite a bit of wine . Loads guacamole and sour cream on the enchiladas. Breakfast was some really good coffee ,a banana loaded with almond butter, and a UCan protein shake. About 30 minutes before the event took a Vespa packet. Along the course used UCAN Hydrate electrolyte with water, had a Vespa about every 15 miles, and UCAN sports drink three times along the way. Had three UCAN peanut butter bars also just to settle stomach with something solid.  People trying to run on too much sugar and gels are rolling the dice and half of them get G.I. distress. Why would you train for six months and do something like this is beyond me. Below is what got me through 50 miles.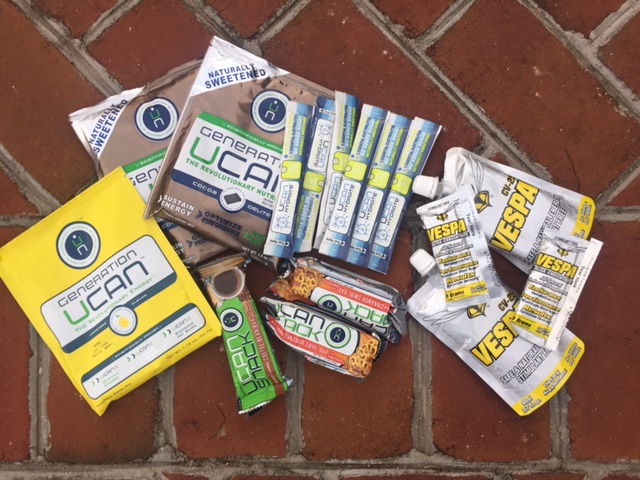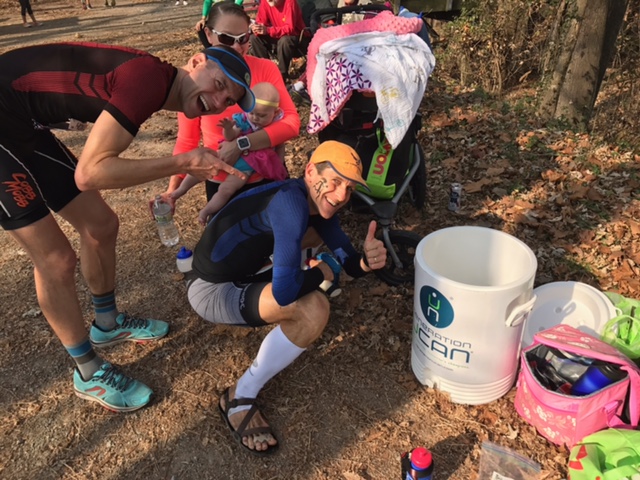 For Gear the XOSKIN top and bottoms are priceless.  Period.  You must try this gear.  Keeps you warm when its cold and cool when its warm.  It wicks moisture and holds a light compression like no other gear I have ever used. Bring on the storms! The beanie is a Buff from my Trail Runner Nation friends.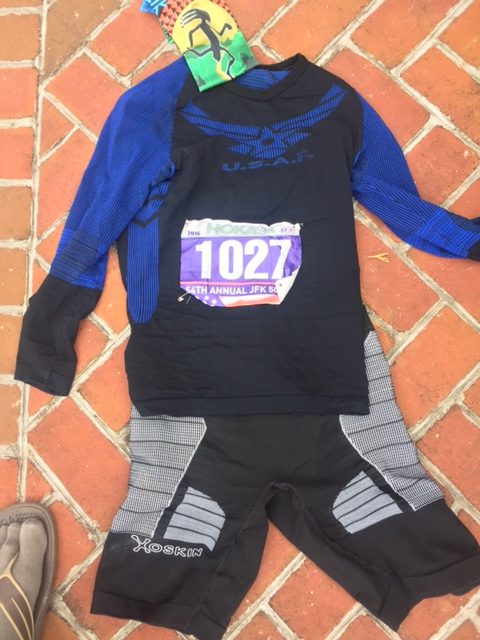 And finally the magic robe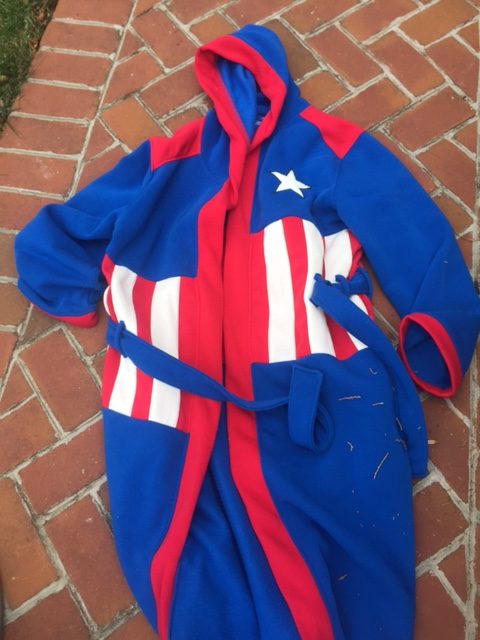 …………
Here are a few more pictures of the course and the experience