Cops die young, and not from accidents and shootings.  It should not be that way. LA (or anywhere else) is not LA LA Land for First Responders.  I had the privilege of addressing a large group of LA Law Enforcement officers a week ago and our agenda for the full day summit at the Redondo Beach Performing Arts Center revolved around restoring health in a group that suffers early heart disease and death.
This article by Dr. Jonathan Sheinberg – a Cardiologist and a Police Officer spells it out
http://www.copsalive.com/heart-disease-and-the-law-enforcement-officer/
Firefighters suffer the same fate of early heart disease and early death.  These officers on average enjoy only 5 years of retirement pension before they succumb to heart disease. No wonder they have good pensions, it's a safe bet it will have short term payout.  These tow professions also have the highest overweight and obesity of any profession (80% overweight and 40% obese).  We need to understand why this happens and prevent it.
Together with Drs Jim Greenwald, Jeff Stanley, and Bill Crownwell and Law Enforcement leaders Fran Sur and Steve Pitts we hope to make change.  We are teaching the earliest signs of insulin resistance and early testing with NMR Lipid profiles (far superior to standard lab panels).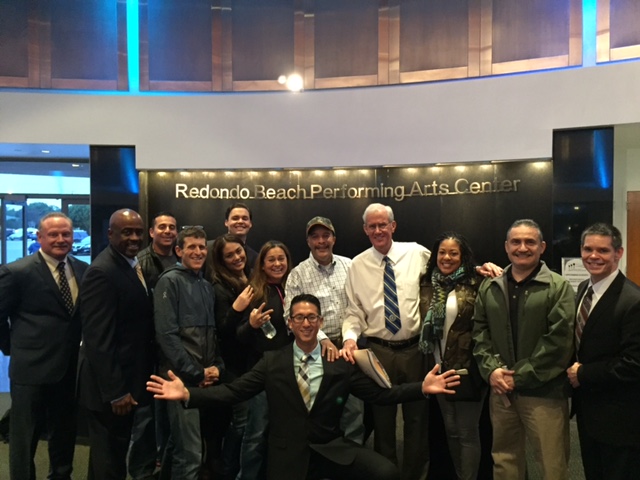 Our org team in LA
Do you know your LDL particle number and size?  If you have any early evidence of metabolic disease you should.  Yes even the little "beer belly" is a sign.  What is the simplest and most evidence based solution to the weight, heart attacks, bad lipid profiles….you guessed it. Get rid of the SUGAR (and this means all the puffy rolls , breads, cakes, bagels, and donuts). Add aerobic training with measured doses of aerobic for the high stress times of the job.
Lot of Diabetes and pre-Diabetes in these professions.  Diabetes is reversible! Do not listen to the ADA.  According to the experts in this group it is progressive.  Several Officers took the stage to share their stories of reversal with LCHF (Low Carb Healthy Fat) strategy. Here is a short video from my friend Dr Sarah Hallberg with a link to her TED talk on the subject .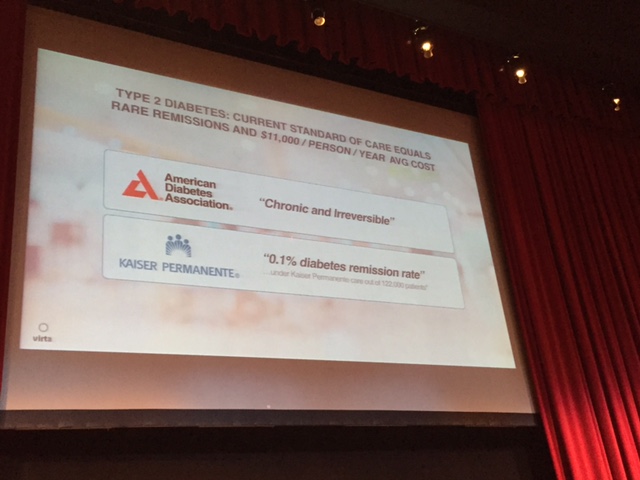 After LA took an overnight flight to Miami to address the Physicians for Ancestral Health as a keynote with Dr. Ron Rosedale , a pioneer in aging , health, and nutrition. http://ancestraldoctors.org/.
Dr. Rosedale said this as a summary "Your health and likely your lifespan will be determined by the proportion of fat vs sugar you burn over a lifetime." From what I observe he is correct.  This is 30 plus years of research for Ron to come to this conclusion, we have it easier with folks like him doing the heavy lifting and challenging beliefs and dogma .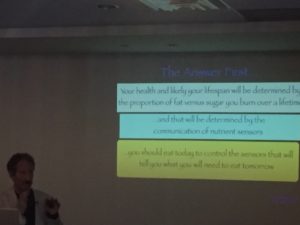 Dr Rosedale Summary slide
My topic was "The Medical Home's Backyard"- a story about all the community activity in our region supporting health.  I have many to thank for the programs here.  My abstract at the end of this blog on what "The Medical Home's Backyard" is.  Create a healthier backyard in your community.
LA Beach Run and Run Clinic with TrueForm Runner
Miami Running with my Friend Dr Jeff Gerber (Director Low Carb Breckenridge next month)
…………………
Abstract from Miami Keynote
The Medical Home's Backyard-A Place to Create Change
Our model is to attach the Medical Home to the Medical Home's Backyard, the place where true health is created. We are living in a world separate from what most would define as nature and suffering the consequences. In Medicine we view the symptoms of being in captivity as the problem. Almost all of our chronic disease states have origins in our industrial food, lack of movement, and a void of nature. This includes cardiovascular, metabolic, musculoskeletal, and psychologic illness. The medical systems striving to heal us views us as separated from the "natural" world. Which I propose is the problem in the first place. In our small community in West Virginia we are reversing this discordance.
Through activities in The Medical Home's Backyard we are (1) providing opportunities to improve the health of our citizens (2) promoting healthy living where everyone lives, works, and plays and (3) reducing healthcare costs, promoting  economic development, and enhancing West Virginians' quality of life. It takes a united team to work toward a solution and leaders from many sectors to make it happen. Successes must be highlighted and replicated.
There is also growing concern over children's lack of outdoor activity and exposure to nature, also known as "nature-deficit disorder."  A growing body of evidence suggests that exposure to nature may directly benefit both physical and mental health. Our region was once a rural and farming county; and now is transitioning to an exurb of Baltimore and DC with the high obesity rates the state is renowned for.  We are also at risk of losing our sense of "place"- that true understanding of the richness of the land we live on.  In a 1961 conference of Physical Activity and Youth, John F. Kennedy observed: "We do not want in the United States a nation of spectators. We want a nation of participants in the vigorous life. This is not a matter which can be settled, of course, from Washington.  It is really a matter which starts with each individual family…" For those who live in West Virginia and share its sense of "place", the family extends to the community.
We are giving opportunity in a small community to participate, teach, mentor, and encourage cultural change, reattach children and families to nature, and produce more mentors who will spread the themes deeper into each community. We will highlight activities I have launched here in this theme.
Freedom's Run:  The largest running event in West Virginia explores 3 National Parks. An opportunity for all to engage in a new challenge with 5 events- 1 mile fun run, 5k, 10k, Half Marathon, and Marathon.  After only 8 years the event has established itself on the national map and has spurned the growth of over a dozen regional events throughout the year, weekly training groups and clinics, and even a small running and walking retail store in our town of 3000. Our spring Harpers Ferry Half/5k is growing also. www.freedomsrun.com
MedCHEFS- Medical Curriculum in Health Exercise & Food Sciences: The goal of the MedCHEFS curriculum, now in its 4th year, is to teach medical students the science, clinical, and systems-based aspects of healthy lifestyle behaviors in a manner that will improve the health of patients and our communities.  We identify biases, barriers, knowledge, and confidence deficits and review current clinical practices Through the use of a trans-disciplinary approach, we aim to increase medical student knowledge in nutrition and physical activity as medicine.   Students acquire skills in adopting and maintaining healthier lifestyle behaviors in themselves and their patients.  Specific interventions include involving students in community based teaching and programs on nutrition and physical activity, sessions in a teaching kitchen, and 2 hours a month curriculum directed towards acquisition of specific skills and knowledge about healthy behaviors and communication training in motivational interviewing for change.
Physician's Farmacy: Thousands of citizens in our country are effected by food insecurity. The use of federal nutrition benefit program dollars, such as Supplemental Nutrition Incentive Program (SNAP), Women, Infants and Children (WIC) Farmers Market Nutrition Program (FMNP) and Senior FMNP, is on the rise at farmers markets nationally. With Assistance of the USDA and the Benedum Foundation we are in year 3 of our Double Value Coupon Program, which doubles SNAP dollars at our markets. http://www.wvfreshealthybucks.com/
A Trail for Every Child:  Through our nonprofit  we have raised funds to build 8 fitness trails at local schools and we continue to build more every year as our foundation grows.  This allows schools to comply with a policy change requiring physical activity for students.
Community Low Carb Support Group and Hospital Low Carb Pathway:  In a small community in the #2 most obese state in the nation we have one of the most robust support groups for low carbohydrate living to reverse Diabetes and Obesity.  We also have developed a DM remission pathway with nursing, dietary, and pharmacy working together with the physicians and patients to implement a 10g carb per meal HFLC intervention which starts in the hospital and transitions and supports a patient to achieve this at home.
Two Rivers Treads- The Nation's First Minimalist Footwear Store:  Our small retail was just awarded "Top 50 Running Store in the Nation" as well as one of 100 innovative Small Businesses from "Small Business Revolution".  We may be the first shoe store actively warning people of the risks of shoes. www.tworiverstreads.com
Efficient Running USAF and Healthy Running CME: My work in running injuries and biomechanics sparked change in how the USAF trains Airman in running.  I also direct an International CME series of running education which has been presented 50 times over the last 5 years for military and civilian audiences.  The details of these programs can be found at www.naturalrunningcenter.com   under tab Learn Efficient Running.  You can also access www.efficientrunning.net
Other Community Activities we have started:
– Nature Prescriptions www.natureprescriptions.org
– Walk with a Doc
– Middle and High School Cross Country Camps
– Wee Warrior Dash Kids Obstacle Race
– Tiger on the Trail Middle School Hiking in collaboration with the National Park Service
– Middle School Cross County now sanctioned at Berkeley County WV schools
– Physical Activity for Opiate Recovery
"Never doubt that a small group of thoughtful committed citizens can change the world. Indeed, it's the only thing that ever has." Margaret Mead
I'm proud to be an outdoor Pioneer http://blueridgeoutdoors.com/outdoor-pioneers/dr-mark-cucuzzella/
From Dr. Phil Maffetone  https://philmaffetone.com/maf-profile-mission-heal/
Military Article embracing health http://www.runwashington.com/2016/10/26/mark-cucuzzella-wants-solid-foundation-military-service-members/
………………………………………………………….
Videos used for presentation
Barefoot Running w Kids
https://www.youtube.com/watch?v=4G4dd1NcKsQ&feature=youtu.be
Kids Running Revolution
https://www.youtube.com/watch?v=eyyhGULVr1E
Double SNAP Program
http://wvutoday.wvu.edu/n/2015/11/11/wvu-doctor-helps-create-program-to-provide-healthy-fruits-vegetables-to-snap-recipients
Slow Jogging Dover AFB
https://www.youtube.com/watch?v=ShWWcn_TgOY
https://www.youtube.com/watch?v=aDZgQoOqE4c
Natural Running Shepherdstown
Running Without Support
https://www.youtube.com/watch?v=uFVDZ0Yx-PQ
Natural Running Roundup
http://www.youtube.com/watch?v=TBuoEVloc58
Principle Natural Running
https://www.youtube.com/watch?v=zSIDRHUWlVo
Barefoot Running Style
https://www.youtube.com/watch?v=kpnhKcvbsMM
Wee Warrior Dash
https://www.youtube.com/watch?v=1HKz5IgoUFk&t=35s
VivoBarefoot Kids Shoe Giveaway
https://www.youtube.com/watch?v=pzhnYZXSJgM
Going for a Run
http://www.youtube.com/watch?v=n2pRdXyf2FU&feature=youtu.be
Teaching the USAF to Play- Air Force Marathon 2011 interview
https://www.youtube.com/watch?v=hvcmYldHmf4&t=247s
Feel Free to Contact Me
Mark Cucuzzella MD FAAFP
Professor West Virginia University School of Medicine
mobile 304-268-8813
afrundoc@gmail.com