By Nicholas Pang, Wear Tested Gear Review
In the next two weeks, you'll undoubtedly hear lots of media coverage about Nike's Breaking2 Project, their quest to break the two-hour marathon barrier – the last frontier in running. To save our readers time and resources, here's a quick guide on everything you ever need to know about the latest development by Nike, Adidas, and other private organizations stealth approach to running a marathon (26 miles and 385 yards) in 1:59:59 or faster, a seemingly impossible feat…
The fastest recorded time for the Men's marathon is 2 hours, 2 minutes, and 57 seconds. It was set by Dennis Kimmetto at the 2014 Berlin Marathon. Average pace: 4 minutes, 41.5 seconds.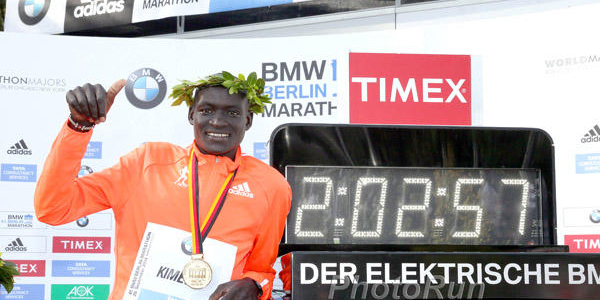 To break the 2 hour mark, a runner have to be running at an average pace of 4 minutes, 35 seconds. Current data shows that it took nearly two decades to decrease the world record by 3 minutes.
Shaving 3 minutes off those times amounts to roughly a 2.5% performance improvement. To get faster, the runner must either become more powerful or more efficient, or the course must become easier.
Two records have redefined running: breaking the four-minute mile in 1954 and the 10-second barrier in 1968.
Nike
The sub-two-hour marathon barrier is one of those rare ones that, if broken, can transform a sport – Sandy Bodecker, Nike's VP of Special Projects
The Breaking2 Project at Nike was started in 2014. A large team of runners and scientists have attacked the goal of a two-hour marathon from every possible angle. The fastest shoes Nike has ever made, of course. But also training, nutrition, and recovery. Nike has continued to fine-tune every detail, right down to the course: the tree-lined, meticulously measured, racetrack in Monza, Italy. It's is the perfect place to test everything they've learned.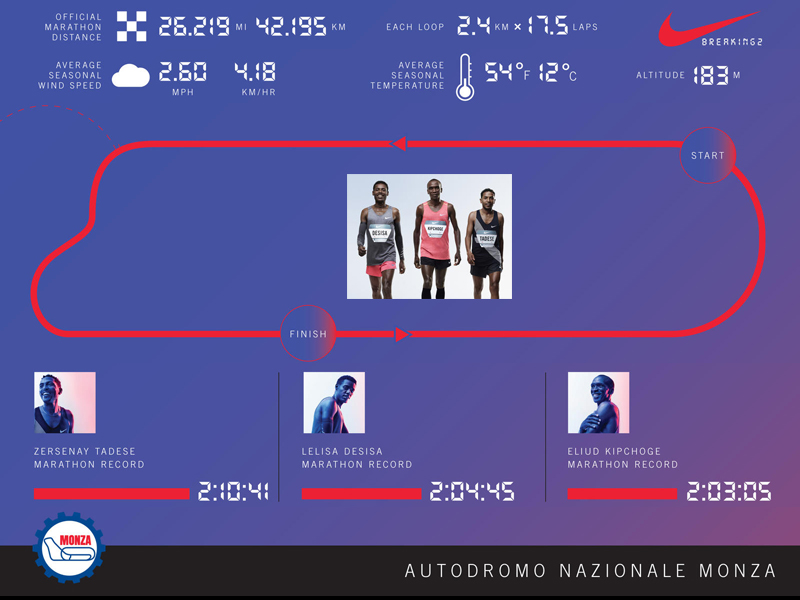 The sub-two-hour marathon is the last big, once-in-a-generation barrier. It will impact the way runners view distance running and human potential forever. – Sandy Bodecker, Nike's VP of Special Projects
To help achieve a sub two-hour marathon, Nike is working with a diverse team of experts in science and sport. Their approach focuses on 5 areas: Products, Training, Nutrition & Hydration, Environment, and Athlete Selection.
Products (Shoes, Apparel)
Zoom Vaporfly Elite prototypes, the shoes Nike believes can in fact make a runner faster.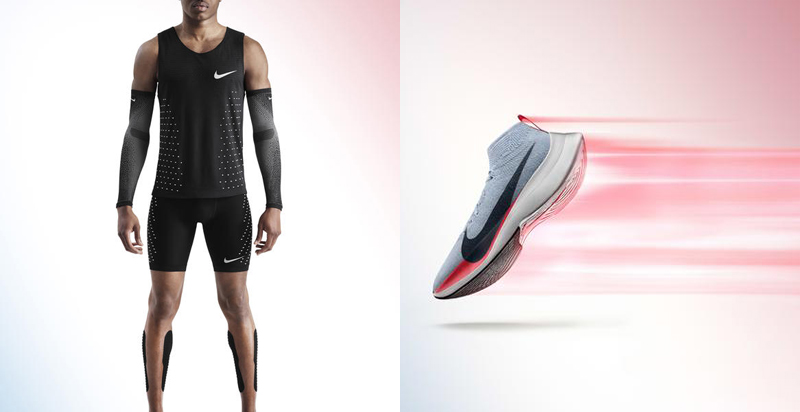 Bret Schoolmeester, head of Nike footwear for the global running division, puts a number on how much the shoes can help: 4%. He says the Zoom Vaporfly Elites improve "running economy" by 4% that's the amount of energy required at any particular running speed.
The shoe features an ultra-light, ultra-responsive Nike Zoom Vaporfly 4% midsole. Nike ZoomX provides greater energy return than any foam Nike has ever put underneath any athlete in any sport. Working in tandem with the foam is a unidirectional carbon plate with a specific geometry that enhances the propulsive sensation in each stride.
The upper is a performance Flyknit material that is not only optimized to an athlete's unique foot shape and stride, but also shaped aerodynamically with the help of wind tunnel testing to minimize drag.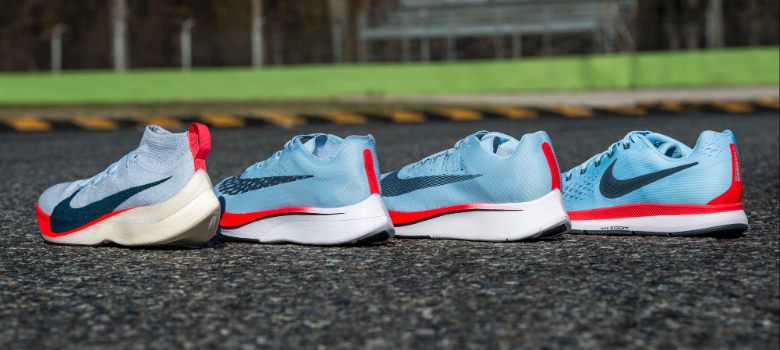 Runner's experience: the shoes make you more of a midfoot striker.
In addition to the shoes, the Nike team has focused a lot on apparel. It is a departure from the usual free flowing shorts and singlets we're used to seeing on long distance runners. To gain as much of a time advantage as possible, the look for Breaking2 is skintight, like a sprinter, using materials such as Lycra and Polyester.
Alternatives
Check out
Dr. Mark Cucuzzella and the USAF marathon team
wearing XOSkin running gear.
XOSKIN™ was born out of the necessity to develop better athletic wear through sophisticated construction and technologies to integrate the body into its sporting environment. XOSKIN™ designs follow the body's contours providing ergonomic shaping with reduced friction and enhanced movement. The trailblazing science behind their USPTO / EPO Patent Pending seamless innovations are reinventing how fabric and engineered 3D knitted construction function together as a "Base Layer System".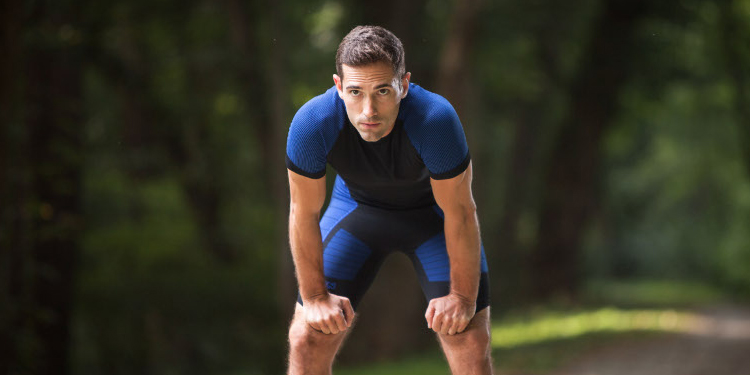 Training, Nutrition, Hydration
Overall training is driven by a runner's VO2 Max, the maximum amount of oxygen your body can utilize during intense exercise. V02 is determined by how much blood your heart can pump and how well your muscles can grab oxygen out of the blood stream. While one's VO2 max is, in part, genetically determined, the truth is most never reach their true potential. Elite marathon runners tend to use about 80% of maximum during a race.
Additionally, the runners are expected to lose two liters of fluid over two hours. The right hydration at the right time is predetermined and will most likely be delivered by mopeds during the attempt thus making it possible for the runners to maintain pace.
Burning Fat
Check out Dr. Mark's article, "
Burn Fat For Health & Performance
" on NRC.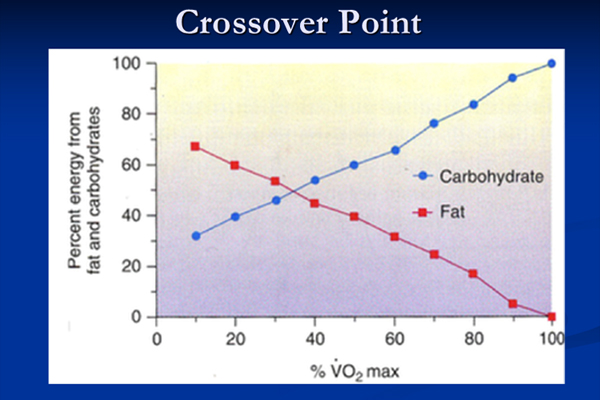 Check out Dr. Mark's article, "Burn Fat For Health & Performance" on NRC.
Environment
After an exhaustive search around the world, Breaking2 settled on a Formula 1 race course, Autodromo Nazionale Monza complex, in Monza, Italy, near Milan. With its gentle curves, and overall flatness (an elevation change of only 18 feet over 2.4 kilometers), the track is an ideal layout. With favorable temperatures and humidity in the Spring, the conditions have the potential to be close to ideal for a marathon as long as the weather cooperates on the day of the attempt.
An all-downhill course in ideal weather—preferably a stiff tailwind—might do it. Running below sea level could also help, because oxygen concentration increases as altitude decreases, making breathing more efficient. Pacers could run part of the course at a sub–2-hour pace, allowing the racer to cut air resistance by running in their wake.
Nike will target the first weekend of May for its attempt to break the two-hour marathon barrier.
Athlete Selection
Probably the most important of the approaches, three runners were selected by Nike to help break the record. They are Eliud Kipchoge, 32, from Kenya, Lelisa Desisa, 26, from Ethiopia, and Zersenay Tadese, 34, from Eritrea. Among other factors, they were chosen on three key measurements: V02 max, running economy, and velocity.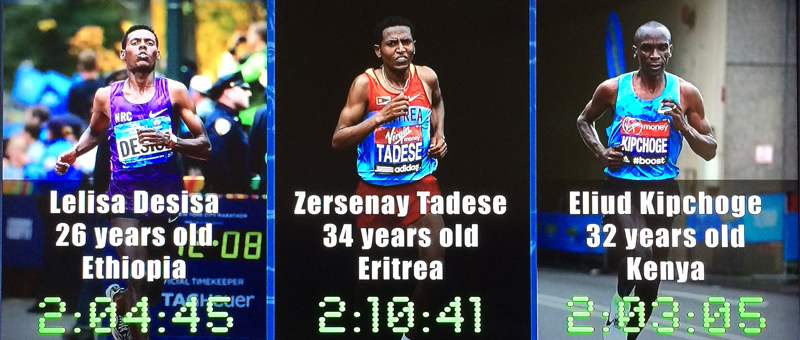 Exercise Capacity: an athlete's maximum capacity for exercise, expressed as VO2 Max, or the maximum rate of oxygen consumed.
Running Economy: how much energy a runner needs to run a kilometer at a given speed.
Sustainable Velocity: the speed a runner can sustain for a long period of time without needing to slow down.
In a test half marathon in early March, Kipchoge finished his 13.2mile run in 59 minutes and 17 seconds, on pace to break the record. I believe the other two runners will act as pacers and will help Kipchoge to draft and finish the optimal course in 1:59:57.
Personal Bests are: Eliud Kipchoge 2:03:05; Lelisa Desisa 2:04:45; Zersenay Tadese 2:10:41
In almost every racing scenario, negative splits are the ideal pacing strategy. A negative split is when the second half of a race is faster than the first half. When Dennis Kimetto set the marathon world record of 2:02:57, he ran the first half in 61:45 and the second half in 61:12. Haile Gebrselassie did the same in 2007 with a time of 2:04:26 and half marathon splits of 62:29 and 61:57. The next year, when he ran 2:03:59, he had half marathon splits of 62:05 and 61:54.
So if Kipchoge can be paced to run a negative split or close to it (see his wins in the chart above), he has a great chance of putting in the best performance of his life!
Adidas
The Adidas project is at least two years in development and has already yielded a prototype of a running shoe. The Adidas project is aimed at helping current Adidas athletes break the 2-hour barrier on an established course. The company sponsors the current world record holder, Dennis Kimetto of Kenya, who set the time of 2:02:57 in Berlin in 2014. It is unclear how close Adidas is to its attempt.
In late February this year, Adidas introduced a new shoe—the adizero Sub2—that doesn't rely on springs but uses a special kind of foam the company claims is 1% more efficient than other footwear. This "Boost" technology has been around for a few years now, but the new Sub2 shoe is 150 grams lighter, which Adidas thinks could be worth another 1%.
The result of years of extensive research and testing, the adidas adizero Sub2 showcases the best in cutting-edge adidas innovation. To develop a product designed to enable athletes to break the two-hour barrier, adidas Innovation Technologies explored the performance of a range of state-of-the-art materials in different temperatures and environments and on different surfaces. The best prototypes were then subjected to rigorous testing and co-development with elite athletes including Wilson Kipsang.
SUB2
This British academic research team seeks to break the two hour mark in the next 5 years. The SUB2 project was founded by Yannis Pitsiladis, who is a Professor of Sport and Exercise Science at the University of Brighton and is a member of the International Olympic Committee's Medical and Scientific Commission.
The SUB2 project is focusing on improving physiological performance rather than footwear, says Yannis Pitsiladis, the founder of the Sub2 group and a researcher at the University of Brighton in the United Kingdom. He thinks the marathon performance is far from optimized, noting that many elite East African runners do not make use of new technologies like fitness trackers or perfectly optimized training and diet schedules. He points to hydration as an area neglected in the sport until now, but like spokespeople for other projects, he's cagey about the specifics. Ultimately, he says that it won't be one major advance, but many small ones across multiple areas of science that bring the 2-hour barrier down.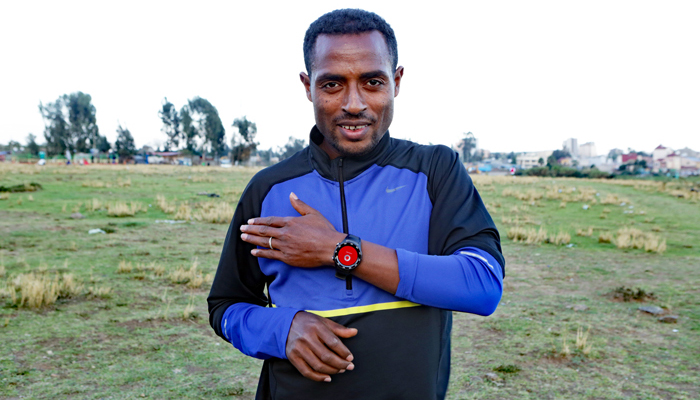 Recently, engineers from Vodafone Group's Networks Centre of Excellence team have developed an innovative SUB2 mobile application that serves as a 'hub' to aggregate a range of data feeds to assist runners and their support team. The app will be able to integrate sensors to measure heart rate, running economy, skin and core temperature and numerous other essential physiological parameters. The app will additionally provide a live data feed of land and air temperature based on satellite information.
Latest Studies
A Colorado University at Boulder-led team has laid out a series of mathematical calculations showing how one or more of the world's elite men marathoners could break the storied two-hour mark, shaving about four and a half minutes off the current world record.
According to postdoctoral researcher Wouter Hoogkamer, who led the new study, published in the journal Sports Medicine – the calculations for running a marathon in under two hours include the baseline physiological capacity to run Kimetto's time. The team then considered biomechanical changes that could reduce energy consumption and improve running economy.
So what is the recipe? For starters, the athletes would need shoes roughly 100 grams lighter (about the weight of a deck of cards) than Kimetto's world record shoes, which weighed 230 grams, or just over eight ounces each.
A previous study led by Hoogkamer and Professor Roger Kram showed running in 130-gram shoes could shave 57 seconds off a marathon time.
In addition, a record-breaking elite runner would do best running the first 13 miles of the race as a loop course behind a wedge of marathon "pacemakers." He would need to draft behind them on a route that blocks the wind like a paved loop through a pine forest, said new study co-author Kram of the Department of Integrative Physiology.
A 1971 study by a British scientist showed that one runner drafting one meter behind another runner in a wind tunnel can reduce air resistance by 93 percent, said Kram. But even reducing air resistance for the drafting runner by just 36 percent would improve running economy by 2.7 percent, the savings needed to facilitate a marathon time of 1:59.59 for an athlete capable of running a solo 2:03:00 marathon.
The second half of the race, according to the new study, should be slightly downhill but still within the regulations of the International Association of Athletics Federations (IAAF), with four top runners in a line, one behind the other, said Hoogkamer. They would need to take turns blocking the air resistance and cooperatively "drafting" off of each other, much like cyclists do in road races. This could reduce the metabolic cost of the drafting runners by about 5.9 percent, shaving about three minutes off the current world record.
Alternatively, the CU Boulder study showed marathon runners in the second half of the hypothetical course could also shave off about three minutes of time in the marathon if they were lucky enough to have a strong tailwind approaching 13 mph.
The IAAF Rules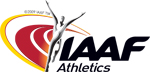 The International Association of Athletics Federations (IAAF) might not certify a record-setting marathon run. In their pledge to break the 2-hour barrier sometime this year, Nike admitted that their time would not be record eligible.
IAAF Rule 260 states that for a World Record in a road running event to be valid, it must contain the following relevant aspects:
The start and finish points of a course, measured along a theoretical straight line between them, shall not be further apart than 50% of the race distance.
The overall decrease in elevation between the start and finish shall not exceed 1:1000, i.e. 1m per km (0.1%).
Additionally, the Nike running shoes used by the three athletes may not be eligible either. According to the competition rule book by the International Association of Athletics Federations, the governing body of track and field, shoes worn in competition "must not be constructed so as to give an athlete any unfair additional assistance, including by the incorporation of any technology which will give the wearer any unfair advantage."
The Real Sub2 Pioneer
Dr. Phil Maffetone, mentor and NRC advisor, has been writing about a 1:59 marathon since 1998. He also wrote the first book on the subject, "1:59".
https://philmaffetone.com/159-bandwagon-slowing/
https://philmaffetone.com/159-and-waiting/
Excerpts from some of his articles:
Everyone then, like now, assumed an East African would be the first to 1:59. Without the Big Shoe contracts that many of these runners are offered, enough of them would have continued racing barefoot, and two hours may have been broken years ago. So it's possible that shoes have prevented 1:59 from being achieved to date.
Now Big Shoe wants to control 1:59 itself.
It's clear that two-hours will be broken, shoes or not. Looking at the World Marathon Majors from the past decade reveals that top men and women are improving about 1 percent per year on average. Do the math.
A very small number of the best marathoners are already physiologically capable of going 1:59, so it's just a matter of the right day with all the environmental factors falling into place, especially temperature and humidity. And if it's one of Big Shoe's sponsored runners, shoe sales will skyrocket even more than they are now. The company with the winning shoes will no doubt take a lot of the credit for the record.
It won't necessarily be an East African runner who first breaks the barrier, or one hired by one of the big shoe companies to hype the latest products. It could easily be a runner from another part of the world as marathon history shows — one population, one country, leads the world in great marathoners for a while only to see it change to another country. The candidate in my novella, Million Dollar Marathon, is Tibetan.
Closing
Nike has targeted the first weekend of May for its attempt to break the two-hour marathon barrier. The race will take place in the Autodromo Nazionale Monza complex outside of Milan, Italy. While the event will be closed to the public, anyone can experience the excitement by tuning into Nike's live pre-race show and stream of the attempt, both of which will be hosted by Sal Masekela and include commentary from Nike athletes. No details on how to access these programs yet.