Natural Running Friends,
Hope you are all have a wonderful and active fall.
Not too late to join us for Healthy Running WV course Nov 3-4 (fri-sat) with my good friend and Yoda of Sport Dr. Phil Maffetone. Small course so register now www.healthyrunning.org . All proceeds from course go to our Freedom's Run non profit . 13 CME (Continuing Medical Education) or contact hours for health and fitness professionals.
We are 60 miles from Baltimore and DC….so closer than you think!
Dr. Maffetone has positively changed my life and 1000's of others. Read more about Phil here if you are not familiar with his work. [https://philmaffetone.com]
Contact me if more info needed Dr Mark
We will also have a free event for the general public Nov 3 at the newly restored Charles Washington Hall in Charles Town WV. Stay tuned for details.
Special thanks to our partner TrueForm Running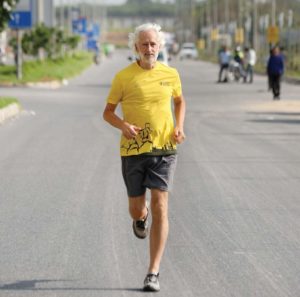 …………………………………………….
Informational flyer pasted below
Healthy Running
Education for Medical & Fitness Professionals
Dates November 3-4 2017
Staff
Dr Mark Cucuzzella, Professor West Virginia University School of Medicine
Dr. Philip Maffetone, independent clinician and researcher, author
Local Host
West Virginia University     Two Rivers Treads            TrueForm Running
Location
Two Rivers Treads 400 S. Mildred St Ranson WV (Friday)
Jefferson Medical Center 300 S. Preston St Ranson WV (Sat)
Course Description
Healthy Running for medical and fitness professionals focuses on the energetics of running, running skill, injury evaluation and treatment. Content is evidence based with numerous case scenarios, active drills and exercise, and practical workshops to apply concepts.
Day one examines the injured runner, tissue specificity, anatomy, biomechanics and clinical evaluation of mobility and strength. The afternoon workshop assesses running from a clinical perspective, prescription of strength, mobility, and gait cues based on specific findings. Stability, core work, mobility and stretching principles are addressed.
Day two sessions include the anthropologic basis of running, aerobic development, recovery principals and practice, overtraining syndrome, coordination and peaking, nutrition for health and performance, warm up and cool down. The role of footwear on runners is examined, including the evolution of running shoes, design, technology and the relationship to injury. The afternoon workshop addresses strength training, range of motion/mobility and motor function. The course also includes medical issues for runners, including heat illness, cardiac, physiology, and emerging concepts in nutrition for health and performance.
Variations of this course have been presented for Continuing Medical Education at Universities and Sports Performance facilities all over the US and Internationally, the Pentagon, the Andrews Institute in Florida, and at the Sports Science Institute of South Africa. Staff have presented selected course content at over 50 military bases and numerous medical conferences including for AMAA, ACMS, IMSMC and teaching universities internationally.
Target Audience
Primary care physicians, physical therapists, sports medicine and rehabilitation physicians, nurse practitioners, physician assistants, athletic trainers, coaches, and other professionals interested in maintaining and proofing the health of runners.
Locations
Conferences and courses are held throughout the US and worldwide. See Registration page for details.
All proceeds from the conference to benefit our non-profit Eastern Area Health Education Center (EAHEC). EAHEC is the lead organization of Freedom's Run event series. Our goal is to create a healthier world for the next generation by teaching and influencing policy on food, teaching lifelong healthy movement, appreciation of the power of nature, and empowerment to take ownership of your own health.
Continuing Education Credit
The Berkeley Medical Center is accredited by the West Virginia State Medical Association to provide continuing medical education for physicians. Berkeley Medical Center designates this educational activity for a maximum of 13.0 AMA PRA Category1 credit(s) TM.  Each physician should only claim credit commensurate with the extent of their participation in the activity.
This activity has been planned and implemented in accordance with the Essentials and Standards of the West Virginia State Medical Association through joint provider ship of Berkeley Medical Center & Healthy Running.  The Berkeley Medical Center is accredited by WVSMA to provide continuing medical education for physicians."
We are also approved for American College of Sports Medicine (ACSM) credits.
http://www.acsm.org/find-continuing-education/cec-cme-opportunities/approved-providers
Registration
Course registration is available on-line at Active and www.healthyrunning.org
https://www.active.com/ranson-wv/camps/healthy-running-west-virginia-2017
Confirmation & Cancellation Policy
Upon receipt of registration and payment, you will receive confirmation by email. Refunds will be given if request is received in writing a minimum of 14 days prior to the first day of a conference. $50 Cancellation fee will be apply for cancellations made less than 14 days prior to the first day of a course.
Goals & Objectives
After this course, the participant should be able to:
Discuss the pathophysiological process behind running injuries and the new treatment concepts relating to these pathologies.
Improve his\her clinical efficiency through a better knowledge of objective diagnostic assessments and their place in the clinical exam of an injured runner.
Discuss the new theories behind tissue stress, adaptation and preventive stress.
Recognize the relationship between running biomechanics and the risk of injuries.
Build a program to help an injured runner return to running using the theoretical principles relating to different energy systems, cross-training and warm-up.
Discuss the science behind running shoe technology, plantar orthoses, flexibility and strengthening in the prevention and treatment of running injuries.
Discuss the science and practical application of aerobic development, speed training, and periodization.
Describe the principles and be able to teach efficient running form including supplemental drills.
Evaluate a patient for movement dysfunction during a clinical visit and provide simple corrective measures.
Discuss clinical Injury assessment and exam and specific corrective exercises.
Describe practical gait analysis, cues, and corrections.
Discuss Nutrition for health and performance.
Prescribe footwear to complement the patient's current movement pattern and how to safely transition them to more functional footwear
Disclosures
Dr Mark Cucuzzella and Dr Phil Maffetone have nothing to disclose
Contact Information         Dr. Mark Cucuzzella email afrundoc@gmail.com  304-268-8813
Registration Fees
Medical Professionals                            $295             awards CME / CEU hours
Coaches, Trainers & Instructors             $195             awards CEC, CEU, ACSM certification option
Runners, Students, DoD/Military           $150             awards certificate of completion & hours
Program Agenda
DAY 1 Nov 3 – location Two Rivers Treads
Assessing the Injured Runner 
 8:30 am Registration
9:00 am             Intro to strategy for assessing the injured runner
10:00 am            Clinical mobility and stability evaluation for runners
11 am                 Clinical mobility and stability assessment lab
12:00 noon         Lunch at Two Rivers Treads
1:00 pm             Clinical Objective & Strategic Running Analysis
2:00 pm             Interpretation of results: Creating an effective plan of care
3:00 pm             Exercise prescription lab
4:00 pm             Q & A
4:30 pm             Optional easy group run
DAY 2 Nov 4-  location Jefferson Medical Center
Training Principles  
9 am                   Intros and Why We Run: psychology and anthropology of running
9:30 am             Aerobic Development
10:30 am            The role of intensity, coordination, and peaking
11:00 am            Aging, recovery, overtraining syndrome
11:30 pm            Medical issues-cardiac, heat, hydration
Lunch will be served in classroom 1200
Efficient Running Workshop
1   pm                 Footwear discussion
1:30 pm               Posture, stability and mobility
2:00 pm               Movement patterns for efficiency and injury reduction
3:00 pm               Form drills to re-enforce motor skills: warm up and cool down
4:00 pm               Nutrition for health and performance
4:30 pm               END PROGRAM: Evaluations
 13 Hours Credit
Testimonials
"I can honestly say this course was a real help to my physical therapy practice and running clinics." 
"I love Dr. Mark's positive energy, his depth and breadth of knowledge, his attitude of "always learning," his generosity in giving credit to others, his ability to demonstrate exercises and his attitude of "making it fun" and going for the "monkey bars".  
"I cannot express enough how much of an impact it has made on my life. Course left me with something to ponder and change in my life." 
"Firstly in my personal training – I ran a race on the weekend after the course and went into it with a whole lot of new 'tools'. From foot strike to pushing off with my big toe to positive thoughts, nutrition, the list goes on … I won the race but most importantly it was the best race I have ever run!"
"Awesome course! Jam-packed with eye-opening and high yield info both for my personal benefit and for my clinical practice — can't wait to put this all to use! Thanks!"
"Absolutely outstanding course overall – lectures, resource provided, interactive nature, up to date/cutting edge concepts and approachability of speakers, "no" fluff, but concentrated, incredibly useful/ applicable information. Privileged to have participated."
"Amazing course! Very relevant to both my practice and me. This course was put together and executed perfectly. The only downside is that it was at times a bit beyond my comprehension level."