Sharing this week an amazing story of transformation from a paramedic on the edge of health to 47 yo Firefighting true badass lady.  I met Tracy Anderson several months ago when she needed cardiac clearance to do a job which requires her to move 35 foot ladders by herself (they weigh 200 pounds) and haul a charged 2.5 foot hose up three flights of stairs.  Since that day she has lost 45 pounds of body fat, maintained the muscle, downsized her uniform 4 times, and is setting personal records in the CrossFit Box. A true marker of her health and efficiency – she uses half the air on her regulator to do a similar task and outlasts all her comrades. Tracy will change now Firefighters view nutrition and health.  Police and Firefighters have the highest obesity and heart disease rates of any career field and we all need to help.  Thanks Tracy for your courage and your service to others.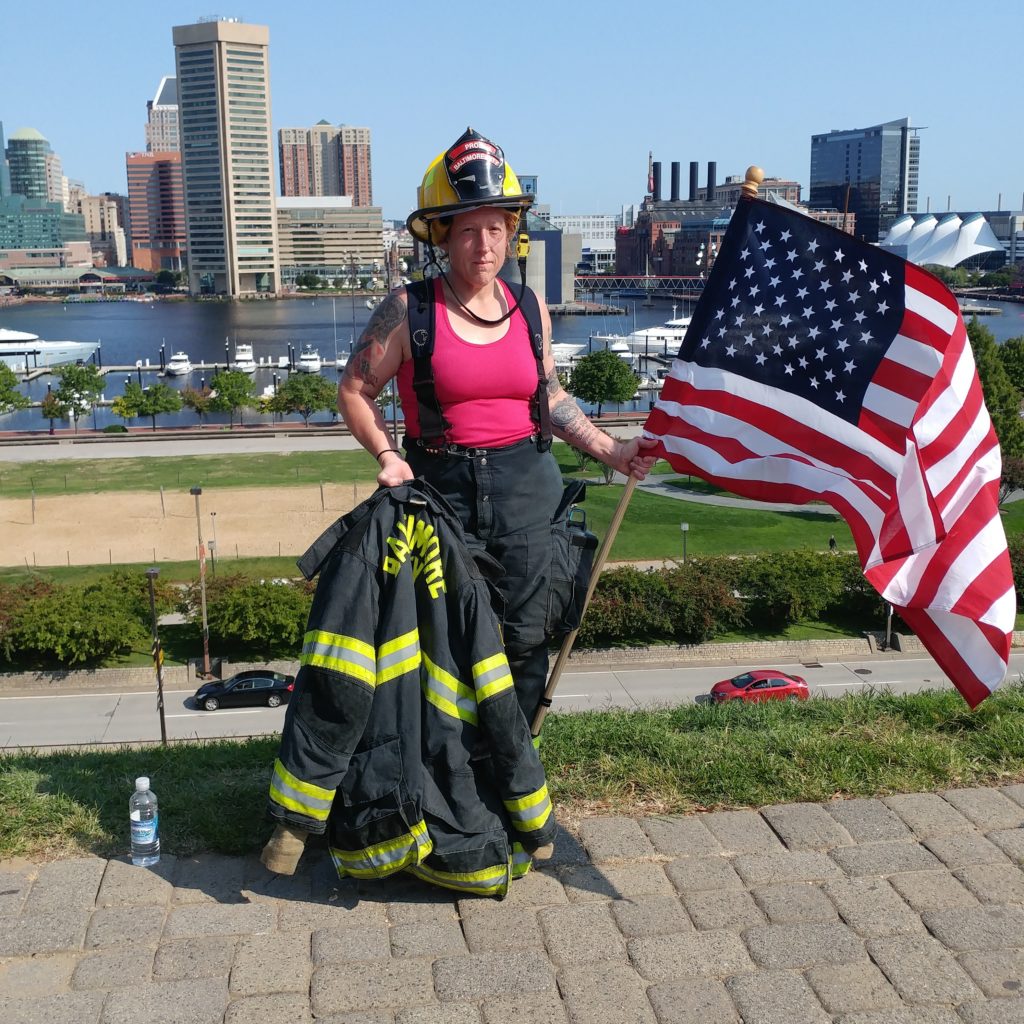 TELL US A LITTLE OF YOUR BACKGROUND AS REGARDS TO HEALTH, JOB, AND CHALLENGES YOU ARE FACING AT THIS STAGE OF YOUR CAREER?
My challenge began when I received an offer in December 2016 for a new position as a Firefighter/Paramedic from Baltimore City Fire Department.  This was not unexpected, as I re applied for this position earlier in the year of 2016. I was currently employed as a Paramedic with the city for a few years. I had never been a career Firefighter. I knew what I was getting into and what kind of challenges I would face as well as the impact it would have on my body and health at the age of 46.
WHAT WAS YOUR FOOD PHILOSOPHY PRIOR TO STARTING LCHF (LOW CARB HEALTHY FAT)?
My view about food and nutrition prior to my employment with the city was poor. I ate when I was hungry and without any regard to nutrition or the effects on my body. Basically, if it looked good, was cheap and easy to make, it found its way on my plate.
TELL US ABOUT  YOUR  EATING HABITS PRIOR TO CHANGING AND HOW IT EFFECTED  YOUR EMOTIONS, JOBS, GOALS, OR ANYTHING ELSE ?
My eating habits prior to February 2017 were a constant struggle. I struggled to find convenient and so called low fat high carb options to fuel my energy level. My job became more stressful physically and mentally. It was hard making any kind of good choices between calls at work. It was increasingly difficult to work the night shifts without turning to fast food and high sugar options. The 2am tastycake and convenience store, cardboard pizza became everyone's gift to themselves to stay awake. A never ending pipeline of coffee with tons of sugar made the work nights and days easier to handle. The stressors of people dying all around you and the never ending violence seen in the streets became a blur when you ate food just to feel better. Food somehow becomes a drug to shield you from inevitable depression and exhaustion that follows.
WHAT WAS A TYPICAL EATING DAY BEFORE LIFE CHANGE?
Pre/Post Workout : Protein bars, oatmeal, fruit. Sports drink. Pre workout supplements
Breakfast: toast with egg or pancakes
Lunch: usually none
Dinner: some form of protein, fish or turkey
Snacks: more protein bars or pretzels. Maybe a piece of fruit and some chocolate milk
WHAT WAS THE TURNING POINT?
The turning point was seeing the rest of my life flash in front of me. The part of the job that I really wanted to do was firefighting and it seemed unreachable. Physically demanding and obtainable for only the young and physically fit. I spent a lot of time around the firehouse. I saw the very obese firefighters. I saw the sick firefighters. I saw the broken firefighters, physically and mentally. My thoughts were: is this the path I want to travel, or am I already there? Can I obtain happiness in my job and still be capable of enjoying the rest of my life. Will I become battered and broken in the process. I struggled with my decision to go for it or just watch it pass by. I knew it was going to be even more of a struggle. I wasn't a 20 something body anymore. I was a 46 year old short statured female wanting the best job in the world. A job traditionally meant for healthy young males.
So, the changes began. Goals were written down and it was full steam ahead starting with myself.
I began a regular Crossfit training program in November 2016 which replaced a 5 day split muscle building program. I went to my gym/box at least 5 days a week. I rested when my body told me to rest.
I changed my diet once again, as I had done many times before. This time I was eating several times a day but only to fuel my workouts. I switched to whole foods but remained high carb for energy.
I began to see some changes in muscle and mood but still couldn't shake some weight. This came with a cost because my body began to crave sugar and carbs. Insulin spikes dictated my carb intake and the inevitable crash that followed. I learned what the famous term "bonked" meant.
HOW DID YOU START LOSING THE WEIGHT? HOW HAS WEIGHT/BODY COMPOSITION CHANGED?
— I met Dr. C as I like to call him back in January 2017 as I was going through all of the physical evaluations for firefighting. He just happened to be the treating physician as I was undergoing the cardiac evaluations due to my age and job requirements. That day changed my life…..
Dr. C and I exchanged some information and discussed some of his research and I had explained what I was currently doing to reach my goals. I also explained my frustration to him. He gave me some advice and we exchanged information as I needed to know more about his nutrition plan. I left his office with a new plan. I had 3 pages that he had printed out for me. It was a good plan. I decided that now was the perfect time to test it out with the academy being only weeks away and I needed the time to adjust and make it work before adding it into the rigorous training I was about to undergo.
NEW DAILY NUTRITION?
Pre/Post Workout 1 or 2 hard boiled eggs with a few slices of bacon and a handful of macadamia nuts. Sometimes my early workouts are in a fasted state.
Breakfast: 2 fried eggs with ghee, bacon or sausage. Avocado
Lunch:  my largest meal: usually a fatty cut of red meat or salmon. Pan fried cabbage, zucchini or green beans.
Dinner: something small like a green salad with egg, bacon, cheese, onion avocado, feta cheese and a vinegar and oil based dressing
Snacks: for electrolyte replenishment I use dill pickles, string cheese. Bacon strips and sometimes bone broth or various salted nuts or seeds.
For an extra boost I make a smoothie with coconut milk, chia seed, mcg oil Greek yogurt, handful of berries and Stevia to taste.
WHAT IS YOUR NEW FOOD OUTLOOK?
My new outlook is to eat only when I am hungry. Eat to fuel my activity level for that day. Replace electrolytes when needed. Real food tastes so much better. I don't beat myself up over the occasion vanilla ice cream with the family.
THERE ARE A LOT OF OPINIONS ON LCHF AND HIGH INTENSITY EXERCISE. TELL US A LITTLE ABOUT CROSSFIT AND HOW THIS HAS AFFECTED YOUR WORKOUTS?
Honestly, there is no "bonk". It's gone. I don't have second day soreness. I don't have to take extended rest days. I heal quickly. I stay healthy. If I want to go into a heavier workout than usual, a competition or an endurance WOD, maybe even a 2 a day WOD, I add more fat….it works.
I love Crossfit. The functional training that I get and the grit and determination that I found from within myself is second to none. Firefighting requires this explosiveness and endurance, every shift, every hour, every minute. At the end of the day we all go home. I am very lucky. I have spent.many years of my life living for my children and my family. Though, I can continue to do that and I will do that. I now live for me and the communities I serve. Most people do not reach that platform in their lives.  I have.
Since beginning the LCHF meal plan in January 2017 and Crossfit in November 2016, I have found happiness. I am able to deal with stressors of my job. I am healthy. I have gained muscle and lost fat. I have gain increased strength and mobility. I have obtained the best job in the world. October 31, 2017, I graduated from a 9 month rigorous fire academy at the age of 47. I may be the oldest female to ever graduate the Baltimore City Fire Academy.
HOW HAS YOUR FAMILY AND/OR WORK LIFE CHANGED?
I love my family and my work life. I am now adjusting well to the long 24 hour shiftwork. All my meals are pre made and placed in a cooler as well as some alternatives in standby for longer days or very physically demanding days. I am beginning to share my meal plan with my co workers and soon I expect to cook so e meals for them while at work.
My family is wonderful. I have 2 children with various characteristics of autism. They are beginning to transition to the meal plan. I am seeing very positive things. My son who is a TBI survivor actually requests many of the same things I cook for myself now. I have more energy on my days off. I am more positive mentally and focused. I have obtained all of my goals this year set for me and my family.
ANY SPECIFIC GOALS FOR YOURSELF OR FOR FIREFIGHTERS IN GENERAL?
Goals for myself is to continue to follow the meal plan and hopefully through some trial and error find better ways to incorporate proper nutrition into my workday. Share my information and nutrition with my coworkers as well as show them how easy it is and how affordable it can be. My coworkers are aging and some are suffering from many ailments that can be improved through nutrition. Sharing the idea that their career can be prolonged and they can be healthier through nutrition is tough but can be done. Teaching them that the secret to avoiding an early death through nutrition may be easier.
FINAL THOUGHTS?
Thank you Dr. C. !  My family thanks you too !!
Here is a gallery of pictures from a day in the life of Tracy