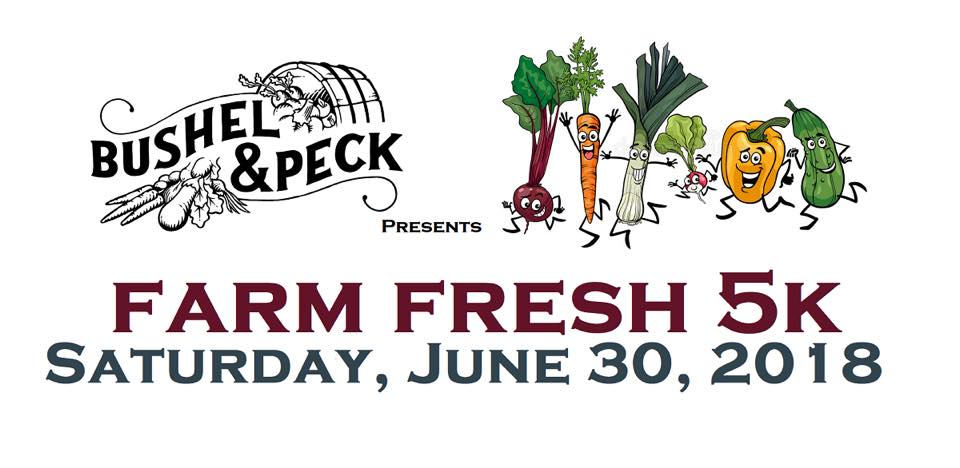 This Saturday June 30 at 830 am join Bushel and Peck for their first annual Farm Fresh 5K! This isn't your average 5k. Here's how it works. You will be given a bag at registration and you will soon see why this bag is important. The race will start like any other but just as you are getting into your groove of running you hit your first produce station. There will be produce stations throughout the course. At these stations you must grab product supplied by our local vendors from the Charles Town Farmers Market – products range from squash and tomatoes to eggs and live plants. Yes, you must grab a product from each station, so it's very important you keep your bag with you. So run carefully and you'll have a whole grocery list of products at the end of your race!
As a physician I see outdoor activity and fresh local food as well as a community that encourages healthier living as key components to our future.  The current data on obesity in children and adults show a continued rise, especially in rural areas (Journal of Amer Medical Assoc June 2018). We need fun and creative ways to combat it.  An innovation is the work of our local West Virginia Farmers Markets at Charles Town, Shepherdstown, and Downtown Martinsburg are in their 4th year of a program to double SNAP (formerly food stamps).  Now a Farm Fresh 5k.
Dr. David Ludwig of Harvard, a leading pediatric obesity specialist, spells out some of the solutions in a recent  editorial in the journal Pediatrics. He gives evidence that the public health approach to fighting obesity has failed and this calls for a comprehensive national strategy to prevent a looming public health disaster.
"The battle against obesity faces many obstacles, most notably entrenched special interests and a 'business as usual' mindset," Dr. Ludwig said. "But with political will and collaboration across key sectors of society, we can hopefully, soon, begin to end this worsening epidemic."
Even the FDA Commissioner Scott Gottlieb outlined in his speech on March 29 components of what we are doing here: "Even a small advance in the nutrition of a single individual, which might have only a limited – although discernable — impact on a person's individual risk for chronic disease, would have a massive impact once we aggregate all those small health gains across tens of millions of lives."
He adds: "We can't lose site of the public health basics – better diet, more exercise, and smoking prevention and cessation…The public health gains of such efforts would almost certainly dwarf any single medical innovation or intervention we could discover."
Here in Eastern West Virginia I believe the small and growing local collaborations of our Farm Markets, Freedom's Run, community running groups such as Bros and Bras and Jefferson Activity Group, West Virginia University Hospitals (which recently rid sugar drinks), and our local retail hub Two Rivers Treads show the positive effects of collaboration.  Moreover what we are doing together is fun and inclusive of all.
So come out and join us this Saturday. The start and finish of the race is at the Charles Town WV Farmers Market on South Samuel Street.  Paper registration will be available at the market information tent each Saturday leading up to the event. Online registration is available at the link below until June 28.
https://runsignup.com/Race/WV/CharlesTown/FarmFresh5Kwv
For information contact katie.lee.nolan@gmail.com
The event is fundraiser for the Jefferson GAP Coalition, Bushel and Peck, and the Charles Town Farmers Market. 
Ludwig full editorial: http://pediatrics.aappublications.org/content/141/3/e20174078
Gottlieb Speech: https://www.fda.gov/NewsEvents/Speeches/ucm603057.htm
JAMA June 2018 articles Obesity Urban and Rural Areas
https://jamanetwork.com/journals/jama/article-abstract/2685156
https://jamanetwork.com/journals/jama/article-abstract/2685153
Dr Mark editorial on ing  Drinks in Hospitals
https://www.salon.com/2018/06/03/get-sugary-drinks-out-of-hospitals/ 
A short article and a video on our SNAP Double Bucks Program
http://wearetheobserver.com/jefferson-county-snap-recipients-can-access-market-bucks/  
http://wvutoday.wvu.edu/n/2015/11/11/wvu-doctor-helps-create-program-to-provide-healthy-fruits-vegetables-to-snap-recipients