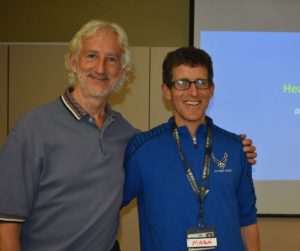 We're happy to announce the long-awaited HealthFit University website is now up and running! I am proud to partner with friends and fitness experts Dr. Phil Maffetone, Tawnee Prazac Gibson, Ian Adamson, Jeff Vernon, and Robin Desjardins and have teamed up to bring you the best of the best in education, information, coaching certifications and continuing education credits.
HealthFit U can help you build a better, balanced, fat-burning, energized body for optimal performance.
We teach the art and science of health and fitness. Emphasizing maximum aerobic function (MAF), we bring together coaches, health practitioners and the public to help build a better world.
Our next seminar is September 29-30, 2018 in my hometown of Ranson, West Virginia where we have our awesome minimalist store and race HQ Two Rivers Treads.  I was so much fun hosting over 60 health practitioners, coaches, and runners last fall when the course was under the name Healthy Running.
Book Before September 1st & Save $50.00
This spring we will be coming to the fun destination of Galveston, TX March 30-31
12 CME (Continuing Medical Education) or contact hours for health and fitness professionals.
We are 60 miles from Baltimore and DC….so closer than you think!
About HealthFit U
Certifies coaches specializing in endurance, strength, health and corporate.
Certifies health practitioners and offers CMEs and other continuing education credits.
Is open to anyone seeking better health and fitness, and improved human performance.
Will post coaches and practitioners for referrals.
While HealthFit U is new, its founders have compiled over 100 years of clinical, coaching and lifestyle experiences.
Whether you're a recreational or competitive athlete, healthcare professional or fitness coach or trainer, HealthFit U can help you gain more knowledge about muscles and gait, fat-burning, reducing and preventing injuries, balancing hormones, improving brain function and fine-turning other areas of human performance. Our educational seminars and online presence will lead the way.
Please check out our new HealthFit U website, and get free access to some of our latest educational videos.
—The HealthFit U Team
…………………………………………………………..
here is a short blog from Phil's website after our course last fall and is visit to our sugar free hospital
and a story I wrote about how Phil has influenced my life
Feel free to contact me at afrundoc@gmail.com if questions about the course