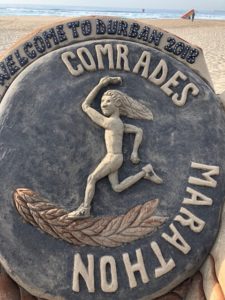 When my friend Mick Brown floated the idea of running Comrades again in 2018 there was little hesitation to commit.  Having run the "up run" in 2013 one needs to do the "down run" to complete the circuit.  What was special was when my weekend running friends Bill Bondurant and Jared Matlick took up the challenge too and booked the long haul flights from Dulles to Durban South Africa.
I posted a blog about the 2013 run here
http://naturalrunningcenter.com/2013/06/08/comrades-marathon-upgoes/
The 2018 course is 90k from Pietermaritzburg to Durban and contains about 10,000 feet of descent with 7000 feet of climbing.  A net downhill but punishing to the legs. The surface is road.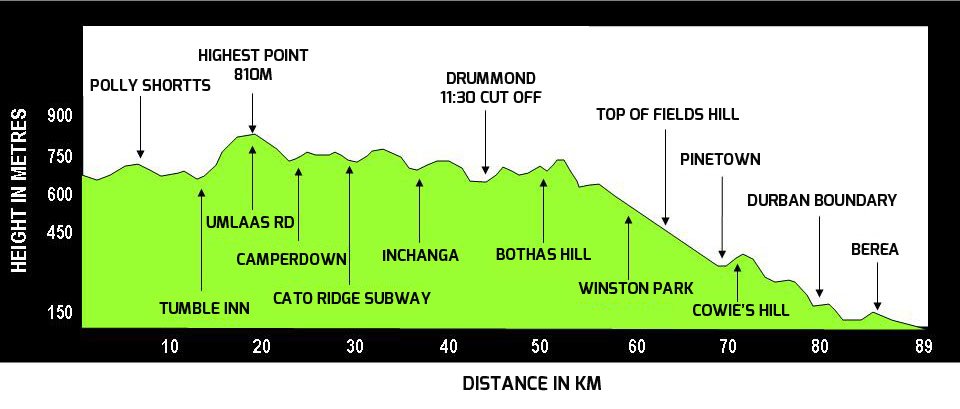 Here is the story of the race in pictures.
The trip to Comrades is an ultra in itself.  Our travel route on Emirates (nice airline by the way) went from Washington to Dubai and then onto Johannesburg.  From there we took a short flight to Durban where the race finishes and where we stayed for most of the trip.
Durban is a fun city and we spent a couple days exploring the beach and enjoying local food and wine.
Mick and I got to meet the legendary Bruce Fordyce at a dinner event.  Bruce has won 9 Comrades (and a crazy 8 straight) and is now a fellow low carb athlete thanks to the influence of Dr. Tim Noakes.  It blows my mind how people like Bruce in his prime "race" this course.
The night before the race we made the trip up to the start city Pietermaritzburg.  The race starts at 5am so this would give a couple more hours of zzz versus taking the 2am buses from Durban.  On arrival to "Maritzburg" our rooms were double booked and already occupied.  In an amazing host country gesture the occupants who were from South Africa and not running the race forfeited the rooms to us and made alternate accommodation.  This is something one would likely not experience in our country but I will remember this gesture and hopefully be able to pass it forward.
At 4am we donned our custom Janji Two Rivers Treads Comrades Team shirts, brewed a little coffee in a hot pot,  and walked with the masses to the start.
The start of Comrades is probably the most emotional experience one can ever have in running.  You are there with 20,000 runners, mostly native South Africans, and about 10 minutes before the gun all sing the South African National Anthem and mining heritage song Shoshaloza. Then Chariots of Fire theme and a rooster crow bring you to the gun….and you are off slowly in the dark.
View my friend Mick's youtube here of the songs at the start.
Bill and Jared sported some nice disposable robes good for warmth at the start.
About an hour and half in the sun rises and we will be running till close to sunset.  Mick was prepared to "race" while Bill, Jared, and I took the strategy of continued forward progress.  We were joined early by Nashville friend Heather Kralj and we took opportunity to enjoy the run/walk strategy.
The amount of support and spectators for the entire 90k is something I have never experienced.  Aid stations are unique with shakers of salt, boiled potatoes, and cookouts.
The high country of the race is an unrelenting series of ups and downs.  You pass through countryside, poor and struggling neighborhoods, and some posh suburbs as you get closer to Durban.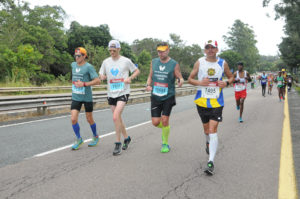 The last 30k is almost all down with intermittent steep ups for some relief.   Each kilometer is marker by a sign indicating how many to go.  Although kilometers count down quicker than miles the higher numbers can mess with your mind a bit.  But when you have traveled around the globe to run this thing there is no other path but forward.
With about 6 or 7 k to go you can get a glimpse of the famed Moses Mabhida Stadium where we would finish.  At this stage we were about 50% walk/50% slow jog which seemed to be the pace of the others around us.
Entering the stadium was emotional.  Mick had already been in the barn for over an hour.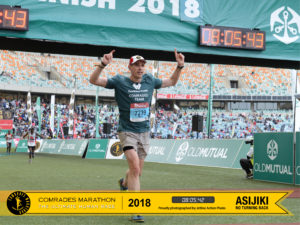 Lots can go wrong in a run of this distance but Bill, Jared, and I managed to stay together and will each other to the finish in 9 hrs and 40 min.  I'm especially proud of Jared as this was his first ultra marathon finish.  Here we are finishing how we started….together as Comrades.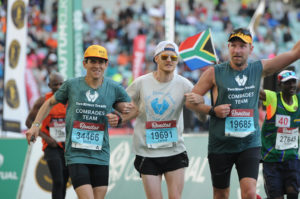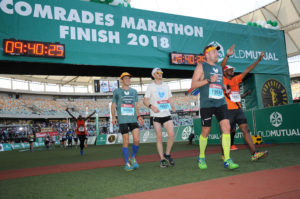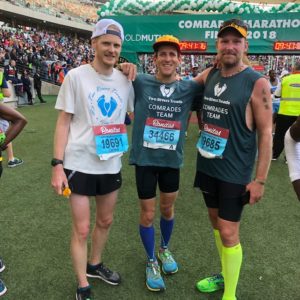 Jared is in white holding both Bill and I up!
After the race we received more South African hospitality as a van of runners saved us the 2 mile walk back to the hotel.  With 20,000 runners and blocked roads there was not an uber to be found.
In reflection one runner who stood out was this amazing runner who ran the course as an amputee.  This blew my mind.  What we did was easy. There is also no mercy at 12 hour finish cut-off.  here is a 2016 finish cut-off video.
The essential fuel and gear for the race (available at Two Rivers Treads)
While Mick and I departed after the race, Bill and Jared enjoyed a bit of safari time. Here is a picture from the Durban airport that gives me hope.  The influence of Dr. Tim Noakes and low carb living (aka Banting) is mainstream.  Dr Noakes has changed so many lives for the better and with courage has challenged the conventional wisdom.  He also endured a 3 year prosecution (persecution) about his "unconventional" advice and in the end was acquitted of all charges.  Get your hands on a copy of "The Lore of Nutrition" for the full sad and sorted story.