Blaise Dubois is a physiotherapist from Quebec City, Montreal, whose multi-day course on the prevention of running injuries has been drawing sellout crowds of health professionals, coaches and running enthusiasts around the world. Dubois graduated from the Université Laval physiotherapy program in 1998, where he was awarded the prize for excellence in the musculoskeletal field. He immediately specialized and received from the Canadian Association a diploma in sports physiotherapy and a resident title from the Canadian Academy of Manipulative Therapy.
In 2010,  Dubois began a master's degree in experimental medicine and the publication of a Cochrane review on "Physical interventions for preventing stress fractures and stress reactions of bone of the lower limbs in young adults" (in progress).
Speaker, passionate athlete and co-owner of the "PCN physiothérapie et médecine du sport" (sports physiotherapy clinics) in Quebec City,  Blaise considers himself primarily a specialized therapist working specifically in the prevention and treatment of running injuries. He also acts as a consultant for the Canadian national track and field team, with which he has already participated in many international events, including numerous world championships.
Blaise Dubois is a Health and Physical Therapist  Advisor to the Natural Running Center.
Most people run very badly.
You Might Also Like This:
Special eBook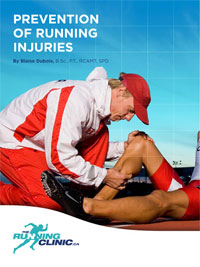 Shoe Repair: Watch Blaise employ some footwear-modifying magic to make them fit better for injured runners.‬