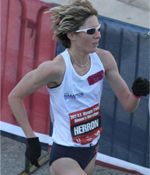 Camille Herron, from Warr Acres, Oklahoma, is a two-time Olympic Marathon Trials qualifier; five-time marathon winner; and, recently represented the U.S. Team at the 2011 Pan American Games. She's coached by her husband and Oklahoma City University Head XC/Track Coach, Conor Holt. She holds B.S. and M.S. degrees in Exercise and Sport Science (Master's thesis on enhancing bone recovery with whole body vibration training).
Camille started training in racing flats in December 2003 and barefoot in March 2004. It's taken her from being an injury-riddled, hobby-jogging, 19 minute 5K runner to averaging over 100 miles per week since November 2006– and running her current marathon best of 2:37. She now runs professionally for Marathonguide.com, PowerBar, Inov-8, 2XU, and Oakley, and serves as a volunteer assistant coach at Oklahoma City University.
Camille Herron is a Science and Fitness Advisor to the Natural Running Center.
Live like a monk…train and race like an animal.