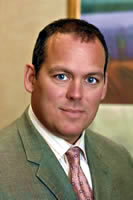 www.orthopedics-md.com/miller.html
Based in Rockville, Maryland, Dr. Craig R. Miller is a Board Certified Orthopaedic Surgeon who specializes in sports medicine, shoulder, elbow and knee surgery. In 2009, Miller gave up running after battling chronic runner's knee that caused recurrent knee swelling and pain. While on vacation, his wife picked up Chris McDougall's now famous book "Born to Run". Inspired, he began to change his running style and was soon back to running on a regular basis, without swelling and pain in his knees! Since then, he has done extensive reading on the subject of barefoot or "natural" running and has undergone training in running-injury prevention. He has teamed up with one of his physical therapists and they have started a running assessment clinic in their PT department.
Dr. Miller is also an Assistant Team Physician for the Washington Nationals (baseball) and is also the Team Physician for the Northwest High School Jaguars.  He completed a fellowship in Sports Medicine at the Kerlan-Jobe Orthopaedic Clinic in Los Angeles, CA, a world leader in the diagnosis and treatment of orthopaedic and sports medicine injuries and illnesses. While there, he participated in the care of the Los Angeles Lakers (NBA), Dodgers (MLB), Kings (NHL), Galaxy (MLS), Sparks (WNBA), and the Anaheim Angels (MLB), Mighty Ducks (NHL) and the University of Southern California Trojans as an Assistant Team Physician.
Dr. Miller is a member of the American Academy of Orthopaedic Surgeons, Arthroscopy Association of North America, and American Orthopaedic Society for Sports Medicine. A native of Ardsley, New York, Miiler attended Tufts University where he was a varsity letterman on the football team. He earned his medical degree at George Washington University where he was elected to the Alpha Omega Alpha Medical Honors Society, and received the Alex Horwitz Award for exceptional proficiency in the field of sugery. He completed an internship in general surgery at New York University and then residency at the Hospital for Joint Diseases Orthopaedic Institute. He has been a presenter at both national and international scientific meetings and has authored articles and a chapter in the field of orthopaedic surgery and sports medicine. He and his wife have two boys and they enjoy hiking, biking and time together.
Dr. Miller is a Health and Medical Advisor to the Natural Running Center.