Dr. Philip Maffetone is an internationally recognized researcher, educator, clinician and author in the field of food and nutrition, exercise, sports medicine, and biofeedback. During his 35-year career, which included 20 years in private practice, Dr. Maffetone has been a respected pioneer in the field of complementary medicine, bringing the latest advances to healthcare professionals around the world. He was named coach of the year by Triathlete Magazine, and honored by Inside Triathlon magazine as one of the top 20 most influential people in endurance sports. Dr. Maffetone continues to lecture on diet, nutrition and stress management, and teaches biofeedback.
Maffetone is the author of more than a dozen books, including those published in German, Italian, Korean, Swedish and Japanese, Dr. Maffetone's titles include Complementary Sports Medicine (Human Kinetics, 1999); The Maffetone Method: The Holistic, Low-Stress, No-Pain Way to Exceptional Fitness (Ragged Mountain Press/McGraw Hill, 1999); Fix Your Feet: Build the Best Foundation for Healthy, Pain-Free Knees, Hips, and Spine (Lyons Press, 2004); In Fitness and In Health (David Barmore, 1993-2009, five editions,100,000 copies sold); The Big Book of Endurance Training and Racing (Skyhorse Publishing, September 2010); and The Big Book of Health and Fitness (Skyhorse Publishing, December 2011). He currently lives in southern Arizona and is also an accomplished songwriter and musician who has worked with Rick Rubin, Johnny Cash, and others.
Dr. Maffetone is a Health and Fitness Advisor to the Natural Running Center.
The true holistic approach to developing more endurance is one in which all aspects of the athlete are considered—these are the triad of structural, chemical, and mental fitness and health.
You May Also Be Interested In This: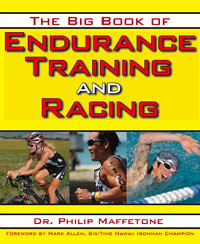 Five-Minute Power Break:The "New" Biofeedback
Dr. Maffetone explains how anyone can use respiratory biofeedback without equipment to improve brain and body function.