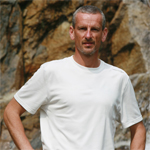 Rick Meyers
therunnerssole@embarqmail.com
Rick Meyers is an ultra-runner and owner of The Runner's Sole, a running specialty store located in Chambersburg, PA. Rick opened the store in August 2008 after being employed as an RN.
Graduating from Paramedic training in 1990 then receiving a BSN from Mountain State University, Rick practiced in areas of nursing such as emergency department, Open Heart ICU, Trauma ICU, and flight RN. Seeing how many people abuse their bodies through inactivity, poor nutritional choices, and other risky lifestyles, Rick wanted to be on the pro-active side and not the reactive side of healthcare.
His store stocks a few traditional shoe models, but, as Rick says, "I'm slowly changing customer's perceived importance of the high-heel cushioned shoe to a less heel lift through education. The benefits of a less heel lift shoe for walking, running, recovery, and everyday wear will help more people to become or stay active and healthy."
Rick is a Coaching Advisor for the Natural Running Center.
When I returned to running over 14 years ago, I ran in traditional bulky heeled shoes just like most people. Luckily, I never had a serious injury but I had mediocre finishing times and long recoveries. Despite my high level of training and poor times, I began to research the differences in the elite runners and myself. I found that most of the elite guys were running in less heel lift shoes therefore making them land with a mid-foot strike. I adopted a natural running gait that took me off of my heels, therefore, bettering my race times from the marathon to 24-hour distances. My recovery time also improved to nearly a quarter of the time it had when I was in traditional shoes.