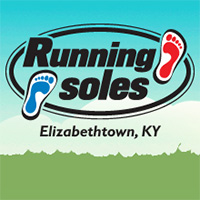 2410 Ring Road, Suite 100
Elizabethtown, KY 42701
(Across from Beef 'O' Brady's)
Phone: 270-300-2653
http://www.etownrunningsoles.com
Store Hours
Mon- Fri: 10:00 am-7:00 pm
Sat: 10:00 am – 6:00 pm
Sunday: Closed — Out for a long run!!
About Us
Running Soles is the first specialty retail location in the state of Kentucky dedicated to Natural/Balanced Running and Walking. All of our balanced/flexible running and walking shoes are designed to promote a more natural gait and healthier form. What that means to you is that you will walk and run naturally. You will become more energy efficient, more balanced and less injury-prone than wearing traditional elevated heel, unbalanced platforms that affect your biomechanics leading to injuries.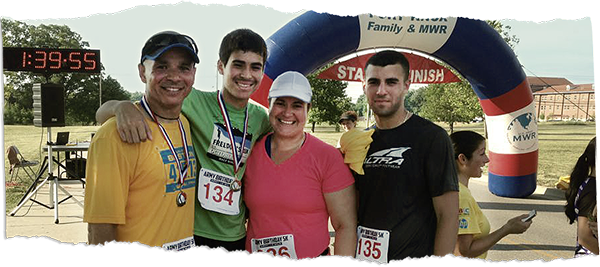 Owner William "Will" Rivera has been a minimalist and using the Chi-Running & Chi-Walking methods for several years now, making him a more efficient and injury free runner. He is now a certified Chi-Running/Walking instructor and hopes to help and train as many people he can… and that is to "Run/Walk/Play freely" just like when we were kids.
Will has been running (playing) his entire life. At age 12 he participated in the yearly Thanksgiving run at his home town of Puerto Rico where he took 1st place for his age group and was awarded a "big turkey and a trophy". His parents encouraged him to keep running and keep bringing home more turkeys for future Thanksgiving dinners! Since then, he was hooked on running. As it came naturally to him becoming a well accomplished high school track and cross-country runner competing in most of mid-distance events; (800 meters PR 1:55, 1,500 meters PR 3:45, 3,000 meters PR 8:26 and 5,000 meters PR 16:10). He decided to bypass college as he was offered multiple scholarships and instead joined the U.S Army where he  served for over 24 years. All of his running through most of his military career consisted of 5K's and on occasions 10K's as he used to mainly stay in shape and sustain the two- mile physical fitness test requirement twice a year.
In 2005, at age 35, while stationed in Chicago, he noticed the massive amounts of people participating in local half and full marathons races.So he set out as a personal challenge to conquer long-distance running. He proceeded to participate and represent his unit in multiple Army Ten-miler races in Washington DC (PR 1:04) events and completing many half marathons (PR 1:20) and completing his first full Marathon in 2009 and in 2010 (PR 3:09).
It was obvious that he was determined to keep running for as long as he could. Current medical injury statistics show  that 70-75% of all runners in America suffer some kind of running-related injury; (Plantar fasciitis, knee pain, shin splints, IT Band Syndrome, Achilles tendon problems, stress fractures and even lower back pain). That concern with his own running injuries led to a visit to the doctor who advised him to stop running.  But that didn't stop Will.  He  began to research the benefits of Natural Running and running with minimal or with no shoes at all. That led him to read the national bestseller "Born to Run, "since the author Christopher McDougall also faced the same challenges. He too had been told to stop running due to multiple injuries.
Will began learning more about minimalist footwear which immediately made a difference on his running gait by promoting a more balanced and with less impact on the ground mid-foot strike. Will's desire to improve his running form also led  him to "Chi Running: A Revolutionary Approach to Effortless, Injury-Free Running" (2009) from author Danny Dreyer. After reading both books and now applying new running techniques together with utilizing more flexible and balanced shoes, his fitness life totally changed. Will  now runs efficiently, pain-free with zero injuries and plans to continue running for many, many years ahead and help others do the same. Among Will Rivera's plan is to conquer the Ultra Endurance events (any distance over 26.2 miles) with goals of completing 50K (31 miles), 50 milers, 100K (62 miles) and 100-mile races. Not bad for someone that just over three years ago was told to stop running.
Brands We Carry
Newton, Altra, Inov-8, Saucony, Lems, Merrell, FiveFingers, New Balance.