ECCO BIOM A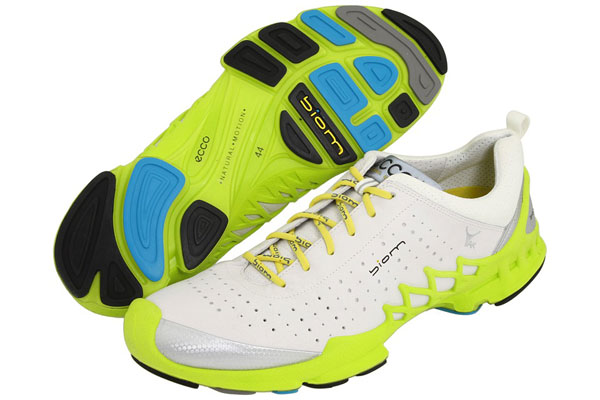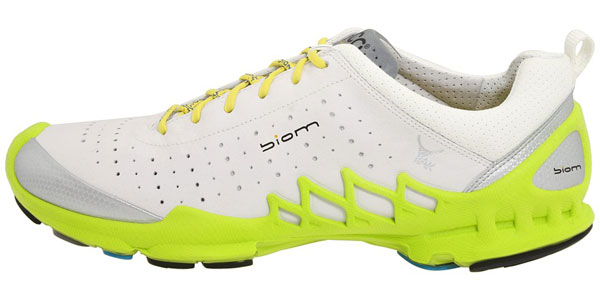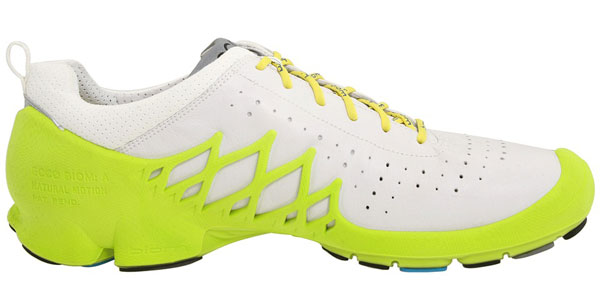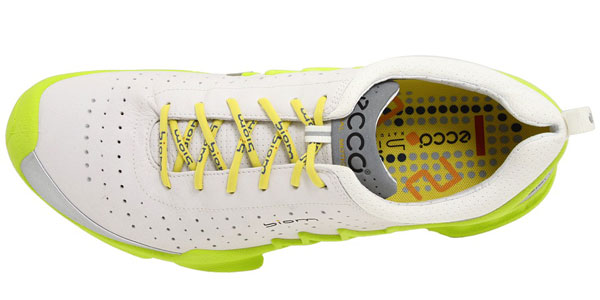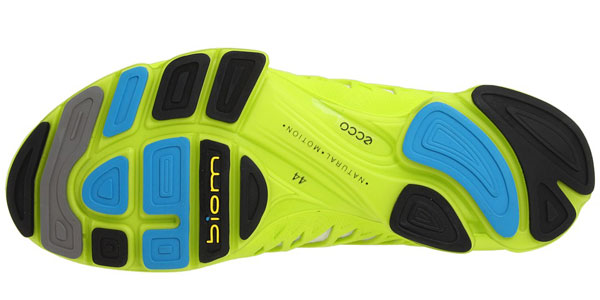 Click on image to zoom in
Review Summary
by Bill Katovsky, of Zero Drop
I really hadn't give much thought to ECCO's new line of "motion-control" BIOM running shoes which has been trying to muscle its way into the hearts and midsoles of minimalist runners since late 2009. How it ultimately succeeds in gaining a market foothold depends on whether its $200-$220 steep price tag will induce motion sickness and severe wallet-cramping in runners. ECCO is a Danish company that has its roots in high-end everyday footwear, and the BIOMs are as superbly engineered as any high-end Scandinavian coffee table.
Reviews and running forum comments about the pricey BIOMs have percolated around the web for awhile now, ranging from "cool," "get me a free pair," "this ain't a minimalist shoe," to "I can't believe they use yak leather for the uppers!" I don't know about you but I'd feel crummy knowing that a Himalayan yak died so I could run in the world's most expensive running shoe. Why not go further down the list of threatened wildlife species and make the BIOM's "lightly padded tongue and contoured collar" out of something really questionable such as snow leopard or Arctic fox?
Product verbiage and photos on the ECCO site are mighty slick and thorough, with a downloadable PDF shoe and run-training guide that is as impressive as any colorful manual you'd get with a state-of-the-art flat-panel HDTV. Not that these shoe feature descriptions stayed in my head for very long, but if you are good at memorizing things, here's what a BIOM (there are three models for runners--serious, fitness, occasional) offers: "Direct injected PU midsole is permanently bonded to the upper and supplies feather light, supple, anatomical support from heel to toe; intelligent cushioning EVA foam layer is comprised of high performance polymers and is designed to adapt to each stride and help reduce impacting forces; midfoot arch supplies excellent support throughout the midfoot without limiting natural pronation; ultra rounded heel design is centered under the heel to act as a natural crash pad and enhances rear to forefoot transition; horizontal heel flex allows for the minimization of horizontal landing forces; TPU rubber outsole offers extended durability and excellent multi-surface grip; Anatomically constructed shank enhances stability without limiting natural torsion; forefoot flex grooves allow for greater flexibility and a better toe-off angle; low profile sole design promotes a more natural, dynamic ride."
Look under the hood of the Ecco BIOMs, and you are witness to Nordic engineering and design at its finest. (Photos courtesy of Gear Junkie) That's a helluva lot of shoe info to digest. Probably even maximalist overkill for a product hoping to achieve shoe cred among the minimalist crowd. And I didn't even bring up the yak uppers. So who actually wears these bling shoes? Is it a well-heeled runner seduced by this natural gait come-on?: "All BIOM shoes are built on an anatomical last to provide a better fit and more natural flexion. As their aim is natural movement, they do not follow the design standards of overprotection, excessive cushioning, or motion control" In other words, they want you to believe that these shoes will help you run "naturally," as on the midfoot, as in "barefoot-style." Yet when a pair of running shoes cost two Ben Franklins and a single Andrew Jackson, one doesn't immediately think "barefoot." I then checked in with Zappos but couldn't find any customer reviews at the time, though I did notice that BIOMs with textile mesh uppers were selling for $199. (No shaggy-haired yak was slaughtered to make your feet happy.)
But what say Stephen Regenold, founder and editor of Gear Junkie, who road-tested the BIOMs last summer? He wanted to see firsthand if they could live up to their hype, especially for shoes that required ""an exhaustive and multi-year project involving physically scanning the feet of thousands of runners to better understand the anatomy of the human foot."" (How about also better understanding the anatomy of the human budget?) Regenold writes: ""As the speediest shoe in the line, the BIOM A is low profile and lightweight. Its minimal construction includes firm cushioning and design tweaks to promote midfoot or forefoot running. The company recommends its BIOM A for advanced runners only. I agree. The shoe is made for marathoners and triathletes who have mastered their stride. The BIOM A will not put up with sloppy running. It will feel harsh and under-padded to anyone who lands on their heel.""
And Gear Junkie's final verdict? ""Are they worth $220? To me, the answer is no. The shoes are nice, to be sure. But despite the special design and the fancy features, the BIOM A shoes run like many others I have worn — many which cost half as much or even less.""
There you have it, but I still want to continue yakking about ECCO's BIOMs even though the chances of my wearing them are about as great as traveling to Mongolia, living in a yurt for six months, and drinking sugary tea made with rancid yak butter.
More information on ECCO BIOM A...