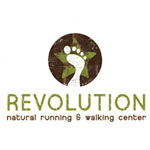 11702 North Avenue
Wauwatosa, WI 53226
About Us
Revolution is Midwest's first shoe store dedicated to minimalist footwear for runners and walkers of all ages, sizes, and experience levels. With a certified pedorthist on staff, we blend our heath care expertise and running knowledge to help you improve performance and stay injury free.Using state of the art video gait analysis, we can identify gait deficiencies (such as excessive heel striking) and teach you natural running form and techniques that will reduce those flaws and help you perform more efficiently.
Kyle Roberts is the owner of  Revolution Natural running. He is also a board certified pedorthist who  specializes in lower extremity biomechanics, footwear, and custom orthotic design and fabrication, specifically for athletes and active individuals. He is currently working with athletes at UW-Madison, UW-Whitewater, Concordia University, and Carroll University. He is also involved with and a sponsor of the Tri-Wisconsin triathlon team and is involved with the Badgerland Striders running club.
Kyle is an avid runner and triathlete.  He has completed nine marathons, including the 2006 and 2007 Boston Marathons.  He is also a finisher of the 2006, 2008 and  2010 Ironman-Wisconsin triathlons.  Kyle again qualified for the Boston Marathon at the Indianapolis Monumental Marathon in November, 2010.  He is a major believer in Crossfit training, the Zone Diet, and Pose Running, which he's always happy to talk to others about.
Kyle is also the  founder owner of Footworks Orthotics, a Milwaukee based company specializing in pedorthic services for active individuals of all ages and abilities. All orthotics created at Footworks Orthotics are hand-crafted from semi-rigid materials which provide individuals with superior fit and function while walking, running, or participating in sports activities. Semi-rigid orthotics are preferable to those made of hard, rigid plastic because the material is more forgiving, adjusts more easily to weight-bearing forces, and takes the pressure off uncomfortable sore spots. Many over-the-counter shoe inserts do not provide one with the arch support or biomechanical correction one may need. In fact, in many cases, they may aggravate the condition .Mass-produced products are not designed to suit individual foot care needs. National laboratories are also unable to adjust the fit of one's orthotics because they never see the patient, personally.
 Brands We Carry
Inov8, Puma, Newton, Altra, Merrell, Vibram FiveFingers, Vivobarefoot, Lems Shoes, Skora, Juil