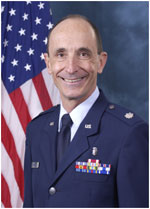 Lt. Colonel (Dr.) Dan Kulund is a board–certified orthopedic surgeon who received his medical degree from the George Washington University School of Medicine and trained in orthopedic surgery at Rhode Island Hospital and Brown University. In 1973-74, he served as Chief of Orthopedics at Langley Air Force Base, followed by a fellowship in sports orthopedics and surgery of the hand at the University of Virginia under Dr. Frank C. McCue, III. Dr. Kulund then joined the full-time orthopedic faculty for seven years at UVA, where he founded the Runner's Clinic. Next, he directed the Sports Orthopedic Center in Charlottesville for ten years and was Chief of Orthopedic Surgery at Martha Jefferson Hospital and an Adjunct Professor of Physical Education at UVA. While in Charlottesville, he wrote the first two editions of a popular sports orthopedic textbook, "The Injured Athlete." In 1993, Dr. Kulund returned to the Air Force as Chief of Orthopedics at Landstuhl Regional Medical Center in Germany. He is currently stationed in Washington D.C. as the Air Force Chief of Health Promotion. Now a septuagenarian and the oldest active duty service member of 1,400,000 in the United States Military, he recently ran a 10:15 mile-and-a-half and performed 70 push-ups and 70 sit-ups for his fitness assessment.
Dr. Kulund is a sports medicine advisor to the Natural Running Center.
When we run, our legs swing forward and back like a pendulum, landing on the backswing.  Without shoes, we would land on our mid-foot or toward the front of our foot.  But the thick heels of common running shoes catch the ground early with our knee extended and foot out front, inviting knee pain and anterior shin splints. Minimalist. shoes with thinner heels allow more natural landings.
You Might Be Interested in This:
Even at the age of 70, Dan maintains a rigorous workout regimen, including running stairs and exercising with a heavy rope. Here's he's doing sandbag push-ups.