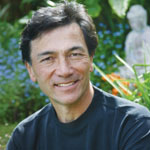 Danny Dreyer is the co-founder of ChiRunning and ChiWalking, revolutionary forms of moving that blend the subtle inner focuses of T'ai Chi with running and walking. His work is based on his study of T'ai Chi with Master Zhu Xilin and internationally renowned Master George Xu, and his 35 years of experience, running, racing ultra marathons and coaching people in "intelligent movement." He has taught thousands of people the ChiRunning and ChiWalking techniques with profound results.
Danny's first book, ChiRunning: A Revolutionary Approach to Effortless, Injury-free Running was released April, 2004, by Simon & Schuster. ChiWalking: Five Mindful Steps to Lifelong Health and Energy was released in March, 2006.
Danny has been a featured speaker at the  Boston, Chicago, San Francisco, Los Angeles and San Diego Marathons, as well as at hundreds of other health and wellness events across the country. He has taught the ChiRunning and ChiWalking techniques to training groups such as the San Francisco Marathon, the AIDS Marathon, Team in Training, USA/FIT, AARP and many others. He has been on CNN, NPR and other news programs. He publishes a monthly newsletter and has been published in Running Times, Body & Soul Magazine, and others. He has received press in Time Warner's Health Magazine, AOL, Shape Magazine, Fitness Magazine, Elle, Washington Post, New York Times, Web MD and hundreds of newspapers, journals and web sites across the country and abroad.
Dreyer, an accomplished ultramarathon runner, has raced every distance from a 10K to 100 miles. He has successfully completed 40 ultra-marathons since 1995, finishing in the top three in his age group in all but one. In August 2005 he placed second in his age group in the USATF National 50k Championships.
Danny has lived a lifestyle steeped in holistic living, meditation, and personal wellness for over 30 years. Healthy eating, physical exercise and rejuvenating activities are mainstays in his life and the foundation of what he teaches.He empowers his students to live pro-active lives. Whether coaching a runner or a corporate executive, he teaches techniques that tap into one's inner strength and power.Danny resides in Asheville, North Carolina, with his wife, Katherine and their daughter, Journey.
Danny Dreyer is a Health and Coaching Advisor to the Natural Running Center.
The fact is, shoes are only a small part of the story of injury-prevention. Whether you're walking or running, what is most important is your technique. Just because you're walking or running either barefoot or in more minimal shoes, doesn't necessarily mean you'll automatically have good running or walking technique. That has to be learned and practiced. This is really the best insurance against any walking or running injuries in your future.
You Might be Interested in This:
An Introduction to Chi Running