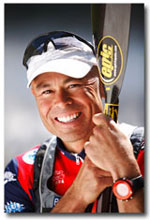 ianadamson.com
Ian Adamson is a world renowned endurance athlete, event director, published author and motivational speaker. He graduated from the University of Sydney with an honors degree in Mechanical Engineering, and from Chapman University, California, with a Masters in Sports Medicine. During his ten years working in the implantable medical device industry, he started a successful manufacturing business, Reflex Medical Products.
From 1996 through 2003 Ian was COO at Corporate Adventure Training, and in 2001 partnered with television producers who had supervised Mark Burnett's Eco-Challenge and Survivor shows and founded I and I Productions, LLC. His company produced a series of international adventure television shows for the Outdoor Life Network and Men's Journal.
Ian was co-founder of Team Nike, the world's most successful adventure racing squad, and raced professionally from 1995 through 2006. During that time, he won seven world-championship titles and set two Guinness World records for Endurance Kayaking (262 miles in 24 hours.) He is currently Director of Research & Education at Newton Running Company, based in Boulder, Colorado.
Ian is a Health and Science Advisor for the Natural Running Center.
At the 2010 Badwater Ultramarathon in Death Valley, I used three pairs of Newton Shoes– a Distance Racer, Gravity Trainer and Sir Isaac, and rotated these depending on terrain. Apparel choices depended on the time of day. I wore Skins compression tights during the day to assist with blood circulation, cooling and damp muscle vibration.
You Might be Interested in This:
Along with 72 fellow sun-baked masochists at Badwater in the toasty month of July, Ian went 135 miles in fry-an-egg-on-asphalt temperatures, while going from 282 feet below sea level to Whitney Portals on Mt. Whitney, at 8,360 feet. He finished in 34 and 1/2 hours, ten hours behind winner Zach Gringerich– but was the first masters runner (45+). See interview at RailRiders Adventure Clothing.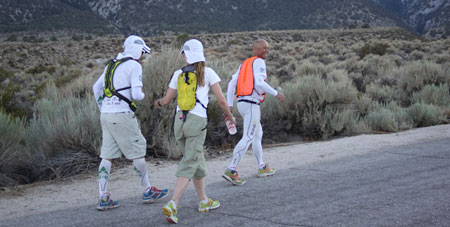 Injury Prevention
Ian Adamson and Danny Abshire of Newton Running discuss injury-free running techniques