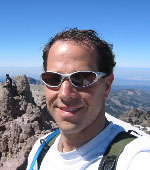 uvaendurosport.com
Jay Dicharry, MPT, CSCS, is the Director of the SPEED Performance Clinic and the Motion Analysis Lab Coordinator at the University of Virginia. Originally from New Orleans, Jay completed the Masters of Physical Therapy degree at Louisiana State University Medical Center. He is a Board Certified Sports Clinical Specialist through the American Physical Therapy Association, is a Certified Strength and Conditioning Specialist, a certified coach through both the United States Track and Field Association and the United States Cycling Federation, and certified Golf Fitness Instructor through Titleist Performance Institute. Jay has a competitive history in swimming, triathlon, cycling, and running events on both the local and national level, and has coached athletes from local standouts to national medalists.
Jay is a founding board member and presenter at the annual University of Virginia's Running Medicine conference and has been published in numerous professional journals. He teaches both undergraduate students and Physical Medicine and Rehabilitation Residents at UVA, and lectures nationwide on running and cycling mechanics.  Jay's research and treatment interests lie in the biomechanics and treatment of athletes and footwear. Go here to see a Running Times video with Jay from October 2010 that's called "Fixing Broken Runners, Part II: The Comeback"  He is the husband of his wife, Asha, the best friend of his daughter, Eva, and the servant of his loyal dog, Turbo.
Jay is a Health and Physical Therapist Advisor to the Natural Running Center.
"Run Tall! Run Soft!"
You Might Be Interested in This: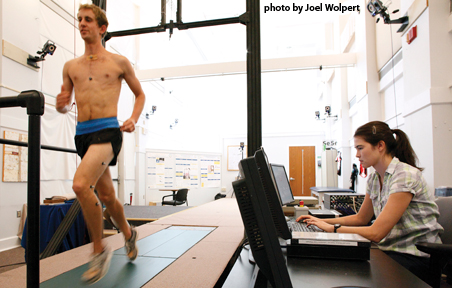 The treadmill at Jay's lab has one of only two unique "force instrumented" treadmills worldwide.(The other treadmill is housed at the U.S. Army Research Center in Massachusetts.) This treadmill allows the lab to capture a runner's kinetic data at 1000 times per second, in three planes simultaneously, that maximizes analysis of multi-stride forces throughout the running cycle. It's also available for private rental by coaches and footwear companies. The cost for runners who want a 3D-gait assessment at the lab is a reasonable $300 for 2.5 hours.
Improvement of running form
Jay Dicharry offers valuable tips on how to improve your running gait, move more efficiently, and stay injury free.