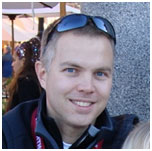 www.anselm.edu/internet/bio/larsonpage.htm
Peter Larson, Ph.D., is an Associate Professor of Biology at Saint Anselm College in Manchester, NH, where he teaches courses in Human Anatomy and Physiology, Comparative Vertebrate Anatomy, Developmental Biology, and Exercise Physiology. Originally from Connecticut, Larson completed his doctoral work in the Department of Biological Sciences at Ohio University in Athens, OH. His background includes work in evolutionary morphology, functional morphology, developmental anatomy, and biomechanics. Though most of his academic research has focused on frogs, he has recently developed an interest in the biomechanics of running in humans, with a particular interest in the mechanics of runners in road races. His true passion is science education, and he has been elected by students as the "teacher of the year" twice in the past five years at his college.
In addition to his professional background, Pete is also an avid runner. He has completed 8 marathons, a 50K ultramarathon, and many shorter distance races. He also writes extensively about running science, running form, running shoes, and his own running adventures on his personal blog: www.runblogger.com. Pete is a husband, a father of three, and a running partner to two dogs (one a natural, the other a work in progress).
Peter Larson is a Science Advisor to the Natural Running Center.
Objective science is critical, but truth need not be found only in the pages of peer reviewed journals. Sometimes it is better found by experimenting with your own two feet.
A sample of slow motion race videos taken by Pete and/or his students:
Elite Male Runners in Slow Motion – 2010 Boston Marathon from Runblogger on Vimeo.
Video clip of elite males running near mile 17 of the 2010 Boston Marathon. Runners in order on video are: 1. Robert Kiprono Cheruiyot, 2. Deriba Merga, 3. Tekeste Kebede, 4. Moses Kigen Kipkosgei (red/green singlet); 5. Abderrahim Goumri (purple singlet w/ yellow stripe), and 6. Mebrahtom Keflezighi. Video was filmed at 300fps with a Casio EX-F1 digital camera. Video courtesy of http://www.runblogger.com.
Ryan Hall Super Slow Motion – 2010 Boston Marathon from Runblogger on Vimeo.
Video clip of Ryan Hall running near mile 17 in the 2010 Boston Marathon. This video was shot at 300 frames/second with a Casio Exilim EX-F1 digital camera, and then processed to play at a rate of 5 frames/second in Virtualdub. Courtesy of http://www.runblogger.com.